Onion Health Benefits: 15 Things You Should Know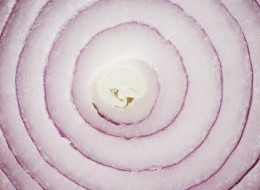 We all know onions add a ton of flavour to a dish, but did you know they can add nutrients as well?
"Onions have been used since antiquity as a healing food," says says dietitian Yevgeniya Libkhen "To this day they are used in a variety of ways to promote health and make a meal enjoyable."
This often-overlooked food contains nutrients like vitamin C and fibre, along with plant compounds with potential health benefits that researchers are digging into.
And because onions are eaten nearly all over the world, there are a ton of different ways to enjoy this healthy vegetable — both raw and cooked. "With the exception of a few Hinduism branches and Jains, onions are eaten all over the globe and each region has its own amazing stories and recipes for the medical and culinary use of them," Libkhen adds.
Here are 15 things you should know about the health benefits of onions — that's plenty of reasons to get more of them in your diet!
15 Things To Know About Onions
When we say "onion" we could mean a wide variety of different vegetables. There are your basic white, yellow, and red onions, found in pretty much every grocery store. But there are dozens of different kinds to try, with different culinary uses.

All of these different types of onions are members of the allium family of plants. "This family of vegetables, which also includes garlic, shallots, and leeks, contains organosulfur compounds which give them a distinct aroma," says dietitian Rachael Link.

Why do these compounds matter? For starters, they matter a lot if chopping onions makes you cry — these compounds are responsible for the watery eyes some of us get around the veg. But organosulfurs may also have beneficial anti-inflammatory properties, Link says.

"Onions are a very nutrient-dense food, meaning they are low in calories, and high in vitamins and minerals, providing you with the biggest nutritional bang for the buck," says Link.

"Onions are a great vegetable because they can help provide bulk to a meal without adding a lot of calories," says nutritionist Paula Wesson. "One half cup of chopped raw onions is only about 30 calories, but it'll provide about 1 gram protein and 1.5 grams of fibre, which will help keep you full." Wesson suggests replacing half the ground beef in a burger with chopped onions to cut fat and calories.

You might be surprised to know that onions are actually a good source of vitamin C: one cup, chopped, has 20 per cent of your recommended daily amount (RDA). This essential nutrient is important for immune and cardiovascular health.

Manganese doesn't get much attention but it's an essential nutrient, important for the formation of blood, connective tissue, and sex hormones. One cup of chopped onions has about 10 per cent your RDA for this mineral.

A cup of chopped onions will provide about 8 per cent of your recommended intake for folate, also known as vitamin B9. It's an important vitamin for energy production in the body, and key for the formation of the nervous system in a developing fetus.

It isn't just found in bananas! A cup of chopped onions has 8 per cent of your RDA of this essential mineral. This electrolyte is important for proper heart function as well as muscle contractions.

One cup of chopped onions has about 10 per cent of the vitamin B6 you should get for the day. Like all B vitamins, B6 is important for converting food to energy and for healthy hair and skin. It's also needed for brain health and mood regulation.

Like many plant foods, onions are a good source of fibre — which supports a healthy digestive system and may be related to weight management, Link says. A cup of chopped onions has 2.7 grams of fibre, about 11 per cent of your daily recommended intake.

There's another notable plant compound in onions: polyphenols. Link says these compounds act as antioxidants, and there's very early evidence showing they could be related to disease prevention in the body.

"To really reap the health benefits of the onion, make sure to avoid peeling off too much of the outer layers, which is where most of the nutrients are concentrated," Link says.

Heat can deactivate the enzymes in onions that make those awesome organosulfurs form when you chop the veggie up, Link says. "To maximize nutritional value, opt for raw onions rather than cooked and enjoy them on sandwiches, wraps, or salads," she says. "If you do cook them, just don't overdo it — and always avoid cutting them into very small pieces because some of the enzymes can be lost."

There are other alliums you may have in your diet, and they can have similar health benefits. Give garlic, leeks, shallots, and scallions a try too.