Waffle House CEO The Target Of Sex-Tape Extortion, Indictment Alleges
ATLANTA — A woman and her attorneys have been charged with secretly videotaping her having sex with a former CEO of Waffle House, and using the recording to try to extort millions of dollars from him.
Mye Brindle, John Butters and David Cohen were indicted Friday, Fulton County District Attorney spokesman Dontaye Carter in Atlanta said in a news release. The indictment alleges former Waffle House CEO Joe Rogers was secretly videotaped in his bedroom having sex with Brindle, his former housekeeper.
Butters and Cohen tried to force Rogers to pay millions of dollars to prevent the recording from being released, the indictment alleges.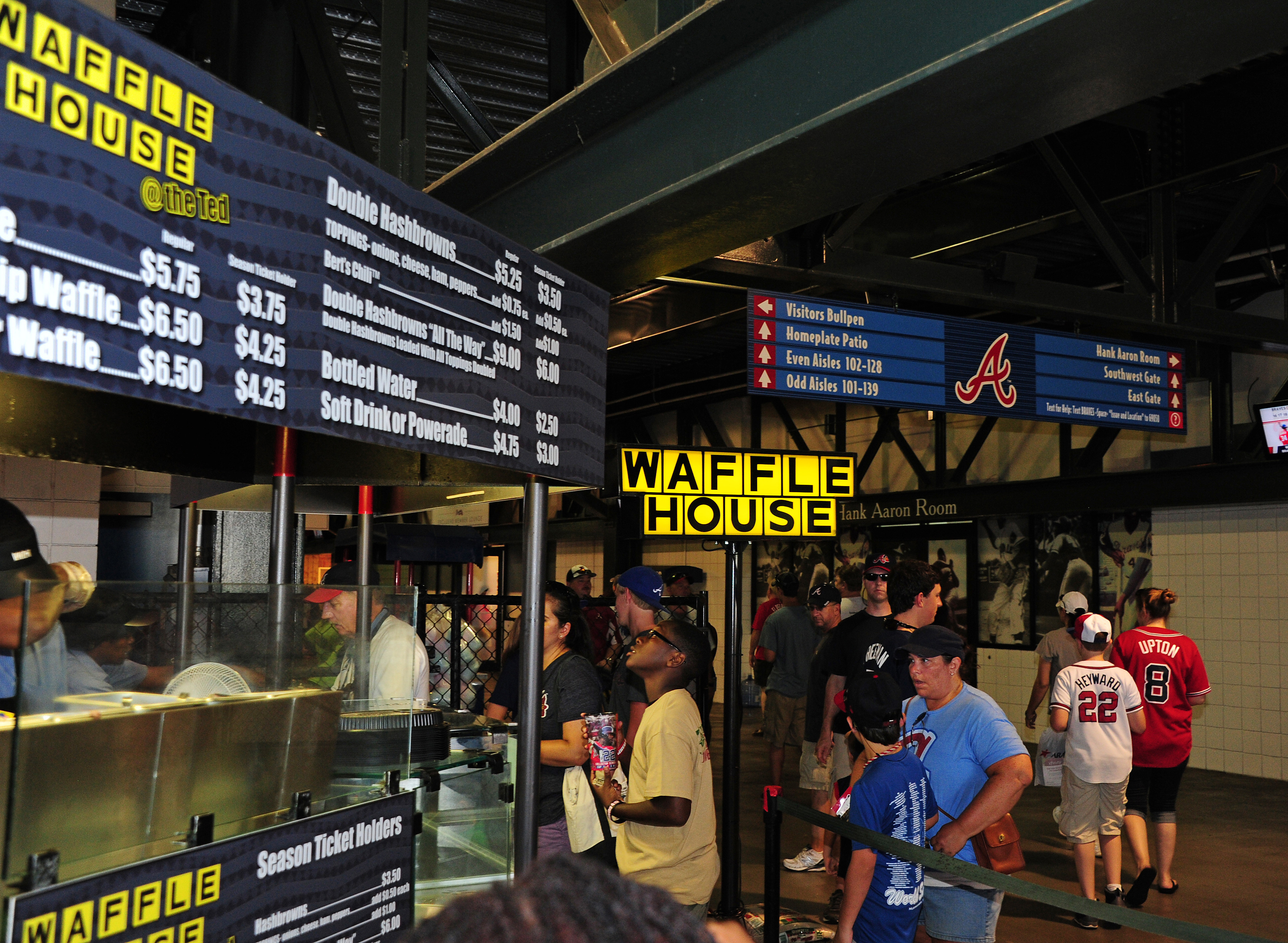 Fans line up for food at Waffle House at Turner Field, before the game between the Atlanta Braves and the Miami Marlins on August 11, 2013 in Atlanta, Georgia. (Photo: Scott Cunningham/Getty Images)
Brian Robinson, spokesman for Brindle's attorneys, said the indictment sends a "chilling message'' to victims of sexual abuse and those seeking help to attain justice.
"The two attorneys indicted zealously represented their client, a victim of serial sexual abuse by her employer,'' Robinson said. "These indictments re-victimize the woman who dared to tell the truth about her powerful abuser and smear the attorneys who represented her.''
Brindle filed a sexual harassment lawsuit against Rogers in 2012. She accused Rogers of forcing her to perform sex acts with him to keep her job despite her protests for nearly 10 years.
Rogers has acknowledged having consensual sexual encounters with Brindle, but has accused her of making false statements against him. Court findings showed the covertly recorded video didn't imply that Rogers forced the woman to do anything she didn't want to.
"These indictments re-victimize the woman who dared to tell the truth about her powerful abuser and smear the attorneys who represented her.''
— Brian Robinson, spokesperson for defendants
​
Superior Court Judge Robert Leonard learned that the woman's attorneys sent her to a private investigator's office and she was given a spy camera that was used to record Rogers in his bedroom without his consent. Court documents say the woman also made 15 audio recordings of sexual encounters and kept a towel that held Rogers' DNA.
In a court filing, Cohen and Butters say that when Rogers learned Brindle planned to sue him for sexual harassment, he retaliated against her and her attorneys. They say Rogers threatened to sue any attorney representing Brindle for joining a criminal conspiracy against him.
Brindle, Butters and Cohen are charged with conspiracy to commit extortion, conspiracy to commit unlawful eavesdropping and eavesdropping.
The district attorney's office said secretly recording someone in his own bedroom is eavesdropping, and is a felony in Georgia. It carries a sentence of one to five years.
Also on HuffPost:
Tulisa's world was shaken when a clip of her performing a sex act on her ex-boyfriend Justin Edwards leaked online, but the N-Dubz singer has well and truly brushed off the controversy - signing up for a second series of The X Factor and scoring a number 1 debut solo single.

Katie Price (or Jordan as she was known back then) starred in her very own dirty movie with her ex (and former boybander) Dane Bowers when they were dating in 1999. It includes one particularly 'toe curling' moment. We'll let you do the maths.

Kanye was the star of not one but TWO sex tapes, which surfaced in the space of a week. Both videos were filmed before he started dating reality star Kim Kardashian who'd already starred in her own sex tape. A source told TMZ: "Both tapes are impressively long - the first is roughly twenty minutes ... and the second is more than FORTY. And we're talking constant action. Seriously, the guy takes no breaks. It's incredible." Wow.

Kerry revealed she once made her own (thankfully never released) sex tape, but failed to say who her co-star was (our money's on her ex, Mark Croft). "Yes, I made a sex tape once," she admitted. "But it wasn't on long enough. It was over within a minute. I watched it back and it was dreadful. So we smashed it up." Brrrrrr.

Men the world over spent their teenage years preoccupied with what lay beneath Pamela Anderson's Baywatch lycra. And they got their chance to see her ladybumps in the augmented flesh when a clip of her and husband Tommy Lee making the beast with two backs found its way online.

In March 2012, TMZ reported the existence of a Hulk Hogan sex tape that was being shopped around to various porn studios, though the wrestler claimed it was filmed without his knowledge. In October 2012, Hogan admitted to Howard Stern that the woman in the video was Heather Clem -- the ex-wife of his best friend and radio talk show host, Bubba the Love Sponge. Hogan also revealed to Stern that he was still married to wife, Linda, when the sex tape was filmed. Charming.

Being the star of a leaked sex tape may be embarrassing, but it can also be profitable. Just ask reality TV beauty Kim who settled a lawsuit against Vivid Entertainment for $5m in 2007, meaning she gave up the rights to a sex tape she made with singer Ray J. We guess a good 80% of the world had seen it by then, so why not?

He's most famous for his roles on the big screen, but Colin Farrell is becoming increasingly well-known for a little independent feature that sees him enjoying a vigorous round of coitus with Playmate Nicole Narain. Not sure what awards he'd win for it, mind you. Maybe a Shafta?

If Paris Hilton hadn't made a dead-eyed home porno that leaked online, we'd never have heard of her. But she's not the only celebrity known to have bared all for the camcorder...

One time celebrity Big Brother contestant Verne Troyer had to take legal action to prevent the release of a mucky flick involving himself and an unnamed model. Yeah, even Verne's made one. Let's just hope that Neil and Christine Hamilton don't own a camcorder...

In 1998, Rob Lowe filmed himself in a menage-a-trois with two girls – one of whom was just 16 and therefore under age according to US law. Ever since, the actor has been referred to in certain circles as "Raw Blow".

Kelsey Grammer had scrambled eggs a-a-all over his face when he falsely accused an internet company of stealing a homemade sex tape from his house. Nowadays, the Frasier star claims to be more careful about what he performs on camera – although this doesn't explain Back To You. Ugh.

Here's something that nobody wanted to see – an explicit video featuring a 20-year-old model attempting to make Fred Durst's "bizkit" a little less limp. The footage surfaced on the internet in February 2005, with rumours circulating that the rock star had uploaded it himself. Perv.

Everybody loves a diamond in the rough, but nobody fancies a Diamond in the buff – especially when it's Dustin Diamond, who is more commonly known as Screech from Saved By The Bell. His sex tape was released under the title Saved By The Smell. You don't want to know why.

Back in 2002, mashed Swede Ulrika Jonsson won a court order that banned her ex-boyfriend Stan Collymore from selling a porny video of the two of them in friskier times. To this day, the sex tape has failed to make it to the internet. And you thought you'd hear no good news today!