Vancouver Home Prices Were Hotter Back When Billy Joel Was No. 1
It was the late 1980s.
The Berlin Wall was falling, Chinese students were rising up against their government, and Billy Joel was churning out number one hits like "We Didn't Start the Fire."
And in Vancouver, then a smaller city with only a fraction of the populace it has today, home prices were skyrocketing, at a higher rate than they would over two decades later.
BMO released a chart Monday showing that rising house prices are nothing new in the West Coast city.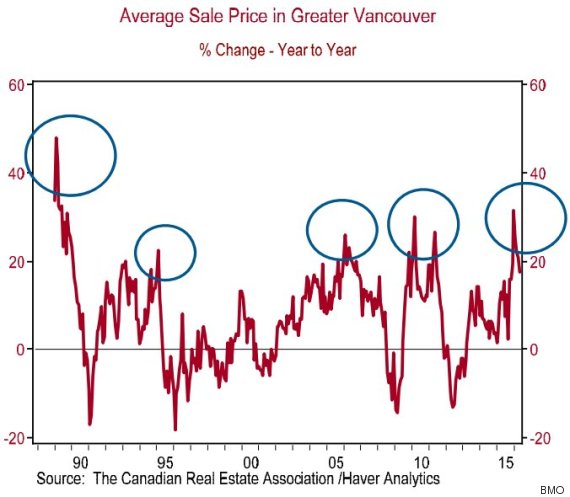 It shows that prices saw a massive spike in the late 1980s, only to plummet years later — dwarfing any increases that happened in recent years.
"So much has been written about Vancouver's zany house prices that one might think the current situation is unprecedented," economist Sal Guatieri wrote.
"But a longer term lens shows the city is no stranger to outlandish price increases that are usually followed by short-term corrections."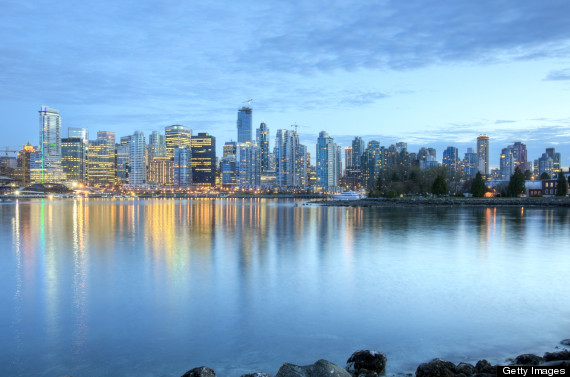 Condos along Vancouver's waterfront. (Photo: Getty Images)
Guatieri said prices tend to escalate when demand for housing comes up against a low supply level.
It's a common contention that economists have made in response to continuing price escalation.
He went on to say that housing market corrections haven't had long-lasting impacts historically, but "if speculation is padding demand today and results in overbuilding, then a correction could be more painful than in the past."
"The city is no stranger to outlandish price increases that are usually followed by short-term corrections."
When a correction happens is anyone's guess — even as concerns mount that one is coming.
TD Economics issued an economic forecast last week saying it's unlikely that will happen until next year at least.
Supply may be the culprit on housing prices, but people watching Vancouver's real estate market have increasingly drawn links between inflows of foreign capital and rising property values.
South China Morning Post reporter Ian Young has repeatedly addressed the issue in columns and stories such as one about a downtown property that was sold for $60 million one month, and then flipped to a wealthy Chinese immigrant for $68 million just a month later.
A study last year also showed that most homes on Vancouver's west side, an upscale area, were owned by people with non-anglicized Chinese names, which suggested to the author that they were recent arrivals to Canada.
Also on HuffPost:
Craziest Vancouver Real Estate Stories Of 2015
This home was listed at just under $3 million in June, and was sold to an offshore buyer for $4.1 million after a couple hours, the realtor said.

This abandoned home (read: eyesore) became a dumping ground over several months in 2015. Piles of rotting trash and unwanted furniture attracted rodents to the area, and the smell was sometimes so bad that neighbours refused to open their back doors. The house was assessed at $813,000, and others in the area were valued at over $1 million.

"Avail now. Bring your tent." A Craigslist ad advertised a backyard for rent for $500 per month. WiFi, use of the home's bathroom, kitchen, laundry, and "art room" were part of the deal. Great for travellers, apparently!

This Tudor home in Vancouver's ritzy Shaughnessy neighbourhood was listed for $5.99 million in May. After 12 days, it sold for just over $8 million. "When you've got too little supply (of detached houses) and too many buyers, that's always what happens," realtor Stuart Bonner told The Province.

Bargain alert: a former grow-op hit the market in March for $930,000. The 1968 two-storey home was in such bad shape that no one could live in it. The house got an occupancy permit back in 2001, and was renovated before it was listed. The price was mostly because of the 6,000 sq.-ft. lot.

This rare, 3.6-metre wide home sold in April for $1.35 million. Tucked in the upscale Point Grey neighbourhood, the floor space is only 945 sq.-ft., but manages to cram in a full kitchen, master bedroom, living room, garage, den and 1.5 bathrooms. The home is believed to be one of the last of its kind in the entire city, according to the realtor.

This house, listed for just under $1.6 million, sold for $2.17 million in March — a mind-boggling 35 per cent over asking. "It was the highest price per square foot ever achieved for an East Vancouver home," realtor Paul Eviston told CBC News.

Chump change, amirite? This 25,000 sq.-ft. mansion, which sits on a 1.09 hectare property, was purchased in December 2014 for $51 million. (Details of the sale were made public in March.) The deal included a movie theatre, grass tennis court, and 10-car garage, according to the CBC.

Talk about a sweet deal! This (very well-decorated) gingerbread house was advertised on Craigslist for $4.5 million in December. It's a one-bedroom home that's a single sq. ft. in size. The baking sheet upon which it stands was not included in the sale. The seller asked for "serious" inquires only.