Deepak Obhrai Backs Brexit, Blames European Union For Canada's Embarrassment At UN
OTTAWA — Canada lost its bid for a United Nations Security Council seat because of the European Union and the country would be better served if Britain left the organization, a long-time Conservative MP says.
Calgary Forest Lawn MP Deepak Obhrai, the parliamentary secretary for foreign affairs from 2006 to 2015, laid the blame for the Tories' embarrassing lost at the UN firmly at the foot of the EU Tuesday.
"We lost the Security Council seat because of that. Despite the fact that we were a larger donor than Portugal, but the European Union controlled it," he told The Huffington Post Canada.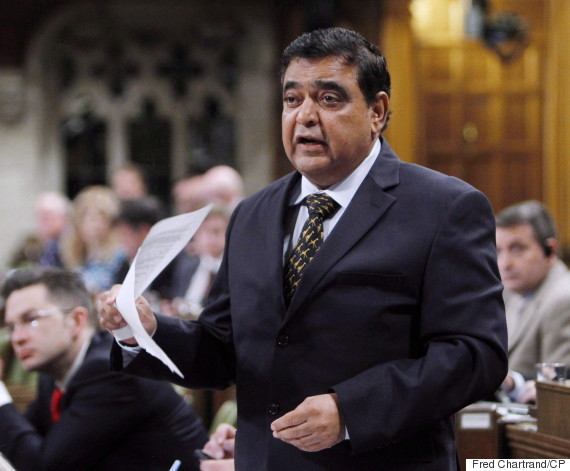 Conservative MP Deepak Obhrai stands in the House of Commons during question period in Ottawa on May 30, 2014. (Photo: Fred Chartrand/CP)
In 2010, Canada competed in a three-way race with Germany and Portugal for two rotating slots on the UN Security Council. Germany was considered a shoo-in and won the necessary two-thirds of support on the first ballot, but Portugal surprised Canadian officials by coming in second, and increasing its support by a large margin during the second round of voting, after which Canada pulled out to avoid a further embarrassment.
"They forced the European Union [states] to vote for those two, against Canada, and Canada lost because of the European Union ganging up on us as a larger entity," Obhrai said.
The EU also used the colonies of some of its member states to lobby for support, he said, pointing to Brazil's campaign for the motherland.
"You see the huge control of this bloc? That is threatening our interests," Obhrai said.
"Britain's exit from the EU will help small countries like Canada."
A referendum will be held Thursday to determine if Britain should remain part of the EU.
"Britain's exit from the EU will help small countries like Canada."
— Conservative MP Deepak Obhrai
Obhrai dismissed suggestions Canada had lost because of its pro-Israel voting record, and cuts to the development aid budget that affected African countries in particular.
"No," he said firmly. "I campaigned… We were giving money to Africa and everywhere, through multilateral institutions and we had countries of focus."
Perhaps, the Arab states didn't appreciated the country's support for Israel, but they were only one bloc, Obhrai said.
Several former diplomats suggest, however, that the European Union isn't to blame for Canada losing its seventh attempt at a Security Council seat — its only unsuccessful one.
Paul Heinbecker, Canada's ambassador to the UN from 2000 to 2003, told the CBC after the vote that the Conservatives' foreign policy — from decreasing African aid, to staunchly supporting Israel, to a lack of engagement on climate change and peacekeeping operations — had been unpopular with the international community.
Yves Fortier, another ex-ambassador to the UN from 1988 to 1991, told The Globe and Mail that the "lamentable result" was "a reflection of things that Canada has done or not done that a majority of nations" disapprove of.
"It can only be interpreted as a slight to Canada by the international community," Fortier told the Globe.
'EU dimension can be overcome'
One diplomat posted at the Permanent Mission of Canada to the United Nations during the Security Council campaign noted that there is "certainly huge pressure" from EU members to vote for one another and to use their influence to get third countries to vote for EU members.
"The fact we were running against two EU members (Portugal and Germany) certainly exposed us to that dynamic," he told The Huffington Post Canada. But the fact that non-European union countries in the group of seats reserved for Western countries sometimes get elected, such as Australia and New Zealand, does "demonstrates that the EU dimension can be overcome," he added. "So in our case it was one of the reasons we lost, but I would not say it was the predominant one."
Another former diplomat who worked on the 2010 Security Council bid told HuffPost blaming the EU and African colonies for the loss mathematically "doesn't even make a little bit of sense" and is "a lazy excuse."
Nobody knows for sure, and it's probably a combination of several different reasons, said the former official who agreed to speak anonymously so he could be candid.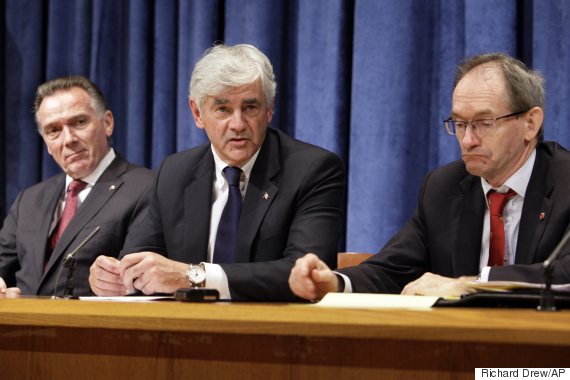 Former foreign affairs minister Lawrence Cannon, flanked by Tory MP Peter Kent and Canada's former UN ambassador John McNee participate in a news conference at United Nations headquarters, Tuesday, Oct. 12, 2010. (Photo: Richard Drew/AP)
Canada's middle east policies, its stance on climate change, and the announcement of a free trade deal with Israel the day before the vote "wasn't the smartest thing." Another reason Canada lost some votes was a due to a fight with the United Arab Emirates over landing rights at Canadian airports for Emirates and Etihad Airways, he said.
"But the biggest reason we lost is that Minister Cannon was ineffective. Part of our strategy was to have him in New York meeting with ambassadors (who cast secret ballots) regularly, but he only came once or twice outside of the General Assembly's leaders week (when he met with ministers). He just refused to meet with ambassadors," the official said.
Obhrai and Peter Kent, the then minister of state of foreign affairs for the Americas, were used to help court ambassadors' support but they weren't the minister of foreign affairs "which makes a difference to a lot of countries," he added.
"Combine that with our refusal to spend to fly diplomats in for junkets (which Portugal spent a fortune on), and we didn't seem like we cared nearly as much."

Loss was a 'badge of honour': Baird
A year after the vote, then foreign affairs minister John Baird went on to describe the failed bid as a badge of honour.
"Maybe if we had shut up, and not talked about gay rights in Africa; maybe if we had shut up and been more quiet about our concerns about Sri Lanka; maybe if we hadn't been so vocally against the deplorable human rights record in Iran, maybe Iran might have voted for us.... But we didn't and I don't think we regret anything. Iran probably voted against us; North Korea probably voted against us; Gadhafi probably voted against us. I think those are all badges of honour," he said.
Whatever the real reason for Canada's failed attempt at UN Security Council, Obhrai believes a weaker EU would benefit Canada.
"They dominate everything. That is why if [Britain] leaves the European Union and the European Union is brought down in size, then we have direct relations with these countries in which we would benefit more because they would support us and they don't need to support the European Union," he said.
Canada would be "better off" engaging with European states one-on-one and strengthening already close ties, outside of the lens of the EU, Obhrai said.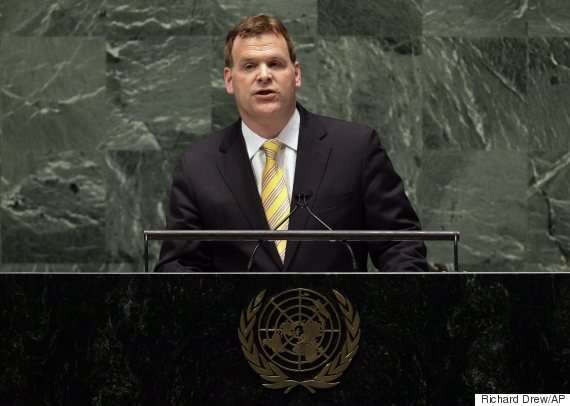 Former foreign affairs minister John Baird addresses the United Nations General Assembly, Thursday, Nov. 29, 2012. (Photo: Richard Drew/AP)
Even on matters like the Canada-EU Comprehensive Economic and Trade Agreement (CETA), Obhrai said. That's a free trade deal that the Tories spent years trying to finalize and promoted as unique access to the world's largest market of 500 million people in 28 countries with a combined GDP of $20 trillion.
"It doesn't really matter if it is CETA or whatever," Obhrai said. "We have free-trade agreements with multitudes of countries around the world. We could have free-trade agreements with Britain, Germany, France and doing it all at the same time."
During his decade as the parliamentary secretary for foreign affairs, Obhrai said he represented Canada at countless forums where the tables were taken over by foreign ministers of European countries as well as a representative of the EU.
"The European Union acts like a sovereign nation!" he said.

The European Union has grown too big. Either this is a lesson for them, what has happened, and if Britain leaves, it's fine it will bring them down to size, if they don't, they'll have other revolts as well."
Scheer calls for Brexit
On Saturday, another Conservative MP, former speaker of the House of Commons Andrew Scheer, penned an op-ed suggesting a Brexit would be better for Britain and better for local decision-making.
"The supremacy of Parliament — the will of the people expressed through their elected representatives — is increasingly being replaced by the dictates of EU bureaucrats in Brussels," Scheer wrote.
Prime Minister Justin Trudeau, however, firmly supports Britain's continued participation in the EU.
"More unity is a path toward greater prosperity. We have a great relationship with a strong and united Europe and certainly hope that that continues," he told Reuters in May. "Britain is always going to have clout, it's just obviously amplified by its strength as part of the EU."
A British exit from the EU would strip the organization from its second-largest economy, one of its top military powers and its biggest financial centre, the news agency noted.
ALSO ON HUFFPOST:
The Ukip leader and MEP is the most famous 'outer'. After his party took over a 100 council seats in May's local election's Nigel Farage is hoping to win the 2014 European elections and then gain MPs in Westminster in 2015. He has confirmed he will seek a parliamentary seat himself.

Margaret Thatcher's former chancellor and a true 'Tory grandee' revealed in The Times that if and when there is a referendum "I shall be voting out". He also stuck the boot into the David Cameron by saying the prime minister's attempts to renegotiate the terms of the UK's relationship with the EU would be "inconsequential".

There are quite a few Conservative MPs who would like to wave goodbye to Brussels. Ken Clarke has said the figure is as low as 30 despite the strong eurosceptic feeling on the backbenches. However the exact number is not clear. Mid-Bedforshire MP Nadine Dorries, who remains suspended from the Conservative Party, is currently talk tof the eurosceptic town amid rumours she may defect to Ukip. Other backbench Brexiters include Bill Cash, Douglas Carswell, Peter Bone and Philip Davies and former defence minister Sir Gerald Howarth.

Most of the anti-EU focus is on the Tory benches. But there are more than a handful of Labour MPs would would like to quit Brussels as well. Eurosceptics include Frank Field, Kate Hoey, Austin Mitchell, and Gisela Stuart. Stuart has argued the status quo is "not sustainable" and Britain should leave.

Rupert Murdoch has warned that the EU will "sink" the UK. The News International and boss caused a stir when he met Nigel Farage for dinner in London recently and said the Ukip leader was "reflecting opinion" with his anti-EU views. In November 2010 Richard Desmond's Daily Express became the first UK newspaper actively to call for Britain to leave the EU, launching a 'Get Britain Out' campaign

Of course no campaign is complete without a bit of star power. The pro-EU camp have Eddie Izzard, who do the Brexiters have? Joan Collins, a 'patron' of Ukip, wants the UK to leave. "The EU, controlled from Brussels, cares only about itself," she said in March.

Most business leaders do indeed seem content with what Lawson called the "warm embrace of the European single market", but there are a few dissenters. Private equity guys Jon Moulton and Edmund Truell are two and Next boss and Tory peer Simon Wolfson has said: "Britain should stay in Europe, but only on the right terms".

There are a number of loud voices whinnying on the sidelines to say "neigh" to the EU notably Melanie Phillips, Richard Littlejohn, Tom Utley, Simon Heffer. Basically the Daily Mail stable.

Several high-profile politicians appear to be on the verge of calling for the UK to exit the EU - but just are not there yet. Former defence secretary Liam Fox - pictured here with a big gun - has said "life outside the EU holds no terror" should David Cameron's hopes of negotiating a new treaty fail. Education secretary Michael Gove is said to have told friends the UK has "nothing to be scared of" by leaving Europe. And many other eurosceptic cabinet ministers, including Iain Duncan Smith and Owen Paterson are likely to share that view.