Trudeau: Britain Staying In EU Will Be Good For CETA Deal
OTTAWA — Prime Minister Justin Trudeau affirmed his desire Wednesday to see Britain remain in the European Union, on the eve of a historic vote marked by fierce campaigning and fond remembrance of a slain British lawmaker.
Trudeau said he wants to see Britain continue to be a strong voice in support of trade and economic prosperity as the country's voters decide Thursday whether to remain part of the 28-country bloc. Canada needs British support to move forward with the Comprehensive Economic and Trade Agreement, he added.
"Great Britain has always been a strong and positive voice around the European table in support of CETA," Trudeau told a news conference.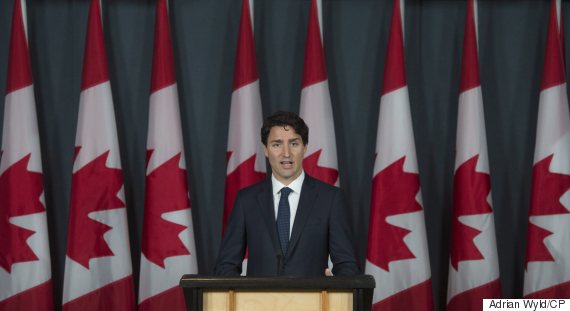 Prime Minister Justin Trudeau speaks with reporters as he takes part in a news conference to mark the end of the parliamentary session Wednesday June 22, 2016 in Ottawa. (Photo: Adrian Wyld/CP)
"So we certainly hope that the outcome of tomorrow will continue to assure that CETA has as many strong voices in support of it as we move forward towards ratification and implementation of an important deal for Canadians, for jobs and for our shared future."
The trade deal is a potentially lucrative one that both sides want to see ratified and in force by early next year.
Trudeau said he'll be watching the referendum closely, but it will be up to the British people to decide their future. He made it clear, however, he is not in favour of the so-called "Brexit" campaign to leave the EU.
"I've made no bones about the fact that I always believed that we are stronger together."
"I've made no bones about the fact that I always believed that we are stronger together."
Last week, the top Canadian diplomat in Britain, High Commissioner Gordon Campbell, told The Canadian Press that if Britain votes to leave the EU it would have "generational" economic consequences that would ripple across the globe.
Trudeau's remarks came on the final feverish day of campaigning in Britain. Prime Minister David Cameron made impassioned pleas for Britain to stay, saying the EU was in recovery and is "the largest single market in the world."
His main opponent on the leave side, former London Mayor Boris Johnson, said the time had come "to break away from the failing and dysfunctional EU system."

British MP killed amid debate
Meanwhile, thousands gathered in London and across the world to pay tribute to the slain British MP Jo Cox, who would have turned 42 on Wednesday. Her husband, Brendan, said the killing last week by a man who gave his name in court as "death to traitors, freedom for Britain" was "political" and "an act of terror designed to advance an agenda of hatred toward others."
He reminded the crowd that his wife was an ardent campaigner for Britain to remain in the EU.
In Ottawa, more than 100 people crammed the sidewalk in front of the British High Commission to pay tribute to Cox, placing pink and white roses at the foot of an improvised memorial.
The killing in Cox's northern England constituency temporarily stopped referendum campaigning and was seen by some as a potential blow to the Brexit side.
There was no direct mention of the referendum by those who came to pay tribute to Cox in Ottawa, but the values she embodied, including her firm desire to remain in the EU, were celebrated by those in attendance.
'It was very numbing'
"Her message is one of tolerance, not of polarization; of respect for each other; of finding our common things, not our difference," said Oxfam Quebec's Lina Holguin, who became friends with Cox after living with her for a year during a work assignment in Britain.
"She was the most brilliant campaigner I ever met — so energetic, so committed."
Rookie Liberal MP Karina Gould said Cox's killing deeply touched parliamentarians around the world.
"For me personally, it was very numbing," said Gould, one of several Canadian politicians who was on hand to pay respects to Cox.
"All of us being here today is a symbol. It's a rejection of hatred. It's a rejection of violence."
ALSO ON HUFFPOST:
The Ukip leader and MEP is the most famous 'outer'. After his party took over a 100 council seats in May's local election's Nigel Farage is hoping to win the 2014 European elections and then gain MPs in Westminster in 2015. He has confirmed he will seek a parliamentary seat himself.

Margaret Thatcher's former chancellor and a true 'Tory grandee' revealed in The Times that if and when there is a referendum "I shall be voting out". He also stuck the boot into the David Cameron by saying the prime minister's attempts to renegotiate the terms of the UK's relationship with the EU would be "inconsequential".

There are quite a few Conservative MPs who would like to wave goodbye to Brussels. Ken Clarke has said the figure is as low as 30 despite the strong eurosceptic feeling on the backbenches. However the exact number is not clear. Mid-Bedforshire MP Nadine Dorries, who remains suspended from the Conservative Party, is currently talk tof the eurosceptic town amid rumours she may defect to Ukip. Other backbench Brexiters include Bill Cash, Douglas Carswell, Peter Bone and Philip Davies and former defence minister Sir Gerald Howarth.

Most of the anti-EU focus is on the Tory benches. But there are more than a handful of Labour MPs would would like to quit Brussels as well. Eurosceptics include Frank Field, Kate Hoey, Austin Mitchell, and Gisela Stuart. Stuart has argued the status quo is "not sustainable" and Britain should leave.

Rupert Murdoch has warned that the EU will "sink" the UK. The News International and boss caused a stir when he met Nigel Farage for dinner in London recently and said the Ukip leader was "reflecting opinion" with his anti-EU views. In November 2010 Richard Desmond's Daily Express became the first UK newspaper actively to call for Britain to leave the EU, launching a 'Get Britain Out' campaign

Of course no campaign is complete without a bit of star power. The pro-EU camp have Eddie Izzard, who do the Brexiters have? Joan Collins, a 'patron' of Ukip, wants the UK to leave. "The EU, controlled from Brussels, cares only about itself," she said in March.

Most business leaders do indeed seem content with what Lawson called the "warm embrace of the European single market", but there are a few dissenters. Private equity guys Jon Moulton and Edmund Truell are two and Next boss and Tory peer Simon Wolfson has said: "Britain should stay in Europe, but only on the right terms".

There are a number of loud voices whinnying on the sidelines to say "neigh" to the EU notably Melanie Phillips, Richard Littlejohn, Tom Utley, Simon Heffer. Basically the Daily Mail stable.

Several high-profile politicians appear to be on the verge of calling for the UK to exit the EU - but just are not there yet. Former defence secretary Liam Fox - pictured here with a big gun - has said "life outside the EU holds no terror" should David Cameron's hopes of negotiating a new treaty fail. Education secretary Michael Gove is said to have told friends the UK has "nothing to be scared of" by leaving Europe. And many other eurosceptic cabinet ministers, including Iain Duncan Smith and Owen Paterson are likely to share that view.