As he summed up the first session of Canada's 42nd Parliament on Wednesday, Trudeau maintained that his government fulfilled three big economic commitments before the summer recess, but still has a lot of work to do.
On the other hand, his critics contend that it's taken less than nine months for the familiar old Liberal arrogance to return.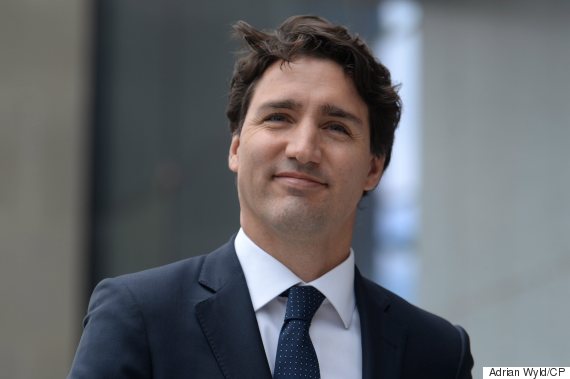 Prime Minister Justin Trudeau arrives at an end-of-session news conferernce on Parliament Hill in Ottawa on Wednesday, June 22, 2016. (Photo: Adrian Wyld/CP)
Syrian refugee settlement, the recurring suicide crisis in First Nations communities, contentious and ground-breaking legislation on doctor-assisted death and a partial Liberal climbdown on the process for electoral reform were the dominant issues in the House of Commons this spring, but they didn't make it into the prime minister's self-edited highlight reel.
Instead, Trudeau pounded away at his preferred economic message: the Liberal tax cut for middle-income earners; the new Canada Child Benefit, whose first cheques will roll out within weeks; and the just-negotiated reforms to the Canada Pension Plan. The Liberals have delivered, said Trudeau, still riffing off last year's Liberal campaign slogan, with the "real change that Canadians want and need and voted for."
Struggles with democratic reform file, F-35s
But a pan-Canadian climate plan — promised within 90 days of December's international climate conference in Paris — remains very much a work in progress. The first Liberal stab at reforming the voting system went badly astray. And the Liberal campaign vow to ditch the F-35 fighter jet purchase and "immediately launch an open and transparent competition to replace the CF-18 fighter aircraft" has all but vanished from the radar. Trudeau pointedly avoided confirming either of the fighter jet promises Wednesday, waving the question off as "lots of speculation in the media." It was a low-key and utilitarian performance. There would be no one-armed pushups, dimpled grins or hands on heart for the benefit of the parliamentary press throng.
"We don't have to accomplish everything immediately, and we can't expect to accomplish everything within the first few months."
The closest the prime minister came to anything approaching introspection during the half-hour news conference was his French-language response to a question about what he learned in his first eight months in power. "One thing that I had to remind my ministers several times over the course of the session was this," Trudeau responded. "They came in with such amazing capacity, ability, and they were so motivated, so enthusiastic, I had to say, 'We have four years in our mandate. We don't have to accomplish everything immediately, and we can't expect to accomplish everything within the first few months.'" The aren't-we-marvellous subtext has been grating on the opposition — but not yet the public at large, according to another bevy of public opinion surveys released this week. The Liberal party, and the prime minister personally, continues to ride high, largely at the expense of a New Democratic Party that's polling barely into the double digits.

Ambrose says Grits don't want public input

The Conservatives, under interim leader Rona Ambrose, are holding their own as they adjust to life on the margins after a decade on centre stage in government. The Opposition says it's being whipsawed between the Liberal penchant for launching public consultations here, there and everywhere — thus avoiding hard decisions, say Conservative critics — and a contradictory Liberal impulse to make controversial moves without much debate. In an interview with The Canadian Press, Ambrose pointed to the lack of public input on Canada Pension Plan changes, a change to the national anthem's lyrics, and the Liberal decision to end Canada's role in the jet-fighter bombing campaign against the Islamic State of Iraq and the Levant.

'An arrogant attitude'

She also questioned how a party that campaigned on transparency could impose time allocation to close off debate in the Commons and employ heavy-handed tactics like the procedural jackhammer Motion 6, which was withdrawn only after Trudeau's elbowing incident in the Commons with the NDP's Ruth Ellen Brosseau.  "I think the concern that I have is that the government acts like the opposition doesn't matter and that they have complete carte blanche to do whatever they want," said Ambrose. "I think that's an arrogant attitude, I think it's entitled and I think they have to recognize that opposition parties have a strong role to play and Canadians expect the government to be held to account." — With files from Stephanie Levitz

ALSO ON HUFFPOST:

Federal Budget 2016 Highlights

Suggest a correction

OTTAWA — Prime Minister Justin Trudeau says he's had to repeatedly remind his over-enthusiastic cabinet that their new Liberal government has a four-year mandate "and we can't expect to accomplish everything within the first few months."