Grassy Narrows First Nation Supporters Dump Mysterious Liquid Outside Ontario Legislature
TORONTO — Six protesters supporting the remote Grassy Narrows First Nation were arrested by Toronto police Thursday after they dumped a mysterious liquid outside the front doors of the Ontario legislature.
Members of FreeGrassy.net, wearing protective white coveralls and surgical masks, brought four barrels sporting skull and crossbones warnings to the legislature. One barrel was spilled, dumping a thick grey substance that oozed out over the broad front driveway.
Security officials blocked the legislature's main doors and cleared the vast south lawn of tourists while hazardous materials crews tried to determine what the substance was.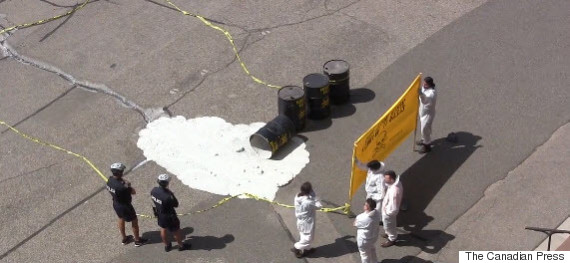 Members of FreeGrassy.net stand beside their "chemical spill" at the Ontario legislature on Thursday, June 23, 2016. (Photo: CP)
Protest spokesman Syed Hussan refused to identify "the chemical spill" on the legislature's doorstep.
"It definitely looks a lot like mercury, but I can't tell you," said Hussan. "If this was in Grassy Narrows, the government would take 40 years to identify it and clean it up."
Grassy Narrows, which is near the Manitoba border and north of Kenora, has suffered from mercury poisoning since the Dryden Chemical Co. dumped 9,000 kilograms of it into the Wabigoon and English River systems during the 1960s.
The government closed the local fishery that formed the basis of the Grassy Narrows economy in the 1970s, but some residents ignored the order to stop eating the fish.
The mercury contamination is blamed for many illness and some deaths in the community.
"If this was in Grassy Narrows, the government would take 40 years to identify it and clean it up."
Hussan said the protesters wanted people in downtown Toronto to feel the worry that Grassy Narrows residents have lived with for decades.
"We're absolutely trying to bring a slight amount of the fear that the people of Grassy Narrows face every day into this community to show the injustice, and to say that just like this (spill) will be cleaned, we want the river system to be cleaned, too," he said.
"It's not about a stunt."
'Not a stunt'
Legislative security staff called in Toronto police and firefighters to help deal with the protest and try to determine exactly what was dumped, but authorities were not treating it as a highly toxic substance that would require evacuations.
"At this point there is no reason to believe there is any threat to public safety," said Toronto police Const. Craig Brister.
"Right now they're just at the point of determining exactly what it is."
The response to the spilled substance at Queen's Park included the Chemical, Biological, Radiological, Nuclear and Explosive Team as well as a Hazardous Materials Team, but Brister couldn't say how long it would take to complete the testing of the grey liquid.
"That's essentially going to take as long as it's going to take," he said.
The six protesters who were arrested were charged with mischief.
A group of Grassy Narrows teens were ejected from the legislature three weeks ago for wearing T-shirts that said "water is sacred." Wearing T-shirts with slogans is considered a protest, which is not allowed inside the legislature.
Two Ontario cabinet ministers are scheduled to visit Grassy Narrows on Monday to talk with community leaders about various reports on the mercury contamination and find out what should be done to clean it up.