Nasra Adem Named Edmonton's New Youth Poet Laureate
Poet Nasra Adem says Edmonton didn't begin to feel like home until she found the city's arts community.
Now, she wants to help other young people fall in love with the spoken word.
On Wednesday, Adem was named the city's second-ever Youth Poet Laureate. She told The Huffington Post Alberta that when she received a phone call with the news she "just yelled for a really, really long time."
The 22-year-old multidisciplinary artist, who has performed at a number of poetry and spoken word festivals around Canada, says it took her some time to warm up to Edmonton.
"Coming to Edmonton was a huge culture shock," says Adem.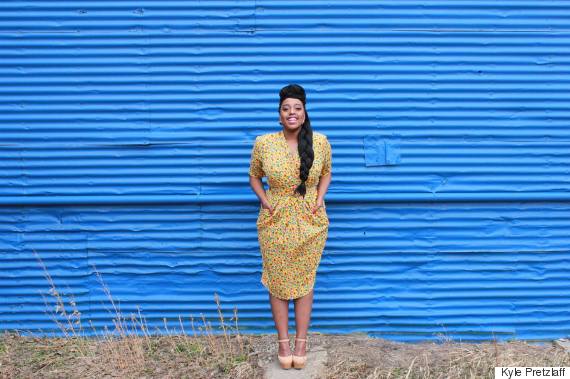 Nasra Adem is Edmonton's new Youth Poet Laureate. (Photo: Kyle Pretzlaff)
She was born in Calgary and moved to Ontario when she was two years old. As a child, she split her time between Toronto and Ottawa, before her family moved to Edmonton when she was in junior high.
"It was really hard to adjust for the first four years. Where I grew up was predominantly East African, Middle Eastern families. That was my whole elementary school," she explained.
"Once I fell in love with spoken word, once I saw people telling their stories and calling it poetry it changed everything for me."
"I came to Edmonton and went to an upper-middle class, basically all-white school. It was really hard for me to transition. But once I found the arts community, things started to change for me. I started to look at Edmonton in a different light because there was finally space for me.
"The more I was involved in the community, the more I started to appreciate my art, the more the city started to open up," she said.
Adem studied musical theatre at Grant MacEwan University. She's the founder of Sister 2 Sister, a monthly showcase of women artists of colour.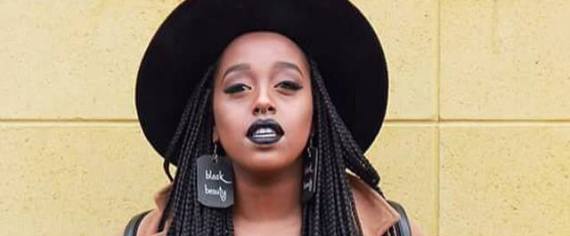 Nasra Adem will write at least two original poems during her term as poet laureate. (Photo: Kyle Pretzlaff)
The artist says she hopes to help high school students connect with spoken word and slam poetry.
"I'm looking forward to hopefully establishing some kind of slam poetry presence in high schools. That's kind of the dream, I think, just because I know if I'd had slam poetry in high school I could have started my craft a lot earlier," Adem said.
"High school is kind of... I don't want to sound harsh, but it's a place where poetry dies for a lot of young people," she added with a laugh.
"Once I fell in love with spoken word, once I saw people telling their stories and calling it poetry it changed everything for me. I want to give that back because it changed my life."
Adem will serve a one-year term as Youth Poet Laureate, where she'll write a minimum of two original poems and perform at public events around the city.
Watch Nasra Adem perform her original poem "Building" above.
Like Us On Facebook
Follow Us On Twitter
Also on HuffPost:
"I think that were beginning to remember that the first poets didn't come out of a classroom, that poetry began when somebody walked off of a savanna or out of a cave and looked up at the sky with wonder and said, "Ahhh." That was the first poem."

Poetry is the spontaneous overflow of powerful feelings: it takes its origin from emotion recollected in tranquillity.

"A perfect poem is impossible. Once it had been written, the world would end."

"A poet must never make a statement simply because it is sounds poetically exciting; he must also believe it to be true."

Poetry lifts the veil from the hidden beauty of the world, and makes familiar objects be as if they were not familiar.

I wish our clever young poets would remember my homely definitions of prose and poetry

"Poetry is just the evidence of life. If your life is burning well, poetry is just the ash."

Poetry is the only life got, the only work done, the only pure product and free labor of man, performed only when he has put all the world under his feet, and conquered the last of his foes.

"Poetry must have something in it that is barbaric, vast and wild."

'Poetry is the universal language which the heart holds with nature and itself'

Poets have been mysteriously silent on the subject of cheese.

'Great poetry is always written by somebody straining to go beyond what he can do.'

'If I feel physically as if the top of my head were taken off, I know that is poetry.'

I've had it with these cheap sons of bitches who claim they love poetry but never buy a book.

I could no more define poetry than a terrier can define a rat.

"Poetry should surprise by a fine excess and not by singularity—it should strike the reader as a wording of his own highest thoughts, and appear almost a remembrance."

Modesty is a virtue not often found among poets, for almost every one of them thinks himself the greatest in the world.

"Poetry is plucking at the heartstrings, and making music with them. "

"A poem begins with a lump in the throat."

"You I am sure will forgive me for sincerely remarking that you might curb your magnanimity and be more of an artist, and 'load every rift' of your subject with ore."

"Language is fossil poetry"

"Poetry is the rhythmical creation of beauty in words."

"Poetry: the best words in the best order."

"Poetry is a deal of joy and pain and wonder, with a dash of the dictionary."

"You will never be alone with a poet in your pocket."

Poetry is the journal of a sea animal living on land, wanting to fly in the air.