Brexit Vote: North American Stock Markets Bloodied After British Referendum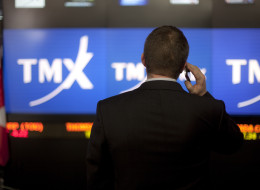 TORONTO — The vote by Britain to leave the European Union left stock markets around the world bloodied Friday as investors braced for uncertain and volatile times in the wake of the decision.
Philip Petursson, chief investment strategist at Manulife Investments, said the vote took markets by surprise as traders had expected the opposite result, with European stocks and the British pound gaining ground earlier this week as investors bet that Britain would vote to remain part of the EU.
"It did come as a surprise, I think, that it went the other way," he said. "There really wasn't enough of a signal that leave was a real probability."
However, Petursson said while the vote will have consequences for markets in Britain and the EU, he couldn't say the same for Canada.
"Yes, it introduces a level of uncertainty to the global environment, but you drill down and drill down further, it's not as meaningful or certainly long-lasting for the Canadian economy or the Canadian stock market," he said.
"We don't have the answer to that yet."
The Toronto market plunged at the start of trading Friday before regaining some of the ground lost. The S&P/TSX composite index ended the day down 239.50 points or 1.7 per cent at 13,891.88, as the gold sector, a traditional refuge amid volatile financial markets, helped limit losses.
The Canadian dollar fell 1.37 U.S. cents to 76.93 cents US.
The move compared with a drop of almost seven per cent by Germany's DAX and eight per cent for France's CAC 40. Britain's FTSE 100 plunged more than eight per cent in early trading, but regained much of the ground to end the day down a little more than three per cent.
Bruce Cooper, chief investment officer at TD Asset Management, said investors are wondering if the vote by Britain could be the first step toward a slowdown in the global economy.
"A big question that markets are asking themselves is how negative will this be for global economic growth," Cooper said.
"We don't have the answer to that yet. I think what markets are telling you is we think it is going to be negative, we're not sure exactly how negative."
Cooper said expectations earlier this year were that the U.S. Federal Reserve could increase interest rates one or two times later this year, but that is no longer the case.
"I think there is now a good chance that will be zero (rate increases) and that rates will just stay very low for a very long period of time and, in fact, we might see the inclination for central banks to try and stimulate more," he said.
"A big question that markets are asking themselves is how negative will this be for global economic growth."
G7 finance ministers and central bank governors moved to reassure markets Friday that they had taken steps to ensure adequate liquidity and to support the functioning of markets.
"We affirm our assessment that the U.K. economy and financial sector remain resilient and are confident that the U.K. authorities are well positioned to address the consequences of the referendum outcome," the group said.
In New York, the Dow Jones industrial average plunged 610.32 points to 17,400.75, while the S&P 500 dropped 75.91 points to 2,037.41. The Nasdaq composite lost 202.06 points to 4,707.98.
Meanwhile, the British pound plunged to levels not seen since the mid-1980s.
It fell 12.83 cents against the loonie to C$1.7724 and dropped 12.47 cents against the American greenback to US$1.3635.
The euro also lost ground against the Canada dollar, sliding 1.24 cents to C$1.4413.
In commodities, the August contract for North American benchmark crude oil fell $2.47 to US$47.64 a barrel, while the August natural gas fell 4.3 cents to US$2.694 per mmBtu.
Also on HuffPost: