The British vote to exit the EU had an immediate impact in the financial world, with the British pound plunging to its lowest level in three decades and world stock prices falling.
Trudeau said Canada shares deep historical ties and common values with the U.K. and the EU and will continue to build relationships with both as they forge a new relationship of their own.
"Canada's connections to our partners around the world are among its greatest assets, and these relationships contribute greatly to the prosperity of all Canadians,'' Trudeau said in a statement.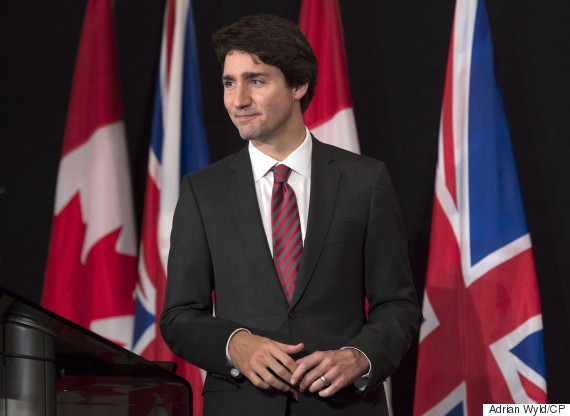 Prime Minister Justin Trudeau steps up to the podium to deliver a speech at Canada House in London, England, Wednesday, Nov.25, 2015. (Photo: Adrian Wyld/CP)
"Canada has tremendous economic fundamentals that we are strengthening with key investments in infrastructure and measures to grow our middle class. We are well positioned to weather global market uncertainty as we have done in the past.''
British Prime Minister David Cameron, who led the campaign to keep Britain in the EU, also said he would resign by October.
"We are well positioned to weather global market uncertainty as we have done in the past.''
Trudeau thanked Cameron for being a close ally and good friend to Canada and wished him well.
The prime minister, Foreign Affairs Minister Stephane Dion, Finance Minister Bill Morneau and former Conservative prime minister Brian Mulroney had all spoken out in favour of Britain remaining in the EU prior to Thursday's referendum.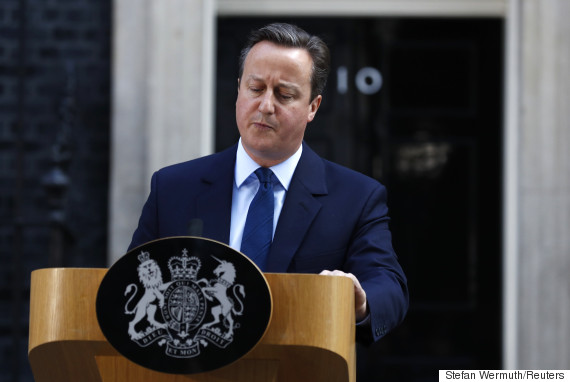 Britain's Prime Minister David Cameron speaks after Britain voted to leave the European Union, outside Number 10 Downing Street in London on Friday. (Photo: Stefan Wermuth/Reuters)
Conservative MP Jason Kenney took to Twitter to chide Trudeau for wading into the referendum, calling it a "terrible, short-sighted gaffe.''
"Canada should immediately demonstrate respect for the choice made by the British people, & prioritize negotiation of Canada-UK free trade,'' Kenney wrote.
International Trade Minister Chrystia Freeland spoke earlier Friday with the EU trade commissioner about the free trade deal the two sides are working on finalizing. In a statement, Freeland said Canada remains committed to growing global trade.
Please read my statement on the results of the Brexit referendum:https://t.co/EDKgeHLOfJ

— Justin Trudeau (@JustinTrudeau) June 24, 2016
She didn't say what the vote would mean for the future of the trade pact with the EU, or Canada's trading relationship with the U.K.
"Millions of Canadians have strong, personal connections with the United Kingdom and it is one of Canada's top trading partners globally. We want Britain to succeed and prosper, and — as we have said all along — we will continue to be a friend, partner, and ally,'' she said.
The 'demise of the EU' and the 'rise of the far right'
Other Canadian politicians struck a more pessimistic tone.
Liberal MP Hedy Fry tweeted that the vote — along with calls in other European nations like France, Italy and the Netherlands to hold their own EU exit referendums — "signals the demise of EU & of security and stability regionally and globally.''
NDP MP Niki Ashton commented that the referendum calls were a sign of "the disturbing rise of the far right.''
Green party Leader Elizabeth May tweeted that she was proud of the Greens in the U.K. who campaigned for the remain side, calling the results "shattering.''
Conservative MP Michelle Rempel wrote that Canada "will have many roles to play'' in maintaining political stability in Europe.
Political instability in Europe has never been a positive thing for the world...Canada will have many roles to play. https://t.co/S2vPLM48xh

— Michelle Rempel, MP (@MichelleRempel) June 24, 2016
"I think related Canadian policy will have to be nimble and smart to navigate these uncharted waters.''

NDP MP Ruth Ellen Brosseau tweeted her reaction in the form of an animation of a music video by the band Weezer along with the song's four-word title: "Say it ain't so.''

Also on HuffPost

Suggest a correction

OTTAWA — Prime Minister Justin Trudeau sought to ease tumultuous Canadian markets Friday, saying the country is well positioned to weather global uncertainty in the wake of the United Kingdom's dramatic decision to leave the European Union.