Canadian Airbnbs Could Soon Go Full Pac-Man On Canadian Hotel Revenues
Take a look at the "Pac-Man" game board below.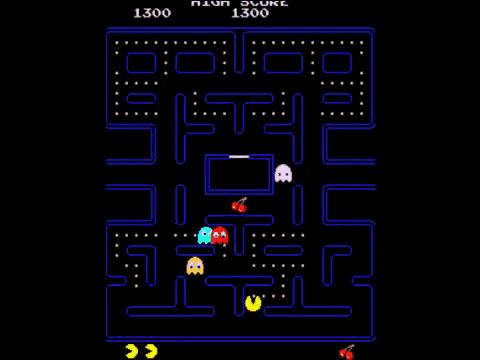 Imagine Pac-Man as Airbnb, slowly gobbling up the profits of the hotel industry around him.
Then imagine the ghosts as hotels, scrambling to save themselves as Pac-Man eats into their profits.
That's just one way to illustrate what could happen to Canada's accommodation sector if the home-sharing company keeps growing as it has.
A new report by Ryerson's Ted Rogers School of Management and hospitality consultancy HLT Advisory shows just how much Airbnb has grown across Canada since 2010 — and the share of the accommodation sector it managed to grab last year.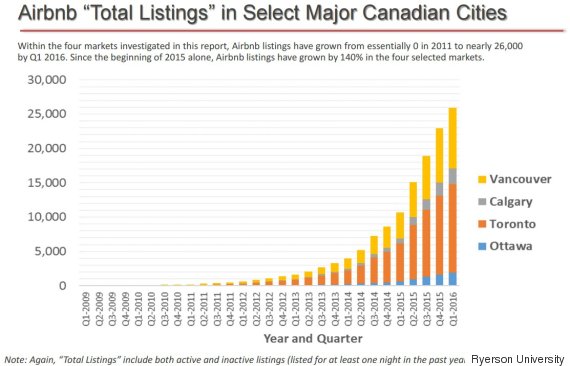 Airbnb demand is mostly driven by leisure travellers, who largely veer to cities such as Vancouver and Toronto. Users are less interested in cities such as Calgary and Ottawa, which are more business-oriented.
But that could change, HLT Advisory managing director Lyle Hall said in a news release.
"If Airbnb continues to grow at its recent pace and becomes more accepted by businesses and convention travelers, it will have a significant impact on the broader hotel business in Canada," HLT Advisory managing director Lyle Hall said in a news release.
Market share
The report determined Airbnb's market share in the accommodation sector by looking at a six-month period between July and December 2015.
Airbnb took up its greatest shares of accommodation demand in Metro Vancouver (5.3 per cent) and Greater Toronto (4.7 per cent) in those months. It took up a lesser share in Ottawa (2.6 per cent) and Calgary (1.5 per cent).
It also commanded a 5.1 per cent share of revenue on the West Coast and a 4.7 per cent share in the 6ix. The share of Calgary revenue was 1.2 per cent and the share of Ottawa revenue was 2.2 per cent.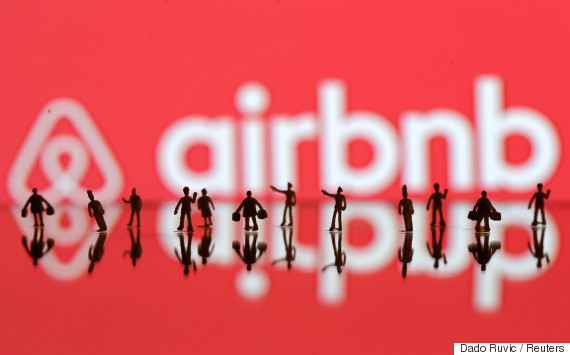 One of the driving factors that makes Airbnb so popular is the idea of renting a place for less than what you'd have to pay for a hotel room.
That's true when it comes to the price of renting a room or sharing an apartment, the report noted. But it's not the case when you compare the cost of renting an entire place with the average daily rate (ADR) of a hotel room in these cities.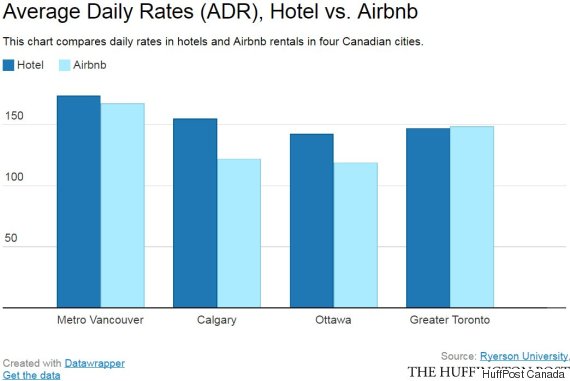 At a daily rate of $148.91, it actually cost more to stay in an Airbnb in Greater Toronto last year than a hotel ($146.89).
Vancouver was the most expensive of any Canadian city when it came to both Airbnb and hotel listings. But unlike Toronto, the latter ($173.86) was still more expensive than in the former ($167.64).
"If you're a family looking for a place to stay, Airbnb does not always have the lowest price option if you compare the average daily rates of a hotel with the cost of renting an entire home on Airbnb," assistant professor and report co-author Chris Gibbs said in a news release.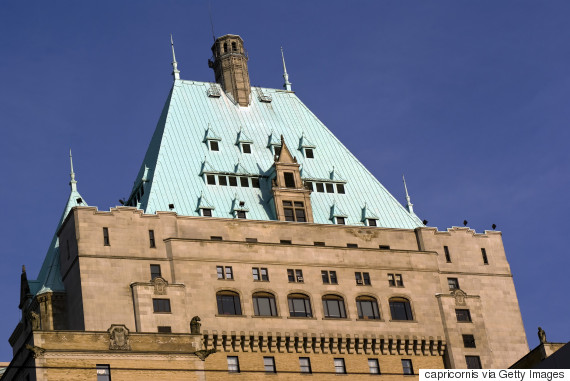 The Fairmont Hotel Vancouver. (Photo: Capricornis/Getty Images)
Airbnb makes three-quarters of its money from people who rent out entire homes, rather than just a room or two, the report noted.
Those who manage two listings or more bring in half of its revenues.
Also on HuffPost:
Airbnb's 16 Neighbourhoods to Visit in 2016
Not known as a particularly touristy place, this is a central Buenos Aires neighbourhood not far from the more popular Monserrat and San Telmo areas.

A diverse area with food offerings from various countries such as Greece and Vietnam. Cyclists can regularly be seen riding alongside the Yarra River, while rowers heave on its surface. There's also plenty of art throughout the area.

Sit back and relax to the sound of the waves in the Bukit Peninsula. Surfers flock to this locale, where you can find incredible beaches and even a temple that hangs on a cliff.

Not to be confused with "District 9," this Budapest neighbourhood is known as the city's old Jewish quarter. It underwent a change early into the millennium, as old buildings were turned into "ruin bars." The area now plays host to lots of great cafes and places to drink craft beer.

This Atlanta neighbourhood plays host to Druid Hills Baptist Church, a facility that's almost 90 years old, as well as the Beltline Trail, a pedestrian area that also displays plenty of art.

Running. Cycling. Dancing. Oak Lawn has it all. Its Katy Trail is lit 24 hours a day for bikers and joggers, and you can cool off at the Katy Trail Ice House, which is considered one of the city's best patios. Or you can unwind by listening to free music in Klyde Warren Park every Thursday.

One part of the "Colonia Roma," "Roma Sur" is now considered its own neighbourhood, and it's a great place to stay if you want to feel like you live there. There are plenty of family-run coffee shops, or you can grab lunch with the youngsters that frequent Mercado Medellín. There's also an independent cinema, Cine Tonal, which, along with movies, has a strong selection of mezcal, an alcoholic drink made from a Mexican plant.

Meireles is an up-and-coming neighbourhood in the coastal city of Fortaleza, where there are lots of beaches and nearby fishing villages you can reach by boat. Hosts have recommended that visitors buy hammocks at Redes Santa Luzia, and to have a great churrasco-style lunch at Gheller.

It takes a journey through the jungle to arrive at Kaneohe, and it's worth it. This Oahu neighbourhood boasts beaches and hikes such as Friendship Gardens, which take you to a ridge with gorgeous views.

Once known as "Little Venice" due to its canals, this Hamburg neighbourhood is now known as "Hammerbrooklyn," an area where old and and new buildings don't clash, but stand pleasantly alongside one another. The glass Berliner Bogen is a particular attraction you'll find here.

Bullfighting. Flamenco. Both things for which Spain is known. And both can be found in Triana, an area of Sevilla (or Seville) in southern Spain. It has cobbled streets and a great market in the Mercado de Triana, where you can enjoy delicious tapas at various bars.

Sitting close to the Acropolis, the Koukaki neighbourhood has ancient features, but it also plays host to two pedestrian streets that were built recently. Bars and restaurants have since sprung up in the area, making a great place to take a stroll.

"The belly of Bordeaux" is so-named for its food selections. Airbnb recommends visiting La Boulangerie for almond pastries and baguettes, while oysters and other great dishes can be found at the Marche des Capucins. Walk it off with a stroll through squares such as Camille Julian, St Colombe or the Palace Square.

Brickfields, also known as "Little India," is seeing developments that will usher condos, a shopping centre and more into the area. It's a place where you can find Indian clothing stores and restaurants, and fill up on dishes such as curry puffs and banana leaf rice. Don't forget to fold the leaf toward yourself to signal that you're finished.

One of Banglampoo's most prominent features is the Khaosan Road, known worldwide for its bars and marketplace. But the neighbourhood has more than that, like noodle places operated out of apartment buildings and temples hidden from the main street.

This area is home to Osaka Castle, which was built by a 16th-century warlord, and much more. Chūō-ku's Kuromon Market is known as "Gastronome," thanks to a bevy of fresh food you can nosh on there. But the neighbourhood has also seen bars and restaurants spring up along its alleys. In other words, Chūō-ku is a great place to visit on an empty stomach.