Canada Assisted Dying Law Challenged Just Days After It Passed
VANCOUVER — A 25-year-old British Columbia woman with a degenerative muscle disease is challenging Canada's physician-assisted dying law just days after it came into force.
Julia Lamb of Chilliwack has spinal muscular atrophy and fears her body will weaken to the point that she could be left in a state of intolerable suffering for years because she does not qualify for doctor-assisted death under the new law.
"My biggest fear is that if my condition suddenly gets much worse, which could happen any day, I will become trapped," she said Monday.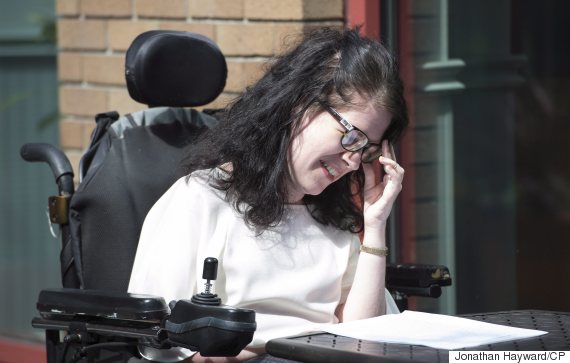 Julia Lamb, who has a degenerative muscle disease, pauses following a news conference in Vancouver, B.C., Monday, June, 27, 2016. (Photo: Jonathan Hayward/CP)
"I feel a shadow looming over me. I know I could lose the ability to breathe well enough on my own and require a ventilator, which could affect my ability to speak."
Lamb said she was diagnosed with the muscle disease at 16 months and required a wheelchair at age six but has lived a fulfilling life with a loving family and enjoys her part-time job as a marketing assistant.
She said she opposes the requirements of Bill C-14 that a doctor's help can only be given if death is reasonably foreseeable and the patient is in an advanced state of irreversible decline.
"If my suffering becomes intolerable I would like to make the final choice about how much suffering to endure," said Lamb, who has joined the British Columbia Civil Liberties Association in a legal fight against the new law.
"My biggest fear is that if my condition suddenly gets much worse, which could happen any day, I will become trapped."
Grace Pastine, a lawyer with the association, said the law excludes a class of people who are suffering with no immediate end in sight from diseases, such as muscular dystrophy, Parkinson's and Huntington's disease.
A Supreme Court of Canada ruling last year gave people like Lamb the right to end their lives with a doctor's help when pain management, hospice care and medical treatments have not helped, Pastine said.
"The new legislation has the perverse effect of forcing some critically ill Canadians to resort to violent methods or the back alley. People will find ways to end lives that have become unbearable," she said.
Dr. Ellen Wiebe said she was preparing to help another woman who qualified under the Supreme Court of Canada's definition of the law, but restrictions under Bill C-14 ended those plans.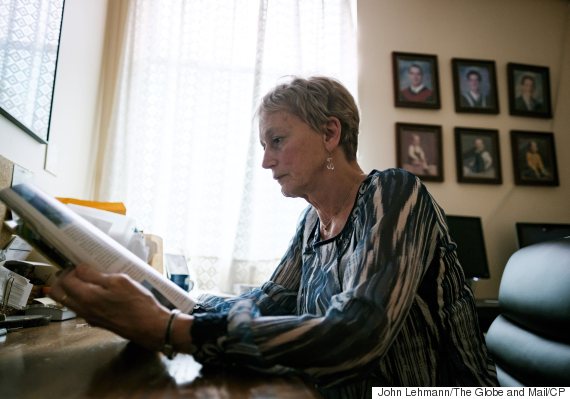 Dr Ellen Wiebe in her office at the Willow Women's Clinic in Vancouver March 2, 2016. (Photo: John Lehmann/The Globe and Mail/CP)
Just three days before the woman's intended death, Wiebe says she was informed Friday that she could be prosecuted for taking part.
Wiebe says her patient was extremely upset with her and with the difficulties interpreting the new law.
"This is part of the problem with C-14. It is difficult to interpret the foreseeable future issue and I feel terrible about my part in what (her patient) went through," Wiebe says.
"I am willing to take some risks for my patients, but when the lawyer says I am at a high risk for prosecution, I say, No."
Despite the stringent wording of Bill C-14, Wiebe says she remains grateful for the new legislation and has been able to help suffering people.
ALSO ON HUFFPOST:
Right-To-Die Laws Around The World
A look at some jurisdictions where right-to-die laws are in place. (Information courtesy of The Canadian Press)

A right-to-die bill was adopted last year, the first legislation of its kind in Canada. The law, scheduled to go into effect in December, stipulates that patients would have to repeatedly ask a doctor to end their lives on the basis of unbearable physical or psychological suffering. They would have to be deemed mentally sound at the time of the requests. The law, however, is being challenged in court by two Quebec-based groups on the grounds that it undercuts sections of the Criminal Code that outlaw assisted suicide and euthanasia. The federal government has expressed its opposition to the legislation but is named as a defendant in the court challenge because it is responsible for the Criminal Code.

The results of a referendum made Oregon the first U.S. state to make it legal for a doctor to prescribe a life-ending drug to a terminally ill patient of sound mind who makes the request. However, doctors cannot administer the life-ending drugs and the patient must swallow them without help. Patients must state three times -- once in writing -- that they wish to die, and those statements must be made at least 15 days apart. They must also obtain a concurring opinion from a second doctor that they have less than six months to live and are of sound mind. The law took effect in late 1997, and through June, 2014, just over 800 people had used the law.

The state became the first in the U.S. to allow a person's right to die through legislation rather than through a court decision or a referendum result. Vermont's law, which took effect in May 2013, is closely modelled on the system in Oregon and uses the same safeguards. Patients must state three times, including once in writing -- that they wish to die. They must also obtain a concurring opinion from a second doctor that they have less than six months to live and are of sound mind.

In January 2014, a judge ruled that competent, terminally ill patients have the right to seek their doctors' help in getting prescription medication if they want to end their lives on their own terms. The state's attorney general is appealing the ruling, and a decision on whether it will be upheld is expected later this year.

A referendum saw the state enact right to die legislation in 2008. As in Oregon, patients with less than six months to live must administer the doctor-prescribed lethal medication on their own. According to a government report, 549 people applied for the right to die between 2009 and 2013. Of those, 525 actually took their own lives.

In 2009, the state's Supreme Court ruled that Montana's public policy supports mentally competent, terminally ill patients being able to choose aid in dying. Physicians are allowed to prescribe medication that patients must administer themselves. More detailed legislative bills have been introduced in the state but have not passed. The court ruling still stands today, but data about its usage is not available.

A law passed in 1942 forbade anyone from helping someone kill themselves for selfish reasons. As a result, people arguing that they are assisting with a suicide for unselfish motives are not considered to be committing a crime. Suicides can be assisted by people other than doctors and no medical condition needs to be established. Switzerland is the only country that allows foreigners to travel there for the purpose of ending their own lives.

In the Netherlands, euthanasia is legal under specific circumstances and for children over the age of 12 with parental consent. In Europe, patients don't have to prove that they have a terminal illness -- establishing unbearable suffering is usually sufficient. Dutch doctors are allowed to perform euthanasia if a patient whose unbearable suffering has no hope of improvement asks to die with a full understanding of the situation. A second doctor must agree with the decision to help the patient die.