Alberta Universities Relax Admissions, Deadlines For Fort McMurray Students
Post-secondary institutions across Alberta are doing their utmost to make life easier for high school graduates impacted by the wildfires in Fort McMurray.
Universities say they've relaxed admissions criteria and extended deadlines for those students hoping to start post-secondary school in September.
The wildfires that prompted a mass evacuation of the town and caused millions of dollars in damage put a stop to high school classes across the city and initially left students in doubt as to how they could complete required exams and finish final courses.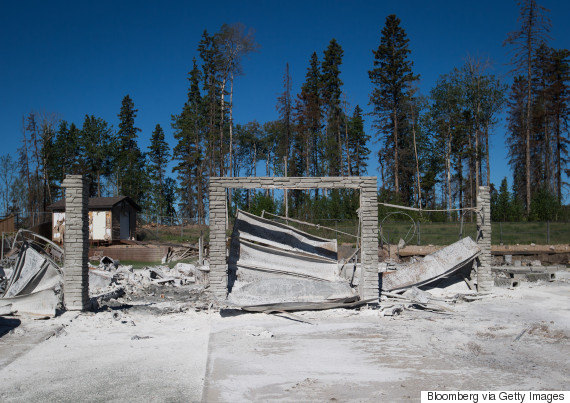 The remains of a house destroyed by wildfire is seen in the Timberlea neighborhood of Fort McMurray. (Photo: Darryl Dyck/Bloomberg via Getty Images)
Students say they're grateful that those hurdles have been addressed, but still lament the fact they'll be missing out on typical high school graduation rituals.
Proms have been cancelled and parties rescheduled, and official graduation ceremonies have been rebooked for the end of August when some students will have already left town.
Kaylin Lynett has experienced both the benefits and drawbacks of the circumstances imposed by the Fort McMurray fires.
Relief at having her early acceptance to the University of Alberta confirmed without the need to write normally mandatory diploma exams has been tempered by social media posts of other friends trying on prom gowns and celebrating the start of a new chapter alongside their high school friends.
"I never realized how much I wanted a grad until I didn't get a grad,'' the 17-year-old said in a telephone interview. "Just the fancy dresses and them with all their friends making funny poses and things like that.''
"I never realized how much I wanted a grad until I didn't get a grad."
Missing out on grad traditions seemed like the least of Lynett's problems when she and her family were forced to flee the flames engulfing the city in early May.
Her acceptance to the bilingual business program at University of Alberta had come through, but Lynett said she was nervous that it could be revoked if she failed to complete a diploma exam required of all Alberta high school students and finish her high school course work.
Accordingly, she registered at a high school in Red Deer, at least an hour away from where her family members were staying.
Her luck changed less than a week after the fire broke out, however, when Alberta Education announced that students from Fort McMurray high schools were exempt from taking the tests.
Six post-secondaries offer support
The next day, the six post-secondary institutions in the Edmonton area announced their intention to smooth the path for students impacted by the fire.
Concordia University of Edmonton, King's University, MacEwan University, the Northern Alberta Institute of Technology, Norquest College and the University of Alberta all acknowledged the difficulty the fire could present for prospective students and said they were committed to offering what support they could.
University of Alberta registrar Lisa Collins said the 250 applicants from the area became a high priority and their cases were handled individually rather than according to standard protocols.
"The principle that we work from is that we do everything that we can to reduce anxiety and to ensure that students aren't penalized for circumstances that are beyond their control,'' she said.
Final marks were accepted based on course work completed to date and were not based at on diploma exams, which usually account for 30 per cent of a final grade, she said.
Flexible deadlines
The university also agreed to be flexible about deadlines by which schools or students could submit final transcripts, Collins said, recognizing that documents would be hard to come by while buildings were closed in the wake of the fire.
Lynett said the change in policy allowed her to shift her focus from exams to course work. She enrolled in a distance education program, which made its services free for Fort McMurray students, to ensure that she completed the calculus course work that would allow her to stay competitive next year.
Madison Dirk didn't have that luxury, as she was still waiting for acceptances when the fire broke out.
Unwilling to wait for the official wheels to turn, she took it upon herself to contact the three out-of-province universities she had applied to to alert them to her situation and emailed them a report containing her interim marks.
Dirk was relieved when the acceptances began flooding in, and now plans to study nursing at the University of Ottawa in the fall.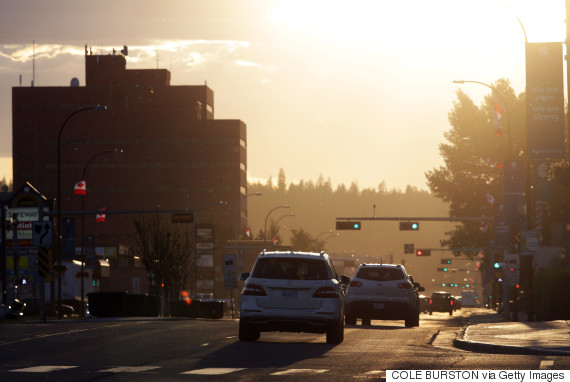 Trucks drive through Fort McMurray on June 3, a month after the wildfire entered the city. (Photo: Cole Burston/Getty)
She said many of her friends have opted not to follow suit, preferring instead to stay close to home and help their families recover from the devastation of the blaze.
Before they leave for university, however, both Dirk and Lynett have their sights set on Aug. 26 when their rescheduled graduations will take place.
The lustre has partially gone out of the occasion for Dirk, who bought a dress months ago, secured a date, and had planned a huge party to celebrate the occasion.
She said missing out on a typical graduation pales in comparison to other losses sustained in the community, but added she can't help a twinge of disappointment.
"In the grand scheme of things, when I'm 80 years old I'm not going to be like, 'wow, my grad was awesome,''' she said. "There's going to be a lot of other things I'm going to go through, but right now it's something that all of us were really excited for.''
Also on HuffPost:
Fort McMurray Wildfire (May 2016)
Police man a roadblock as smoke billows in the background from a wildfire near Fort McMurray, Alta. Displaced residents had a chance to see their burned city for the first time in a convoy that moved evacuees south to reunite with family and friends.

New images of what the neighbourhoods look like now after the wildfire swept through are simply haunting.

Officials said shifting winds were giving the embattled northern Alberta city a break, but they added the fire that forced 80,000 people from their homes remained out of control and was likely to burn for weeks.

The remains of a vehicle sit in a Fort McMurray neighbourhood destroyed by wildfire.

Evacuees from the Fort McMurray wildfires register at the evacuation centre in Lac La Biche, Alta. on May 5, 2016. Premier Rachel Notley said returning home "will not be a matter of days."

Volunteers load water for Fort McMurray evacuees. Labatt Breweries is donating 200,000 cans of water to help firefighters and victims in the area.

More than 1,200 firefighters, 110 helicopters, 295 pieces of heavy equipment and 27 air tankers are battling wildfires, the province announced on Friday.

A truck drives away from the Fort McMurray area. The ever-changing, volatile situation frayes the nerves of residents and officials alike as a massive wildfire continues to bear down on northern Alberta.

Alberta Premier Rachel Notley announced the government will provide cash to help wildfire evacuees with immediate needs.

Evacuees from the Fort McMurray wildfires rest at the evacuation centre in Lac La Biche, Alta. on May 5, 2016.

In some neighbnourhoods, charred foundations of homes and vehicles are all that remain.

The charred remains of a bus sit on the side of a road in Fort McMurray on May 5, 2016. More than 80,000 people have left Fort McMurray, in the heart of Canada's oil sands as a wildfire that has devastated the area exploded in size.

Evacuees leave oilsands camps in a massive convoy of 1,500 vehicles in the early morning of May 6, 2016 after being stranded north due to the wildfire in Fort McMurray, Alta.

A Mountie surveys the damage on a Fort McMurray street. Over 1,600 structures in the area have been destroyed by the wildfire.

In just one day, generous Albertans donated over 600 plastic kennels to help transport pets out of the Fort McMurray wildfire evacuation zone. "Thank you to everyone who helped us meet this goal in such a short amount of time," wrote the Calgary Humane Society in a release. "We are truly grateful." Sadly, many Fort McMurray owners were forced to leave their beloved pets behind.

25,000 feet above Fort McMurray on May 3, 2016.

A swing set stands, with the swings burned away in Fort McMurray.

Firefighters take their first break after fighting the Fort McMurray blaze for over 30 hours.

Fort McMurray is obscured under a massive cloud of smoke and ash on May 3, 2016. About 88,000 people are estimated to have been forced out of the Fort McMurray area due to the wildfire.

A family of evacuees from the Fort McMurray wildfires arrive at an evacuation centre in Edmonton.

A police officer wears a mask while controlling a roadblock near a wildfire in Fort McMurray on May 5, 2016.

A wildfire moves towards the town of Anzac from Fort McMurray on May 4, 2016. Alberta declared a state of emergency as crews frantically held back wind-whipped wildfires.

Alberta Wildrose Leader Brian Jean talks with police near the wildfire in Fort McMurray. Jean learned Tuesday he had lost his home in the blaze.

Video captured on a vehicle's dash cameras show the terrifying escape route evacuees faced as an out-of-control wildfire swept through Fort McMurray, Alta.

Michel Chamberland, who recorded the horrifying dash cam footage of his escape from Fort McMurray, is pictured in Edmonton.

An Alberta sheriff sits in a roadblock on Highway 63 as a massive plume of smoke rises over Fort McMurray.

Evacuees watch the wildfire near Fort McMurray on May 4, 2016. The fire has affected many people from the Maritimes who work in northern Alberta.

A bus waits to transfer Fort McMurray evacuees from Anzac to Edmonton.

Cots litter the gym floor at an evacuee reception centre set up and operated by the regional municipality of Wood Buffalo in Anzac, Alta., on May 4, 2016. A wildfire has put the entire region of around 88,000 people under a mandatory evacuation order.

Dan Crane and Elisha Car take refuge in a work truck after being evacuated from Fort McMurray on May 4, 2016. The Alberta government is matching donations to the Red Cross for those affected by the wildfire.

A picture provided by Twitter user @TechDeckSafety shows the wildfire seen from an airplane leaving Fort McMurray on May 4, 2016. Click here for more photos.

A helicopter battles a wildfire in Fort McMurray on May 4, 2016. The wildfire has already torched 1,600 structures in the evacuated oil hub of Fort McMurray and is poised to renew its attack in another day of scorching heat and strong winds.

Social workers at the Edmonton Food Bank fill a vehicle with supplies for Fort McMurray evacuees.

A picture provided by Twitter user @jeromegarot shows burnt trees after a wildfire raged through Fort McMurray on Highway 63 to Edmonton.

An evacuee puts gas in his car on his way out of Fort McMurray, Alberta, as a wildfire burns in the background on May 4, 2016.

A family of evacuees camp out on their van at a beach south of Fort McMurray on May 4, 2016.

Dale Kossey with his three dogs Elmo, Gizmo, and Lacey rests in the pet owners' area of the reception centre at an evacuee reception centre set up and operated by the regional municipality of Wood Buffalo in nearby Anzac, Alta. on May 4, 2016.

Traffic is at a standstill on Highway 63 as people continue to leave Fort McMurray on May 4, 2015.

A picture provided by Twitter user @jeromegarot show the wildfire raging through Fort McMurray on May 3, 2016.

Flames move towards the Sawridge Inn Hotel in Fort McMurray.

A family takes refuge in the back of their boat after evacuation at a rest stop near Fort McMurray on May 4, 2016.

The Fort McMurray hospital managed to safely move all 105 patients, along with patients' families and staff, to Edmonton.

Evacuees from Fort McMurray wait to hear when they will be let back in, at a rest stop near Fort McMurray on May 4, 2016.

Shell Canada shut down production at a nearby oilsands mining operation to allow employees to leave the region safely. The move also makes room for evacuees to stay at the work camp.

Flames burn alongside the highway near the Syncrude oil site on May 3.

A mandatory evacuation order was issued for the city of Fort McMurray, with a population of 70,000, on May 3, 2016, as a wildfire entered city limits.

Heavy smoke rises above Alberta's Highway 63, near Fort McMurray on May 3, 2016.

Amid the chaos of the Fort McMurray fire evacuation, a baby was born at the Noralta Lodge evacuation centre.

Traffic lines the highway as residents leave Fort McMurray on May 3, 2016.

A NASA satellite captured how unbelievably quickly a devastating wildfire spread through Fort McMurray.

Fort McMurray resident Chris Burrows told CBC News he has his neighbour and girlfriend to thank for saving his life. Burrows was asleep when he heard his neighbour at the door. "He said, 'Look out your back window.' [I] looked out the back of the patio, and within 200 metres I saw flames that were 100 metres high," Burrows told CBC.

Videos captured the apocalyptic scene as 80,000 residents fled from Fort McMurray after a massive wildfire entered the city.

A wall of fire rages outside of Fort McMurray, which prompted the evacuation of the entire city.

Evacuees from the wildfires in and around Fort McMurray hug at the evacuation centre at the Edmonton Expo Centre in Edmonton on May 4, 2016.

Wildrose Party leader and MLA for Fort McMurray-Conklin Brian Jean confirmed that his house was one of many burned as an out-of-control wildfire entered Fort McMurray.

Days after reopening from a blaze that destroyed the interior of its main location, an Alberta gelato shop pitched in to help those affected by the Fort McMurray wildfire.

The sky above Fort McMurray on May 3.

The view from the Fort McMurray airport on May 2, 2016.

Students from Fort McMurray Composite High School are released early as wildfire burns nearby on May 3, 2016.

An aerial photo of the fire.

On May 1, 2016, a large wildfire was spotted burning just outside of Fort McMurray. Within two days, the wildfire had more than doubled in size to over 2,600 hectares.

A Fort McMurray resident captured this video of the fire from their rooftop.

Air tankers responded to the fire to support the ground crew's effort.

The wildfire is seen from MacDonald Island Park near Fort McMurray, May 3, 2016.

Abandoned vehicles line Highway 63 south of Fort McMurray, Alberta. Evacuees fled with few possessions and often ran out of gas before they could make it to the next town hundreds of kilometres away. The fire has been blazing for seven days and covers more than 150,000 hectares - twice the size of Calgary.

Helicopters carry water bombs from a nearby lake to drop on the wildfire near Fort McMurray. The blaze has grown so big in scale that one firefighter likened the effort to spitting on a campfire.

Crews continue to control the blaze using water bombs near Highway 63, just south of Fort McMurray.