CSIS Locks Horns With Diplomats Over Anti-Terror Info Sharing
Canada's spy agency has been frustrated in trying to track Canadians who travel overseas to fight for ISIS and other extremist groups because the country's diplomatic service is refusing to play ball.
That's the complaint of the Canadian Security Intelligence Service, which says Global Affairs Canada (GAC) has not volunteered key security information, and drags its feet when asked for specific files on citizens and others.
The rare glimpse into a squabble between spies and diplomats appears in a document obtained by CBC News under the Access to Information Act.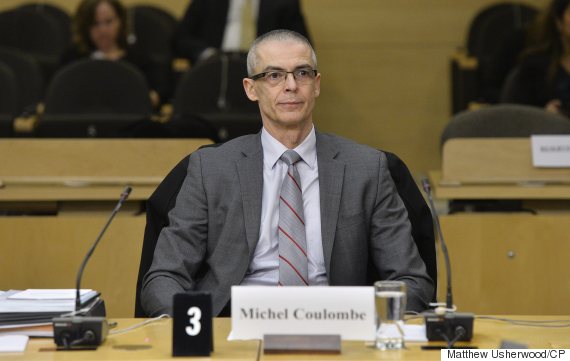 CSIS Director Michel Coulombe appears before a joint committee on National Security and Defence in Ottawa on Monday, March 7, 2016. (Photos: Matthew Usherwood/CP)
The spy agency has been "concerned that GAC was not sharing information in a proactive manner and that its vetting process for responding to CSIS requests was causing lengthy delays," says a November 2015 account of the dispute.
The problems occurred just months after controversial anti-terrorism bill, C-51, became law. The legislation was designed to smooth security information sharing among 17 federal agencies, including CSIS and Global Affairs Canada.
Canada's privacy commissioner railed against the bill, saying it set the bar too low and unreasonably intrudes on privacy. The Liberals helped pass C-51, but since forming the government have said they will improve on it, though without providing specifics.
A Canadian Press report in March said at least four federal agencies have already used the information-sharing powers conferred by the bill, including CSIS.
Transition fraught
But the newly released document shows the transition has been fraught — largely because of the reluctance of the diplomatic service to hand over personal information on Canadians gleaned from passports and consular services.
"CSIS has been in discussions with GAC to address challenges with respect to timely sharing of information related to threats to national security, for example Canadians travelling overseas to fight for extremist groups," says the RCMP document, signed Dec. 1 by Commissioner Bob Paulson.
The RCMP, CSIS and Global Affairs were in talks last fall to break the logjam, drafting a "declaration" to "facilitate timely information sharing" based on what Canada's diplomats gathered from citizens visiting or contacting embassies and missions, among other things.
A spokeswoman for CSIS, Roxanne Ouellette, declined comment on the "specific operational issues" raised by the document, saying only that the spy agency works in "close collaboration" with the diplomatic service.
John Babcock of Global Affairs Canada, however, said a letter the department signed with CSIS and the RCMP "was sent to Canadian missions abroad in order to ensure that all stakeholders share a consistent understanding of the provisions of the Security of Canada Information Sharing Act," the section of C-51 that allows agencies to trade personal information for anti-terror purposes.
Security expert Wesley Wark, who examined the document for CBC News, said the strained relationship between spies and diplomats can be traced back to the Maher Arar inquiry, which criticized Canadian information sharing that eventually put Arar into a Syrian torture cell.
Global Affairs wants to avoid being "dragged through the mud of an Arar inquiry, for failing to offer appropriate consular and privacy law protections."
Traced to Arar inquiry
Wark added that Global Affairs "is still getting used to the fact that CSIS is not just a domestic security intelligence organization but increasingly has an important foreign intelligence gathering role, operating in the same overseas arenas where some of our more critical embassies and consulates have to operate, e.g., the Middle East."
Former Canadian diplomat Gar Pardy also traced current tensions back to the 2006 Arar inquiry, which raised troubling questions about information sharing both within and outside Canadian government circles.
Pardy said C-51 did not entirely clarify when personal information could be shared, and that its provisions in any case may be moot because Public Safety Minister Ralph Goodale has said changes are coming.
"This is a large area where I think there's considerable uncertainty," he said in an interview, adding he can understand the reluctance of officials at Global Affairs about handing over information to an insistent CSIS.
"For somebody to complain about implementation [of C-51] is a bit early in the day," Pardy said.
The omnibus legislation, which became law in June and expanded Canada's no-fly list, came under fire from the NDP and civil liberties groups that said it tilted the balance too far in favour of police and security agency powers.

ALSO ON HUFFPOST:
Canada's ISIS Mission: Then & Now
Her'es a look at some of what's been said — recently and otherwise — about Canada's evolving role in the U.S.-led mission against the Islamic State of Iraq and the Levant, which was officially retooled by the new Liberal government. (Information from The Canadian Press)

"Our efforts should better reflect what Canada is all about; defending our interests and freedoms alongside our allies and working constructively with local partners to build real solutions for the longer term." — Trudeau, announcing a larger training and development mission and the withdrawal of CF-18 fighter-bombers.

"ISIL would like us to see them as a credible threat to our way of life and to our civilization. We know Canada is stronger — much stronger than the threat posed by a murderous gang of thugs who are terrorizing some of the most vulnerable people on earth." — Trudeau.

"Left unchecked, this terrorist threat can only grow, and grow quickly. As a government, we know our ultimate responsibility is to protect Canadians and to defend our citizens from those who would do harm to us or our families." — Former prime minister Stephen Harper on Oct. 3, 2014, as he announced in the House of Commons a plan to send Canadian aircraft to fight in Iraq.

"Canadians did not invent the threat of jihadi terrorism and we certainly did not invite it; nor, as this global threat becomes ever more serious, can we protect ourselves, our communities, by choosing to ignore it. That is why a strong majority of Canadians have supported our government's mission against ISIL. Canadians understand that it is not merely in the wider interests of the international community, but specifically in Canada's national interest." — Harper on March 24, 2015, telling the Commons of a plan to extend and expand the mission.

"It is important to understand that while airstrike operations can be very useful to achieve short-term military and territorial gains, they do not, on their own, achieve long-term stability for local communities. Canadians learned this lesson first-hand during a very difficult decade in Afghanistan where our forces became expert military trainers renowned around the world." — Trudeau on Monday.

"Along with our allies and through the auspices of the United Nations, Canada should provide more help through a well-funded and well-planned humanitarian aid effort. The refugee crisis alone threatens the region's security, overwhelming countries from Lebanon to Turkey, from Syria itself to Jordan. Here at home, we should significantly expand our refugee targets and give more victims of war the opportunity to start a new life in Canada." — Trudeau as Liberal opposition leader in the Commons, March 2015.

"Our allies want us in the fight against ISIS, that is clear. This is a despicable terrorist group. And Canadians want us in the fight against ISIS because it is our fight and that is clear. When our friends and our allies are attacked, it is our fight and when our values are threatened and our country is threatened and our friends are threatened, it is our fight. And when human rights are trampled and human dignity is trampled, then it is our fight." — Interim Conservative leader Rona Ambrose.

"The prime minister likes to say he cares about diversity, but there is nothing that threatens diversity more than ISIS — whether it is the rights of women, cultural and religious freedoms, or the rights of gays and lesbians." — Ambrose.

"The Canadian announcement is the kind of response the secretary has been looking for from coalition members as the United States and our coalition partners push to accelerate the campaign against ISIL ... the United States is willing to lead the coalition in the fight against ISIL, but the barbaric group poses a threat to every nation, so every nation should join this fight. If countries are unwilling or unable to contribute militarily, then they should consider the important non-military ways they can contribute to this effort." — Pentagon press secretary Peter Cook during Monday's Department of Defense briefing.

"We are concerned that the Liberal government has chosen to place Canadian Forces personnel deeper into an open-ended combat military mission in Iraq — a mission that fails to even define what success would look like. And while we welcome the government's announcement today of increased humanitarian assistance to the region, we are concerned that this aid is being linked to the military mission." — NDP MP Helene Laverdiere.

"I commend Prime Minister Justin Trudeau for committing to increase humanitarian and military aid for the nearly 4.6-million Syrian refugees who have been displaced by five years of brutal war in the region." — Green party Leader Elizabeth May.

"As a founding member of the coalition, Canada has been a valued and willing partner in the mission to degrade and destroy (ISIL) and has played an important role across all lines of effort." — Bruce Heyman, the U.S. ambassador to Canada.

"We're pleased Canada is continuing to invest and play a leadership role in educating and protecting children affected by crises in Syria and Iraq." — David Morley, president and CEO of UNICEF Canada.