Ontario To Provide HPV Vaccine For Free To Gay, Bisexual Men, All Grade 7 Students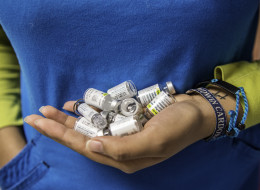 TORONTO -- Ontario is expanding its free vaccine for the human papillomavirus or HPV to people aged 26 or younger who identify as gay, bisexual or men who have sex with men, including some transgender people.
Health Minister Eric Hoskins says men who have sex with men are at increased risk of HPV infection, which can lead to penile and anal cancer.
Hoskins says HPV is a very common virus that is blamed for an estimated 254 deaths and over 1,000 cases of cancer in Ontario every year.
Ontario had already announced plans to offer the HPV vaccine to boys as well as girls in Grade 7 this fall as part of its routine school-based immunization program. Previously, it was offered only to girls in Grade 8.
Experts estimate that without vaccination, 75 per cent of sexually active Canadians will get HPV in their lifetime.
Eligible young gay and bisexual men will be able to receive the HPV vaccine through their local public health unit starting in September.
Also on HuffPost:
The vaccine Gardisil, which protects against four strains of HPV that account for most HPV-associated cancer and genital warts, is available to and recommended for boys. The American Academy of Pediatrics released a statement early last year in favor of the vaccine for boys before the start of sexual activity: The vaccine is most effective if administered before the onset of sexual activity, and antibody responses to the vaccine are highest at ages 9 through 15 years. Immunization of children against HPV infection will help prevent cancers and genital warts caused by HPV.

Gay and bisexual men are 17 times more likely to develop HPV-associated anal cancer than men who have sex with women, according to the CDC.

Most HPV screening happens during women's Pap smears in which the doctor scrapes some cells from the cervix to test for abnormalities. There is no clinically-available blood test for the virus and so the majority of carriers -- of both genders -- are unaware that they have the virus.

One multi-country study found that 50 percent of men over age 15 have been infected with HPV. What's more, each year, about six percent of men will contract a new infection of the strain that is most associated with cervical cancer in women -- HPV 16.

Although the overall rates of cancer are declining, according to the latest research from the National Cancer Institute, HPV-associated cancers are on the rise. That was at first confounding to doctors who expected oral cancer rates to decline alongside smoking rates (another risk factor). In particular, HPV-positive oropharyngeal cancer now accounts for 70 percent of that cancer type.