Uber Drivers In Alberta Will Be Insured By Intact Financial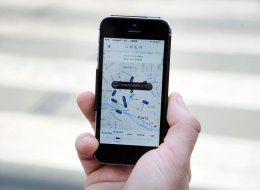 EDMONTON — Uber Canada says Alberta's new insurance policy for ride-hailing companies is a key step toward it resuming service in the province.
Intact Financial Corp. (TSX:IFC) says it will begin offering coverage for Uber drivers in Alberta on Friday.
Uber says it has not set a date for a possible relaunch in the province.
Uber suspended its operations in Edmonton and Calgary in the last year as the province and municipalities wrangled with the company over how to regulate the industry.
New insurance policy
Alberta announced a new insurance policy on Tuesday for ride-hailing companies that requires them to provide up to $2 million in third-party liability insurance, with optional collision or comprehensive coverage.
Both companies say they will work with regulators in Ontario and Quebec to provide similar insurance coverage later this year.
"As of today, we do not have any specific information on a possible relaunch of our services in cities across the province (Alberta),'' Uber spokesman Jean-Christophe de Le Rue wrote in an email Wednesday.
"We continue to review the new regulations announced by the Alberta government yesterday and their impact on our operating model.''
Also on HuffPost:
Wouldn't it be nice to push a button on your smartphone and have a Mercedes S-Class show up? That's exactly what the founders of the service thought before launching it in San Francisco in 2010.

The service is cashless. A fare is automatically charged to the credit card on file and a receipt is e-mailed.

Sharing the ride with friends? Uber will split the bill and charge separate credit cards. "No more pay-me-backs or IOUs," says the website.

Uber lets customers pick a ride that matches their "style and budget." Options range from a low-cost service called uberX to a luxury service called UberLux. Options vary between cities.

Riders can rate their experience after a trip and leave additional feedback about the driver.

Investors on the company include Goldman Sachs, Google Ventures and First Round Capital.