Canadians Divided On Direction Of Country, Yet Many Believe 'Golden Age' Lies Ahead: Poll
A new poll suggests while Canadians are split on the direction of this country, many remain optimistic that its best days are ahead.
Angus Reid Institute released numbers Thursday, just ahead of Canada's 149th birthday, revealing a mixed bag when it comes to attitudes in this country.
While Canadians are deeply proud of many aspects of their nation, economic anxieties appear to be making a sizable number of people gloomy about the future.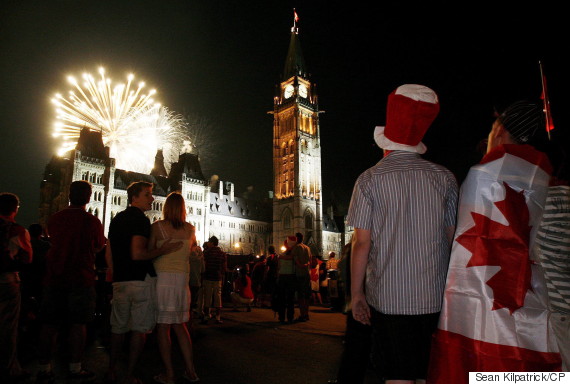 Fireworks explode over Parliament Hill during Canada Day celebrations on July 1, 2008. (Photo: Sean Kilpatrick/CP)
Forty-two per cent of Canadians said they were satisfied with the way things are going — while another 42 per cent said they were not.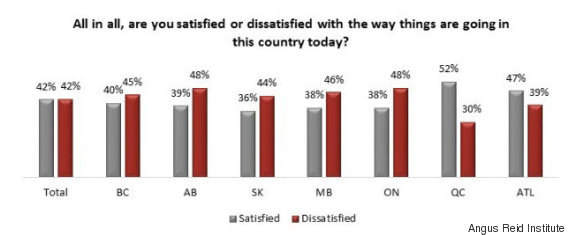 Albertans were the most likely to say they were unhappy with the nation's path — with 48 per cent expressing dissatisfaction. That figure goes head-to-head with the 39 per cent who felt the opposite.
Quebecers are the most content lot in Canada right now, the poll suggests, with 52 per cent saying they were satisfied compared to 30 per cent who are dissatisfied.
And it appears young Canadians are the most hopeful for the future. Forty-eight per cent of respondents between the ages of 18 to 34 feel satisfied with the way things are going, while those over the age of 35 were more likely to report dissatisfaction.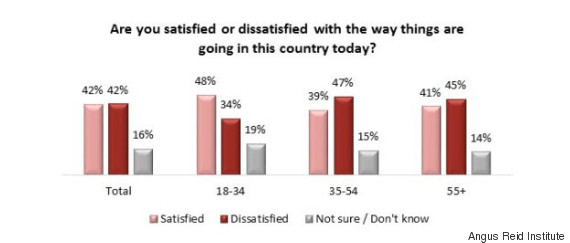 The uneasy state of the economy appears to be driving pessimism in some places, as roughly four-in-ten said economic prospects are worse now than they were 25 years ago. A slim majority — 52 per cent — said they believe future generations will be worse off than Canadians today.
'Golden age' of Canada comparisons
But when asked what decade has been Canada's "Golden Age," many expressed optimism. The largest number of respondents — 23 per cent — said Canada's best days are yet to come.
Seventeen per cent of Canadians picked the 1970s as a "Golden Age" and 14 per cent chose the 1960s — both periods of big changes ranging from the introduction of an official policy on multiculturalism, advancement of women's rights, and a greater focus on equality.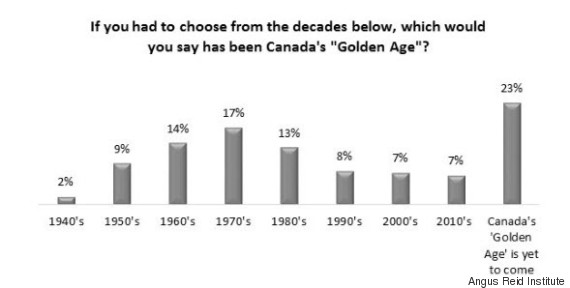 And, regardless of feelings about the future, 70 per cent of Canadians said they plan to celebrate their country's birthday on July 1 in some way. Fewer than two-in-five Quebecers, however, told the Angus Reid Institute they will mark the occasion.
The online poll was conducted between June 13 to 16 among a representative sample of 1,519 Canadian adults who are part of the Angus Reid Forum. It has a margin of error of three percentage points, 19 times out of 20.
ALSO ON HUFFPOST:
What Canada's PMs Have Said About Canada
"We are a great country, and shall become one of the greatest in the universe if we preserve it; we shall sink into insignificance and adversity if we suffer it to be broken."

"We shall all respect the principles of each other and do nothing that would be regarded as an act of oppression to any portion of the people."

"I hate politics and what are considered their appropriate measures. I hate notoriety, public meetings, public speeches, caucuses and everything that I know of which is apparently the necessary incident of politics—except doing public work to the best of my ability."

"The one calamity above all others which stands before this country is that political division should follow the division of race or the division of religion."

"I hope the time is fast approaching in Canada when we shall never hear the question raised of a man's birth, or the creed that he professes. We live in a country and under a constitution in which every man has a right to act as his judgment dictates, or as his education leads him, upon matters of this very important character."

"Each little Province is a little nation by itself. "

"Two races share today the soil of Canada. These people had not always been friends. But I hasten to say it. There is no longer any family here but the human family. It matters not the language people speak, or the altars at which they kneel."

"Let us never forget the solemn truth that the nation is not constituted of the living alone. There are those as well who have passed away and those yet to be born. So this great responsibility comes to us as heirs of the past and trustees of the future. But with that responsibility there has come something greater still, the opportunity of proving ourselves worthy of it."

"Loyalty to the ballot box is not necessarily loyalty to the nation. Political captains in Canada must have courage to lead rather than servility to follow."

"A strong and dominant national feeling is not a luxury in Canada, it is a necessity. Without it this country could not exist."

"Canada: a land endowed by heaven with incalculable wealth. A people free and brave and strong with the strength that comes from the mountains and the prairies, the rivers and the sea."

"Our nation was planned as a political partnership of two great races. It was planned by men of vision, of tolerance, as a partnership in which both of the partners would retain their essential characteristics, their religion, their culture."

"I am a Canadian, free to speak without fear, free to worship in my own way, free to stand for what I think right, free to oppose what I believe wrong, or free to choose those who shall govern my country. This heritage of freedom I pledge to uphold for myself and all mankind."

"Whether we live together in confidence and cohesion; with more faith and pride in ourselves and less self-doubt and hesitation; strong in the conviction that the destiny of Canada is to unite, not divide; sharing in cooperation, not in separation or in conflict; respecting our past and welcoming our future."

"Canada will be a strong country when Canadians of all provinces feel at home in all parts of the country, and when they feel that all Canada belongs to them."

"This is a very complicated country. You have to understand it, you have to respect it, and I think our most successful prime ministers have been people who have drawn together the diversity of the country."

"In any democracy, there is always a tug-of-war between policies to achieve equality and policies to promote excellence. I am certain that Canada can achieve both equality and excellence."

"Canada must stand for the best in all fields of human endeavour. And we must be uncompromising in the pursuit of values that are the moral foundation of all great nations. That is my dream for my country: a Canada fair and generous, tolerant and just."

"In the... years of our common history, anglophones and francophones, Aboriginal peoples and new Canadians have shown that our political system, founded on the profound respect of differences and the sharing of fundamental values, is our most powerful tool of development."

"What we have built together in Canada is something very great and very noble. A country whose values of tolerance, understanding, generosity have made us what we are: a society where our number one priority is the respect and dignity of all our citizens."

"The people of Canada have worked hard to build a country that opens its doors to include all, regardless of their differences; a country that respects all, regardless of their differences; a country that demands equality for all, regardless of their differences."

"Canada must reflect the true character of its people. Honourable in our dealings. Faithful to our commitments. Loyal to our friends. By turns a courageous warrior and a compassionate neighbour. That is the spirit of the Canada I know."

UP NEXT: Canada's Longest-Serving PMs

On November 13, 2014 -- his 3,203rd day on the job -- Stephen Harper leapfrogged former PM (and fellow Conservative) Brian Mulroney to become the sixth longest-serving prime minister in Canadian history. But he still has a ways to go to catch the five former leaders ahead of him.

Days in office: 3,689

Days in office: 5,564

Days in office: 5,642

Days in office: 6,934

Days in office: 7,837

UP NEXT: How Much Tories Have Aged?