Calgary Stampede Boost Could Help Local Businesses Weather Downturn
CALGARY — When Warren Connell decided to take the reins at the Calgary Stampede two years ago, the world was a very different place.
"When I applied for this job, oil was at $105 a barrel and the same government in the province had been in place for 44 years," said Connell.
"So I undertook a pretty big change when I took over."
As CEO of the Stampede, Connell has had to steer one of Canada's largest festivals through one of the worst economic downturns Calgary has ever experienced.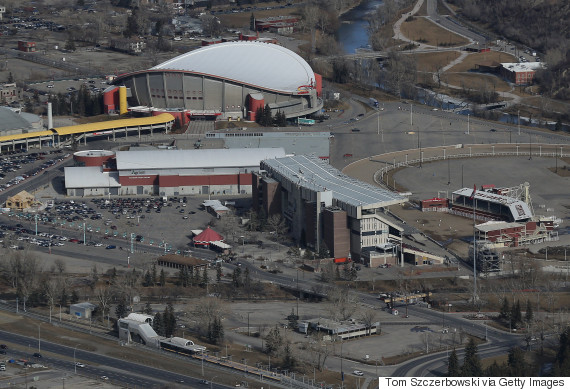 An aerial view of the Stampede Grounds, as seen on Feb. 26, 2016. (Photo: Tom Szczerbowski/Getty Images)
And he's not alone. Hotels, party planners, bars and restaurants across the city are feeling the effects of lower corporate spending from the oil and gas industry.
Last year saw companies cut back on the extravagance around Stampede, due to financial constraints, not to mention the poor optics of celebrating while people were being laid off.
Now more than two years after oil prices started plummeting, the cuts have gone deeper.
After going ahead with big bashes last year, Peters & Co. Ltd. cancelled its Firewater Friday and FirstEnergy Capital Corp. cut its FirstRowdy event, ending decades-long runs for two of the biggest parties in town.
Cutbacks for Stampede
For the Stampede itself there have been cutbacks too, with the province slashing $2 million from its operating grant to the non-profit organization. That forced Connell to cut 54 full-time positions last fall, plus further reductions on the part-time staff that help run the grounds year-round, he said.
The Stampede, which kicks off Friday, has already lost more revenue this year. The annual auction to sell ad space on chuckwagon canvases pulled in $2.3 million, $480,000 less than last year and well off the more than $4 million it brought in a few years ago.
To adapt to lower spending from the energy sector, the Stampede has looked for sponsorships in other industries, like a partnership with McDonald's promoting beef sustainability.
"We had corporate hits in the energy world, and we were very fortunate and lucky that we were able to form partnerships that were really not economy-driven," said Connell.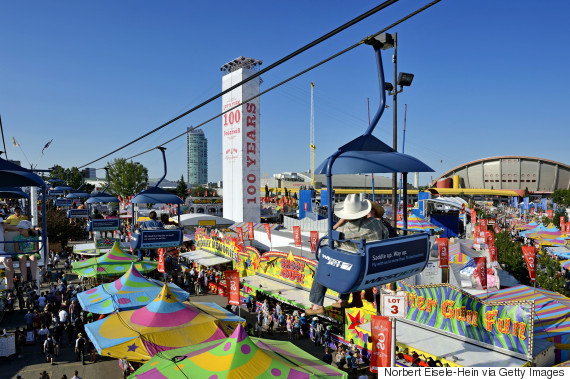 The Calgary Stampede celebrated its 100th anniversary in 2012. (Photo: Gettystock)
All over the city, businesses are adjusting to fewer corporate dollars and hoping for a boost from the Stampede.
At Bottlescrew Bill's Pub, Stuart Allan said corporate bookings are down, and he doesn't expect companies that have booked to spend like they used to.
"We're somewhat concerned about that," said Allan.
"I suspect the corporate bookings that we have, many of them may not be prepared to be quite so freewheeling in their expenses as they have been in the past."
But he's still getting ready for what he hopes will be a successful Stampede, banking on more walk-in business from hotels and smaller groups of partiers.
"There's absolutely no question that Stampede is hugely important to our overall business."
He is looking to double his staff with 35 temporary hires, but despite a jump in Calgary's unemployment rate from 4.6 per cent in January 2015 to over eight per cent in recent months, he said it's been hard to find experienced people.
The extra people are needed because he expects about three times the regular business over the two weeks around Stampede.
"There's absolutely no question that Stampede is hugely important to our overall business," said Allan. "It's Christmas, Christmas in July."
Hotels are also banking on a boost from the Stampede after getting hit hard by the drop in corporate bookings.
"It's definitely tough times for hoteliers in Calgary."
Dave Kaiser, CEO of the Alberta Hotel & Lodging Association, said on a revenue-per-room measure, Calgary's hotels are down 25 per cent from last year.
"It's fallen off dramatically"' said Kaiser. "It's definitely tough times for hoteliers in Calgary."
He said in the past, many hotels were fully booked and visitors found it difficult to find a room. This year, travellers will find better rates as hotels hope to bring in some much-needed business during the Stampede, said Kaiser.
"Just from speaking anecdotally with some hoteliers, they're still optimistic that it's going to be another strong Stampede week," said Kaiser.
Boost in U.S. travellers
Connell is also looking for a silver lining amid the gloom, saying local ticket sales are encouraging and the boost in U.S. travellers from the low Canadian dollar will help.
For Connell, who started working at the Stampede more than 30 years ago in security, the event allows Calgary to show what's it made of, from its cultural diversity to its resilience in tough times.
He said the highlight of his time with the Stampede was when the city rallied in 2013 after the floods to keep the show going.
"I really think it showed the country and it showed the world what can happen when a community gets together," said Connell.
Follow @ibickis on Twitter.
Also on HuffPost:
The Weirdest Foods Worth Trying At The 2016 Calgary Stampede
Blueberries, strawberries and kiwi turn regular grilled cheese into a chance to taste the rainbow.

Naan topped with cowboy beef or bean chili, desi chips, a curry slaw, cheddar cheese, tamarind chutney, chipotle crema and "Crunchies Sweeties" — whatever that is.

Deep fried dough balls are toped with cinnamon, sugar, Fruit Loops, raspberries and a splash of condensed milk. The perfect balanced breakfast!

Toffee sauce covered deep fried dough balls and medjool dates, with a little extra crunch (meal worms and crickets). Squeamish folks can just pretend these tasty treats are topped with chopped nuts!

This looks SO refreshing. This freshly smashed cantaloupe and lemon drink is made right before your eyes. You can even request a splash of coconut!

The Calgary Stampede is bringing this Canadian delicacy to the next level. The whole thing gets topped with whipped cream and caramel — yummmm.

Somehow,this treat is non-alcoholic. Tequila-flavoured cake gets deep fried, then topped with icing sugar. Unlike a regular tequila shot, you'll probably remember this one. Like a regular tequila shot, you still might have some regrets.

This treat from local Calgary vendor Family Freezed looks absolutely glamorous. The creme de menthe and chocolate cookie popsicle is filled with crickets, before being dipped in dark chocolate and sprinkled with edible gold flakes.

Popcorn + chocolate + caramel = deliciousness.

It's a meatball sub, but easier to eat on the go. What more is there to say.

These might look like some weird kind of licorice but they're actually churros! Made with real Oreo cookies and filled with the cookie's delicious cream centre.

If you like this, you might just have found a new use for your home rice cooker. Rice cooked in coconut milk is infused with and then topped with Oreos.

We can guarantee these will be the only barbells we'll be lifting Stampede week. Goey peanut butter bacon balls are battered and deep fried before being topped with chocolate sauce and more bacon.

This tasty treat is a Reese's Peanut Butter Cup smooshed between two Oreo cookies and deep fried.

Everything's better on a stick. Hot dogs are filled with hash browns and cheese, before being dipped in corn batter. No word on if the cheese is actually cheese curds. #PoutinePurists

Take care of your caffeine craving in the most delicious possible way. Deep fried coffee treats are drizzled in caramel and Himalayan sea salt.

Hand-made beef burger patties are stuffed with mac and cheese. DROOL.

Cheddar potato perogies are pan fried in butter, before getting the teriyaki treatment. Sauteed onions, sriracha mayo, sweet ginger teriyaki sauce, green onions, crispy chicken and nori.

Forget about skipping this treat. Mac and cheese is topped with Italian meatballs and tomato sauce for a tasty lunch.

This one is for anyone with a sweet tooth. This Hong Kong-style egg waffle is filled with your choice of five different kinds of ice cream, before being topped with fresh strawberries, candy and Pocky.