Nova Scotia SPCA: Abandoned Puppies Found In A Vacuum Box
The Nova Scotia SPCA says a Good Samaritan found seven puppies crying in a box with their umbilical cords still attached.
The agency posted photos on one of its Facebook pages showing the "hours old" dogs and the vacuum box that housed them. The puppies were found on Sunday near a school in Heatherton, N.S.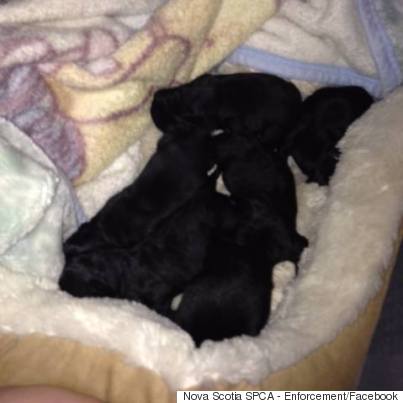 The seven puppies were found crying in a vacuum box. (Nova Scotia SPCA - Enforcement/Facebook)

Volunteers from the Pick of the Litter Rescue are taking care of the puppies, giving them "around the clock care and feeding." The SPCA says it is not accepting any adoption interest for the time being.
The organization is asking anyone with information on the puppies or the person who may have left them to call its confidential cruelty line or email it at animals@spcans.ca.
Also On HuffPost:
Boy In The Philippines Helps Stray Dogs
This is one of the photos that went viral, inspiring people all over the world to send donations to Ken.

White Puppy suffered from Mange. This is him before the Happy Animals Club stepped in to help.

"Here's how they look after two months of care at Happy Animals Club. Their names are Blackie, Brownie, and White Puppy and they will be ready for adoption very soon!"