Health Care Accord: Liberals Must Examine New Model, C.D. Howe Institute Says
OTTAWA — The federal government should learn from past experience and recognize the limited success of attempts to achieve health care reform by attaching strings to the money it gives to the provinces, a new report says.
There are many ways the federal government can ensure an improved health-care system, including in areas it already oversees such as First Nations, according to the study published Wednesday by the C.D. Howe Institute.
It comes as the government continues to negotiate a new health accord — the agreement between Ottawa and the provinces and territories that sets shared goals for how billions in federal funds are spent on health.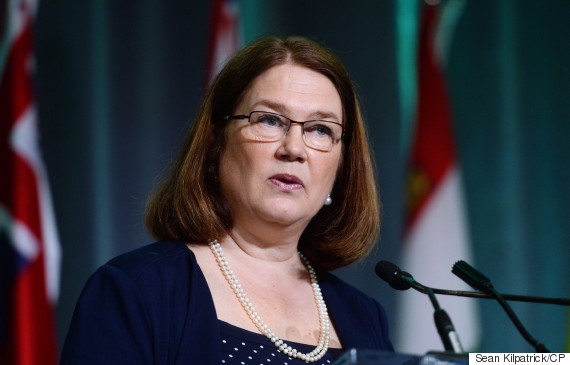 Health Minister Jane Philpott speaks at a press conference in Ottawa on June 6, 2016. (Photo: Sean Kilpatrick/CP)
The previous Conservative government allowed the last deal to expire. The 10-year, $41-billion agreement had been signed in 2004 under then Liberal prime minister Paul Martin.
The new Liberal government hopes to have an agreement in place by year's end.
Under the Constitution, health policy is a provincial responsibility but the federal government has used its "spending power" to influence the way the system is managed, the report said.
"The Canada Health Act might have served a useful purpose when Canada's universal health-care system was established but today its provisions are often misinterpreted and used by interest groups opposed to the efficiency-enhancing measures that provincial and territorial governments are trying to get through," the report said.
Read the full report
The report suggests the government seek inspiration from a report released by the Advisory Panel on Health Care Innovation last July to little fanfare.
Among the many potentially useful recommendations is one that Ottawa co-ordinate and regulate how data is gathered and shared for electronic health records, the C.D. Howe study said.
As the government grapples with a new fiscal reality it will need to get more value for money and improve public services, said Colin Busby, one of the report's co-authors.
"That's going to require some disruptive change to the status quo, the status quo is not one of the best health care systems in the world — in fact, far from it," Busby said.
ALSO ON HUFFPOST:
Things We Hate About Canadian Health Care
And then you end up on a wait list for two years.

Which means your specialist might send you to a hospital with a long wait time instead of one with a short one.

And nobody makes change inside.

And it always feels like they're rushing you out the door.

They magically get appointments in two weeks instead of eight months.

But we always forget and end up forgoing care or emptying the wallet.

Which often isn't covered either.

Because they lose money every time you do. Why is the pay structure like this again?

Even though it could help us save money.

We're supposed to have universal health care, but good luck figuring out the paperwork to get reimbursed for out-of-province care.

Why do we pay for you to scribble gibberish on a notepad? Feels like a hidden fee.

Now I'm going to the office for no good reason. But the doctor will get paid, so the system will lose money on the transaction. Genius!

Even after the eHealth scandal in Ontario.