Jason Kenney Will Face An 'Uphill Battle' To Unite The Right: Danielle Smith
CALGARY — The woman who tried to unite Alberta's two right-of-centre parties says she'd still like to see the province's conservatives come together, but she's not convinced federal MP Jason Kenney is the guy to do it.
"It's going to be an uphill battle for him ... because of some of the positions that he has taken on conservative social issues in the past,'' said radio host and former politician Danielle Smith.
Two sources said that Kenney will announce Wednesday that he will seek the leadership of Alberta's Progressive Conservatives with the aim of merging the PCs and Opposition Wildrose.
Smith has some experience in that arena. In December 2014, she led a mass floor-crossing of Wildrose MLAs to the Tories who were headed by former premier Jim Prentice.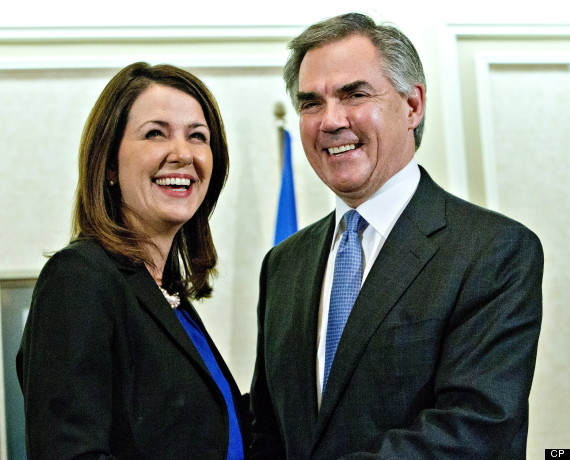 Danielle Smith poses with former PC leader Jim Prentice in 2014. (Photo: CP)
The PCs got clobbered in the May 2015 election. The NDP ended the party's more than four-decade run in government and the Wildrose retained official Opposition status.
Smith admits she failed to create a party that resonated with urban and rural voters alike.
"There has to be a fundamental recognition that Calgary and Edmonton are far more progressive on social issues than the rural areas, whether it's assisted dying, whether it's abortion, whether it's LGBTQ rights, whether it's pot legalization.''
"It's going to be an uphill battle for him.'" —Danielle Smith
Two former MLAs who followed Smith to the PCs — Rob Anderson and Bruce McAllister — are keen to see Alberta's right unite and believe Kenney is up to the task.
Anderson, who crossed from the Tories to the Wildrose and back again, said the ground is more fertile for a merger now than it was in 2014.
"When you stare socialism in the face for a year, it kind of wakes you up,'' said Anderson.
Kenney "gets it,'' he said.
"He understands the idea that as fiscal conservatives we are stronger together than apart. The only difference between the Wildrose and PCs is frankly the jersey colour.''
Intentions need to be transparent
Anderson, who now practises law, has some advice for the former cabinet minister: make sure his party-merging intentions are well understood when he campaigns.
"Do everything out in the open.''
McAllister, who was narrowly defeated by the Wildrose in the last election, said Kenney will have to overcome the "tribalism and self-preservation'' in some factions of Alberta politics.
"Leadership is crucial to putting like-minded Albertans back together and, if you look at Mr. Kenney's resume and his body of work, he has garnered respect everywhere he has gone and he has not shied away from difficult and complex issues,'' said McAllister, who has a communications and consulting business.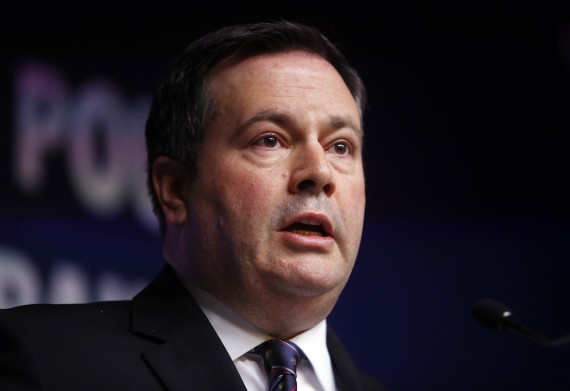 Jason Kenney could face an "uphill battle" if he wants to unite Alberta's right, says Danielle Smith. (Photo: Cole Burston/Getty)
Political strategist Stephen Carter called the idea that a merged party under Kenney could win over voters "hilarious.''
Albertans tend to vote Conservative federally, but provincially they have chosen centre-right and leftist parties in recent years, he said.
"They don't want a hard-right alternative. If they did, they could have voted Wildrose in 2012. They could have voted for the Wildrose in 2015,'' said Carter.
"Jason Kenney has forgotten that most people don't play partisan politics ... Most people want a party that represents their needs and their views and their values.
"Jason Kenney is completely skipping over that part.''
— Follow @LaurenKrugel on Twitter
Also on HuffPost:
Since Jason Kenney became defence minister in February, 2015, his credibility has previously been called into question over a series of incidents ranging from social media gaffes to inaccurate factual claims.

On March 8 – International Women's Day – Kenney took to Twitter to thank the Canadian Forces for fighting ISIL's "campaign to enslave women and girls." He shared striking images of women in burkas chained together. However, The Ottawa Citizen reported that the women in one image were actually performing a ceremonial re-enactment in honour of the prophet Mohammad's grandson, Hussein, and his family. The National Post later reported that another photo was from an anti-ISIL protest in the United Kingdom and a third image, supposedly showing an ISIL militant and a child bride, has also be called into question. When Liberals asked Prime Minister Stephen Harper in question period if he would reprimand his minister for the misleading tweet, the prime minister responded that Kenney was "new to his portfolio." Though the National Council of Canadian Muslims derided the tweet as "corrosive" and opposition parties called for Kenney to remove it from his account, the tweet still exists.

Kenney also claimed in March that a Russian fighter jet "buzzed" the HMCS Fredericton at a low altitude in the Black Sea and stood by a claim from his parliamentary secretary that the frigate was confronted by Russia warships. However, NATO officials told Postmedia that Russian aircraft actually flew over the NATO maritime task force to which the Fredericton was assigned at a high altitude and denied any confrontation with Russian warships took place. The confusion over the incident spurred a blistering rant from CBC host Rick Mercer. "Someone's lying," Mercer said. "The Minister of Defence, NATO. They both have completely different stories."

According to The Ottawa Citizen, while Kenney was on a conference call with reporters discussing Canada's expanded mission against ISIL, he said he did not take NDP Leader Thomas Mulcair seriously because "the NDP has opposed every single overseas military deployment in Canadian history." Not true. The NDP supported Canada's 2011 military mission in Libya, but did not vote for extension.

According to that same Citizen story, Kenney also claimed that defence spending under the previous Liberal governments fell to a record low of 0.7 per cent of GDP. Not true. From the story: "NATO, the World Bank and Stockholm International Peace Research Institute, a respected think-tank on global defence expenditures, say Canadian defence spending never fell below 1.1 per cent of GDP between 1990 and 2012. However, last year – under the Conservatives – it slipped to one per cent." A spokesperson told the paper that Kenney meant to say defence spending dropped by 0.7 per cent under the Grits.

Kenney also told reporters in late March that Canada needed to join the bombing campaign against ISIL in Syria because only this country and the United States have the kind of precision-guided smart bombs needed for the airstrikes. Not true. As reported by The Ottawa Citizen, the United Arab Emirates and Saudi Arabia, both part of the five nation, U.S.-led coalition bombing targets in Syria, have used such bombs against ISIL. Gen. Tom Lawson, the chief of the defence staff, originally backed up Kenney's claim that only Canada and America had the weapons. However, Lawson changed his tune on April 1, saying Canada's allies did indeed have the weapons. Kenney apologized for the gaffe in the House of Commons, placing the blame on a briefing error.

UP NEXT: Mosul After ISIS

In this undated handout photo provided by the Library of Congress taken during the autumn of 1932, men pause on a lorry on the road to Mosul, northern Iraq.

Fighters from the Islamic State group parade in a commandeered Iraqi security forces armored vehicle down a main road in Mosul on Monday, June 23, 2014.

A 1932 image of Lady Surrma of the Assyrian community posing for a portrait in Mosul, northern Iraq.

An Iraqi woman looking at a shop display in central Mosul after the Islamic State group ordered clothes shop owners to cover the faces of the mannequins on Monday, July 21, 2014.

In this undated handout photo provided by the Library of Congress taken during the autumn of 1932, the Tigris River stretches out in the distance as seen from Mosul, northern Iraq.

File photo of smoke rising during airstrikes targeting Islamic State militants at the Mosul Dam on Monday, Aug. 18, 2014.

A 1932 image taken during the autumn of Nebi Yunis, the tomb of the prophet Jonah, in Mosul, northern Iraq,

Iraqis walk in the rubble of the revered Muslim shrine after it was was destroyed on Thursday, July 24, 2014 by militants who overran the city in June and imposed their harsh interpretation of Islamic law.

In this undated handout photo provided by the Library of Congress taken during the autumn of 1932, Iraqis pause in the market in Mosul, northern Iraq.

Demonstrators chanting pro-Islamic State group slogans as they carry the group's flags in front of the provincial government headquarters in Mosul on Monday, June 16, 2014.