Using Lube During Oral Sex Makes Everything More Pleasurable: Expert
With so much focus on saliva during oral sex, one sex expert says there's another liquid you should be thinking about: lube.
According to sexologist and author Jessica O'Reilly of The New Sex Bible, your oral sex game will change if you use the wet stuff.
"Most people rely on their saliva alone for oral, but your technique repertoire grows exponentially if you add the slippery stuff," she tells The Huffington Post Canada.
When shopping for lube, O'Reilly suggests sticking with the natural stuff. This way your lube is clear of added fragrances or flavours.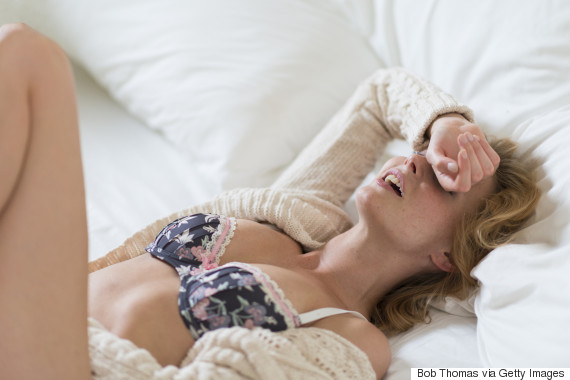 Safe sex advocate and condom expert Melissa White notes there are generally two types of lube: "Water-based lubes are slippery and may need to be reapplied [and] silicone-based lubes are slick and can be used in water."
O'Reilly says when you're going down on your partner, add lube to your fingers to create a second tongue sensation.
"You can [also] squeeze some in your hands and let it drop over your partner's hot spots... or you can slide some over your lips before heading downtown."
She also suggests checking out other sex toys or props like brushes and using lube to "paint" over your partner's genitals.
And if you're looking for other oral sex tips that will boost the pleasure factor, check out these tips from O'Reilly below:
Oral Sex Tips For Three Types Of People
FIRST TIME: 'I've never done it before' "Wait until you're already turned on before going down, so that your inhibitions are lowered from the onset,' says sexologist and author Jessica O'Reilly of The New Sex Bible. Get all riled up using your go-to approach with your partner like cuddling, kidding, spooning, fantasizing or watching porn, O'Reilly says, and then work you way gradually down between your lover's legs.

What about the technique? "Don't worry about technique or orgasm. Simply kiss, suck, caress and touch according to your own pleasure," O'Reilly adds. Move slowly, be gentle and simply spend a few minutes down there exploring, she adds.

"If I am receiving oral sex, what should I do? If you're on the receiving end, give your partner positive feedback. "Don't hold your breath! Exhale deeply and let your sounds like moans and groans emanate freely. This tip applies to everyone regardless of experience," O'Reilly says.

CASUAL ORAL SEX: "We try it from time-to-time, but what else can we do?" "Combine oral and manual to maximize pleasure. Use your hands at the base of the penis, against the perineum [the area between the anus and the scrotum or vulva] or to gently pulse against the head of the clitoris," O'Reilly says.

If you're going down on a penis... Use two hands with your fingers interlaced to create a tunnel as an extension of your mouth, O'Reilly notes. "Be sure to slather your hands in lube first and add a little extra pressure at the base with a little twist of your lips when you reach the head."

Tips for the vulva... For starters, focus on the outside. "The clitoral bulbs and legs underlie the labia, so play with techniques that allow for rubbing and grinding against the full outer section," she says. Use your lips, nose and cheeks (again, with lube) to grind against her following her hips' movements to set the pace and rhythm.

WE LOVE ORAL SEX: "But what are we missing?" Kick things up a notch, for example, try it as a stand-alone activity in a new location. "Oral sex is the perfect type of sex on-the-go. Try it in the car after a dinner party or slip away to the restroom at your next event," O'Reilly says. And FYI, you don't have to 'finish' on-location, either.

For the penis, try "The Cheater" Suck, lick and enjoy yourself as you regularly do, but use your fingers to pinch your lips together and create extra friction against the shaft and head, O'Reilly says. The focus should still be on the lips and your fingers will just add extra pressure. "This takes a bit of practice, but it's a game-changer," she adds.

And for the ladies, try the multi-tasker... Add some lube to your thumbs and place them on the outer edges of her vulva. Position your head in between your hands and keep your tongue stretched down flat against your chin. Slide your hands upward while your head/tongue slide downward. "Cover the entire vulva with your tongue and increase the pressure of your thumbs against the inner bulbs of her clitoris as she becomes more aroused," O'Reilly says. Start slowly and increase the pace very gradually using her breath patterns and hip movements as your guide.