Calgary Stampede Style Goes Second-Hand Thanks To Economic Downturn
CALGARY — For a lot of Calgarians hit by the economic slump, this probably isn't the year to shell out hundreds of dollars on a new pair of handmade leather cowboy boots.
But there are ways to western-up wardrobes for the Stampede that starts Friday and still have plenty of cash left over for rodeo tickets and some greasy midway fare.
That could mean hunting for pieces that have already been broken in.
A Vintage Affair, a boutique in Calgary's Beltline neighbourhood, is on the hunt for western wear year-round so it has enough stock leading up to the 10-day salute to all things cowboy.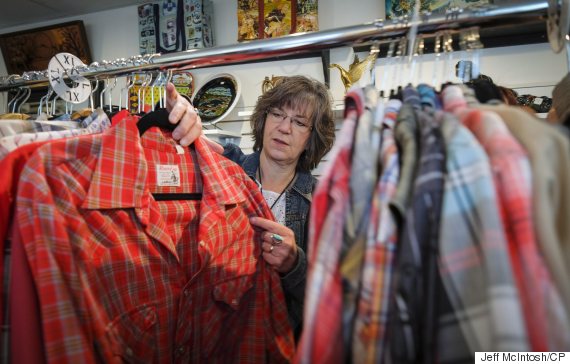 Theresa Morgan, co-owner of A Vintage Affair, sifts through western wear at her shop. (Photo: Jeff McIntosh/CP)
Co-owner Bonnie Barber says the shop gets its best items from estate sales.
"A lot of Calgarians have been here for a long time, so some of our real gems come from people's closets that have been sitting there for about 50 years or so,'' said in an interview.
"Some of our favourites are the classic satin western shirt with beautiful chain stitching and lots of pearl snap buttons ... We love fringe too.''
It's been busy at the shop.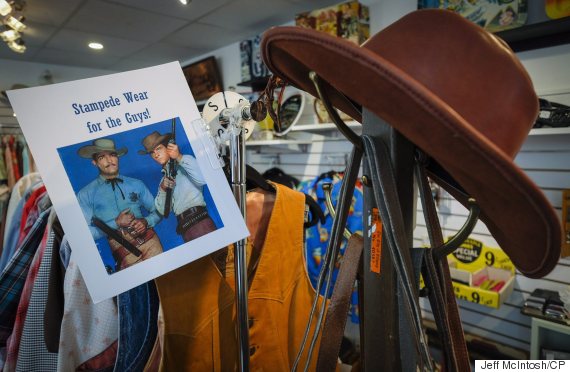 Western wear sits on display at A Vintage Affair in Calgary. (Photo: Jeff McIntosh/CP)
"We have a really budget-friendly store, so I think that has a lot to do with it,'' said Barber, who is wearing a fringed leather jacket over a colourful bold-printed vest and paired with a chunky boho necklace.
"Most of our western wear is $60 and under and people know that they can score a good deal here.''
An economical option is to rustle up a few accessories to dress up a simple outfit — a bolo tie or a scarf for $12, Barber added.
"Make it work for you 365 days a year.."
She also recommends staying away from "corny'' costume-like pieces or "looking too much like a square dancer from top to toe.''
Instead, it's best to pick boho-chic items that, when paired with more toned-down accessories, can work well outside of Stampede week. That way, you get more mileage out of them.
"Make it work for you 365 days a year.''
Value Village is a go-to for Halloween costumes in October, but it's also becoming a destination for Cowboy Halloween in July, said Jennifer Brander, production manager at one of the thrift shop's southeast Calgary locations.
"Stampede doesn't have to cost you a fortune,'' she said.
Cowboy boots can go for as little as $10, depending on the quality, and it's possible to pull together an entire ensemble for around $30.
The shop has boxes in the back year-round to set aside donated cowboy boots and hats as they come in. A couple of days before the start of Stampede, a lot of the western merchandise had been snapped up, with a rack of denim and a smattering of hats and boots still remaining.
"The sales have been tremendous.''
Since the economic downturn took hold, the store has been bustling with shoppers looking for deals — and not just for Stampede.
"There's definitely more foot traffic coming through. We're seeing the basket size and dollars going higher.''
— Follow @LaurenKrugel on Twitter
Also on HuffPost:
The Weirdest Foods Worth Trying At The 2016 Calgary Stampede
Blueberries, strawberries and kiwi turn regular grilled cheese into a chance to taste the rainbow.

Naan topped with cowboy beef or bean chili, desi chips, a curry slaw, cheddar cheese, tamarind chutney, chipotle crema and "Crunchies Sweeties" — whatever that is.

Deep fried dough balls are toped with cinnamon, sugar, Fruit Loops, raspberries and a splash of condensed milk. The perfect balanced breakfast!

Toffee sauce covered deep fried dough balls and medjool dates, with a little extra crunch (meal worms and crickets). Squeamish folks can just pretend these tasty treats are topped with chopped nuts!

This looks SO refreshing. This freshly smashed cantaloupe and lemon drink is made right before your eyes. You can even request a splash of coconut!

The Calgary Stampede is bringing this Canadian delicacy to the next level. The whole thing gets topped with whipped cream and caramel — yummmm.

Somehow,this treat is non-alcoholic. Tequila-flavoured cake gets deep fried, then topped with icing sugar. Unlike a regular tequila shot, you'll probably remember this one. Like a regular tequila shot, you still might have some regrets.

This treat from local Calgary vendor Family Freezed looks absolutely glamorous. The creme de menthe and chocolate cookie popsicle is filled with crickets, before being dipped in dark chocolate and sprinkled with edible gold flakes.

Popcorn + chocolate + caramel = deliciousness.

It's a meatball sub, but easier to eat on the go. What more is there to say.

These might look like some weird kind of licorice but they're actually churros! Made with real Oreo cookies and filled with the cookie's delicious cream centre.

If you like this, you might just have found a new use for your home rice cooker. Rice cooked in coconut milk is infused with and then topped with Oreos.

We can guarantee these will be the only barbells we'll be lifting Stampede week. Goey peanut butter bacon balls are battered and deep fried before being topped with chocolate sauce and more bacon.

This tasty treat is a Reese's Peanut Butter Cup smooshed between two Oreo cookies and deep fried.

Everything's better on a stick. Hot dogs are filled with hash browns and cheese, before being dipped in corn batter. No word on if the cheese is actually cheese curds. #PoutinePurists

Take care of your caffeine craving in the most delicious possible way. Deep fried coffee treats are drizzled in caramel and Himalayan sea salt.

Hand-made beef burger patties are stuffed with mac and cheese. DROOL.

Cheddar potato perogies are pan fried in butter, before getting the teriyaki treatment. Sauteed onions, sriracha mayo, sweet ginger teriyaki sauce, green onions, crispy chicken and nori.

Forget about skipping this treat. Mac and cheese is topped with Italian meatballs and tomato sauce for a tasty lunch.

This one is for anyone with a sweet tooth. This Hong Kong-style egg waffle is filled with your choice of five different kinds of ice cream, before being topped with fresh strawberries, candy and Pocky.