Edmonton's Blatchford Neighbourhood Might Heat Homes With Sewage
A project to build one of the world's greenest communities in Edmonton could be one step closer to reality.
On Wednesday, a representative of Axiom Group told the city's executive committee his company would be able to use waste heat from sewage to heat buildings in the proposed Blatchford development.
'Not science fiction?'
"So it's not science fiction?" asked Mayor Don Iveson, according to the Edmonton Journal. "Because it's been suggested this is flight of fancy to use this kind of technology. But you're a real live company that does this for a living?"
The Blatchford development would see Edmonton's former City Centre Airport turned into an entirely eco-friendly, mixed-use community for 30,000 residents.
The project began as the result of an international competition in 2010 to find a design that would turn what was once the first licensed airfield in Canada into a sustainable community.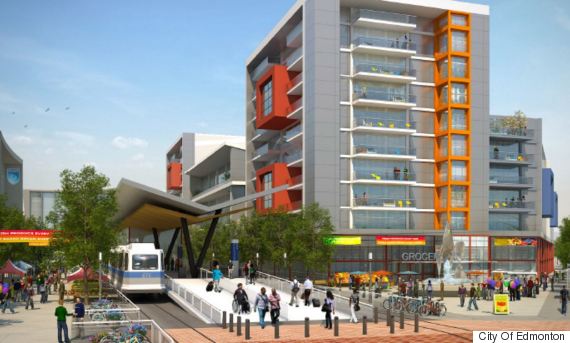 A rendering shows what the Blatchford development will look like once complete. (Photo: City of Edmonton)

The winning design was ambitious, featuring stormwater lakes, carbon-neutral development and a focus on economic and social sustainability.
Using sewage for heat might seem strange but waste heat is already used to warm several communities around the world, including Vancouver's Olympic Village.
In March, council voted to delay the project another year as some councillors were concerned aspects of the development, like the sewage heat initiative, might be too risky for taxpayers.
"This makes me really uncomfortable," Coun. Michael Oshry told CBC News.
Now, the fact that companies are willing to build the technology is a positive sign for the project's future.
"This is a transformational agenda for the city," Gary Klassen, the general manager of the City of Edmonton's development branch, told The Globe and Mail.
Like Us On Facebook
Follow Us On Twitter
Also on HuffPost:
Ways To Live More Sustainably
Start using cloth napkins instead of paper. To reuse, simply wash them! Restaurants do this, and you can pick out colorful patterns to suit any meal.

Try not to purchase items with excess packaging -- you know, household products masquerading as Matryoshkas (why do they package paper towels individually when you buy them in bulk? Try to avoid this where you can).

Yep, try to make TWO trips a week to the grocery store to ensure you are actually using everything you're purchasing and not throwing food away.

Replace your shower heads with low flow devices to reduce your water usage and don't forget to turn off the faucet when you're brushing your teeth!

Unplug your electronic devices when you're not using them.

Get compact fluorescents (a.k.a. the swirly light bulb). As an added bonus, it's an easy way to cut down on the electricity bill.

Did you know that many household cleaners are chock full of toxic chemicals that aren't good for the environment or your family? Look for cleaners that are biodegradable and non-toxic.

Take note from slide No. 7 and don't pour toxic chemicals down the sink!

Start a garden! Grow your own organic fruits, veggies and spices.

Support your local growers! Perhaps one of the best features of farmers markets are the delicious fresh samples.

This doesn't just mean the act of physically taking the plug out of the outlet, but being mindful. Practice personal sustainability.

Rome wasn't built in a day, don't overwhelm yourself. Just pick a couple things from this list to start living more sustainably. Once your foot's in the door, you can add more to the list!