Vancouver Rental Rates Are Too Pricey In All But 2 Areas Now: Vancity Report
It's no secret that buying a home in Vancouver is proving a near-impossible task for local residents.
But renting isn't much easier in all but two neighbourhoods.
So says a report by Vancity credit union, which found that average millennial renter households making a median income of $40,300 can only afford to rent in the city's Marpole and East Hastings areas, and certain suburbs.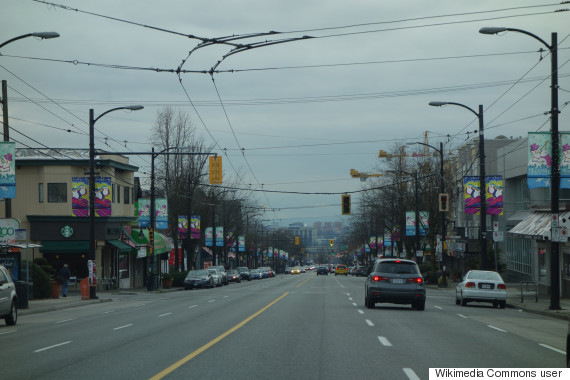 Vancouver's Granville Street, running through the Marpole neighbourhood. (Photo: Hinto/Wikimedia Commons)
The report, released Thursday, noted that B.C.'s weekly median wages grew by 6.6 per cent between 2011 and 2015 — while at the same time rents nearly grew nearly twice as fast, going up by 11.4 per cent in Metro Vancouver.
William Azaroff, Vancity's vice-president of community investment, said the trend is pushing millennials into the suburbs. And renting, he added, can't really be considered an alternative to buying a home anymore.
"Business owners (have) to be able to attract workers," he said. "And if the people who would consider working there can't get rental within a decent commute to those jobs, then you don't have that kind of labour fluidity or labour mobility [needed so that] people can move to where the jobs are within our region."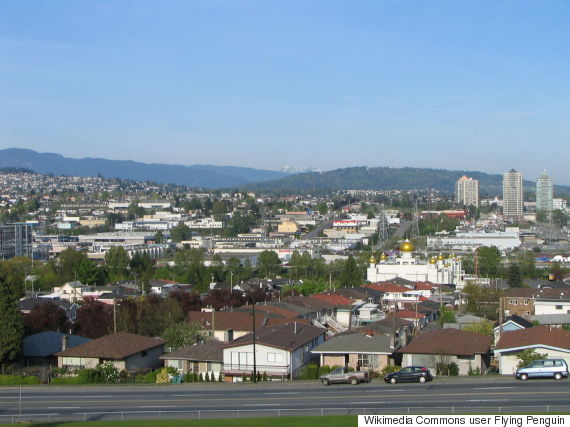 Vancouver's Hastings-Sunrise area. (Photo: Flying Penguin/Wikimedia Commons)
Vancity said that renters make up one-third of households in the Metro Vancouver region, and a majority of people who live in the city proper (51 per cent). And they're not exactly working as line cooks at McDonald's — they have jobs in all kinds of sectors including education, health, finance and construction.
They could very well be "priced out of the communities they call home," Vancity noted.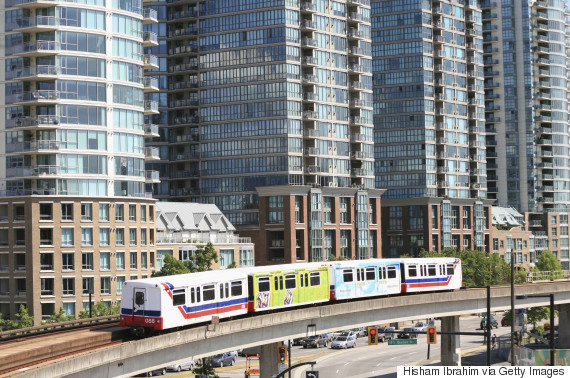 Apartments overlooking the SkyTrain near Vancouver's Olympic Village neighbourhood. (Photo: Hisham Ibraham/Getty Images)
Rental apartments could only become more expensive if bidding wars keep driving up monthly rates.
Vancouver's Georgia Straight newspaper reported Wednesday on a Craigslist post advertising a 780 sq.-ft. apartment that was available for $799 per month.
That's an incredible steal in Vancouver. The only catch was that the eventual occupant would have to win a bidding war.
The post was later flagged for removal.
With files from The Canadian Press/Roundhouse Radio
Also on HuffPost:
Craziest Vancouver Real Estate Stories Of 2015
This Tudor home in Vancouver's ritzy Shaughnessy neighbourhood was listed for $5.99 million in May. After 12 days, it sold for just over $8 million. "When you've got too little supply (of detached houses) and too many buyers, that's always what happens," realtor Stuart Bonner told The Province.

This abandoned home (read: eyesore) became a dumping ground over several months in 2015. Piles of rotting trash and unwanted furniture attracted rodents to the area, and the smell was sometimes so bad that neighbours refused to open their back doors. The house was assessed at $813,000, and others in the area were valued at over $1 million.

"Avail now. Bring your tent." A Craigslist ad advertised a backyard for rent for $500 per month. WiFi, use of the home's bathroom, kitchen, laundry, and "art room" were part of the deal. Great for travellers, apparently!

This home was listed at just under $3 million in June, and was sold to an offshore buyer for $4.1 million after a couple hours, the realtor said.

Bargain alert: a former grow-op hit the market in March for $930,000. The 1968 two-storey home was in such bad shape that no one could live in it. The house got an occupancy permit back in 2001, and was renovated before it was listed. The price was mostly because of the 6,000 sq.-ft. lot.

This rare, 3.6-metre wide home sold in April for $1.35 million. Tucked in the upscale Point Grey neighbourhood, the floor space is only 945 sq.-ft., but manages to cram in a full kitchen, master bedroom, living room, garage, den and 1.5 bathrooms. The home is believed to be one of the last of its kind in the entire city, according to the realtor.

This house, listed for just under $1.6 million, sold for $2.17 million in March — a mind-boggling 35 per cent over asking. "It was the highest price per square foot ever achieved for an East Vancouver home," realtor Paul Eviston told CBC News.

Chump change, amirite? This 25,000 sq.-ft. mansion, which sits on a 1.09 hectare property, was purchased in December 2014 for $51 million. (Details of the sale were made public in March.) The deal included a movie theatre, grass tennis court, and 10-car garage, according to the CBC.

Talk about a sweet deal! This (very well-decorated) gingerbread house was advertised on Craigslist for $4.5 million in December. It's a one-bedroom home that's a single sq. ft. in size. The baking sheet upon which it stands was not included in the sale. The seller asked for "serious" inquires only.