Ed Fast: Brexit Jeopardizes 'Fine Balance' Of CETA Trade Deal
OTTAWA — Britain's decision to leave the European Union could jeopardize a massive free trade deal with Canada because it upsets a "fine balance" that took years to negotiate, says the Conservative politician who oversaw the painstaking talks.
In an interview with The Canadian Press, former Tory trade minister Ed Fast also took exception to what he sees as an overly optimistic timeline by International Trade Minister Chrystia Freeland that the deal can come into force next year. But he hopes she succeeds.
The European Commission says it is treating the Comprehensive Economic and Trade Agreement, or CETA, as a "mixed" agreement, which means that each of the EU's countries must ratify the deal.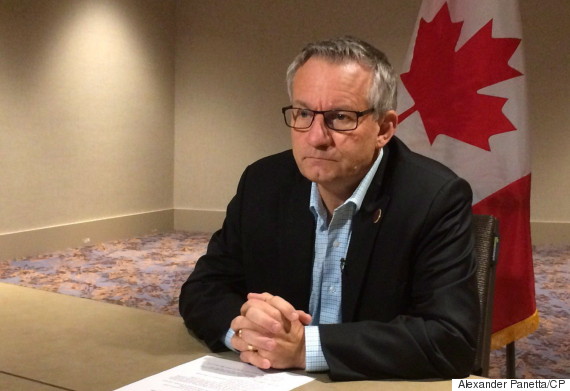 Ed Fast speaks to reporters in Atlanta Friday, Oct. 2, 2015 where he's negotiating the Trans-Pacific Partnership agreement. (Photo: Alexander Panetta/CP)
But the EU and Canada say only the European Parliament's approval is needed for 90 per cent of the trade pact to take effect next year under what is known as provisional application.
Freeland has said Britain, a key ally in the long-running trade talks, has also assured Canada it will push for speedy ratification, notwithstanding its referendum decision to leave the 28-country EU.
"Despite the assurances Minister Freeland may have received from her UK counterpart, I think she is being hopelessly optimistic about the timelines about getting this agreement ratified," said Fast, who presided over four of the seven years of CETA's negotiation.
"Having said that, I want to be clear: I fully support her efforts to have this agreement ratified in the short term, both on the EU side and the member-state side."
Freeland remains hopeful
Fast said Britain was the single most important country in helping get the deal done.
"With the United Kingdom gone, the fine balance of outcomes that everyone settled on after years and years of negotiation has been upset," he said.
"There is a very real risk that balance will be upset because of Brexit."
Only a detailed study, he said, can determine whether Britain's absence from the trade grouping undermines concessions Canada made in order to win greater access for goods and services in the larger EU bloc.
The Liberal government says that, notwithstanding the Brexit vote, Britain will likely find itself bound by CETA because it will take years to negotiate the UK's formal departure from the EU.
"With the United Kingdom gone, the fine balance of outcomes that everyone settled on after years and years of negotiation has been upset."
Fast doesn't agree, saying all parties are now in "uncharted territory."
"We don't know how this is going to play out. There are going to be economic and political interests on both sides of the Brexit negotiations that are going to determine how and when CETA will be ratified."
Freeland continued to promote early ratification Friday during a conference call from the G20 trade ministers meeting in Shanghai.
"I do not possess a crystal ball when it comes to the politics of any country and that might apply most particularly to Europe right now, which in the wake of the Brexit vote is really sailing in some uncharted waters," she said.
That's why the minister said she was going to continue to push the deal with several European ministers over the weekend in China, and next week in Europe itself.
Fast disagrees with Kenny, Clement, Scheer
After a meeting Friday with her EU counterpart, Cecilia Malmstrom, Freeland said she believed CETA had strong support across Europe's political spectrum.
In the meantime, Fast urged the Liberal government to immediately begin exploratory free trade talks with Britain.
"We should be making it very clear to the United Kingdom that Canada wants to be at the front of the queue."
Fast disagrees with some fellow Conservatives, who have made positive statements about the so-called Brexit vote. He believes Britain's decision to leave is harmful to Canada's economic interests.
"I wish my colleagues would be focusing on Canada's national interests, rather than another country's national interest," said Fast.
Conservative MPs Tony Clement and Jason Kenney tweeted congratulatory remarks immediately after the Brexit vote, while former House Speaker Andrew Scheer penned a newspaper column prior to the referendum advocating Britain's departure.
ALSO ON HUFFPOST:
The Ukip leader and MEP is the most famous 'outer'. After his party took over a 100 council seats in May's local election's Nigel Farage is hoping to win the 2014 European elections and then gain MPs in Westminster in 2015. He has confirmed he will seek a parliamentary seat himself.

Margaret Thatcher's former chancellor and a true 'Tory grandee' revealed in The Times that if and when there is a referendum "I shall be voting out". He also stuck the boot into the David Cameron by saying the prime minister's attempts to renegotiate the terms of the UK's relationship with the EU would be "inconsequential".

There are quite a few Conservative MPs who would like to wave goodbye to Brussels. Ken Clarke has said the figure is as low as 30 despite the strong eurosceptic feeling on the backbenches. However the exact number is not clear. Mid-Bedforshire MP Nadine Dorries, who remains suspended from the Conservative Party, is currently talk tof the eurosceptic town amid rumours she may defect to Ukip. Other backbench Brexiters include Bill Cash, Douglas Carswell, Peter Bone and Philip Davies and former defence minister Sir Gerald Howarth.

Most of the anti-EU focus is on the Tory benches. But there are more than a handful of Labour MPs would would like to quit Brussels as well. Eurosceptics include Frank Field, Kate Hoey, Austin Mitchell, and Gisela Stuart. Stuart has argued the status quo is "not sustainable" and Britain should leave.

Rupert Murdoch has warned that the EU will "sink" the UK. The News International and boss caused a stir when he met Nigel Farage for dinner in London recently and said the Ukip leader was "reflecting opinion" with his anti-EU views. In November 2010 Richard Desmond's Daily Express became the first UK newspaper actively to call for Britain to leave the EU, launching a 'Get Britain Out' campaign

Of course no campaign is complete without a bit of star power. The pro-EU camp have Eddie Izzard, who do the Brexiters have? Joan Collins, a 'patron' of Ukip, wants the UK to leave. "The EU, controlled from Brussels, cares only about itself," she said in March.

Most business leaders do indeed seem content with what Lawson called the "warm embrace of the European single market", but there are a few dissenters. Private equity guys Jon Moulton and Edmund Truell are two and Next boss and Tory peer Simon Wolfson has said: "Britain should stay in Europe, but only on the right terms".

There are a number of loud voices whinnying on the sidelines to say "neigh" to the EU notably Melanie Phillips, Richard Littlejohn, Tom Utley, Simon Heffer. Basically the Daily Mail stable.

Several high-profile politicians appear to be on the verge of calling for the UK to exit the EU - but just are not there yet. Former defence secretary Liam Fox - pictured here with a big gun - has said "life outside the EU holds no terror" should David Cameron's hopes of negotiating a new treaty fail. Education secretary Michael Gove is said to have told friends the UK has "nothing to be scared of" by leaving Europe. And many other eurosceptic cabinet ministers, including Iain Duncan Smith and Owen Paterson are likely to share that view.