Millennials Aren't Buying Lotto Tickets, Posing A Problem For Governments
Millennials are saying "meh" to traditional lotteries with big money and long odds, but if they never jump into the game en masse, provinces could be the ones missing out on the windfalls.
High jackpots are the main factor that drive strong lottery sales, with billions of dollars from lotteries each year going to areas such as health care and education.
But whether they see vying for large jackpots as futile, don't shop where lottery tickets are sold, or long for more instant gratification in their gambling, few young people are playing, and Canadian lottery corporations are looking for new ways to attract them.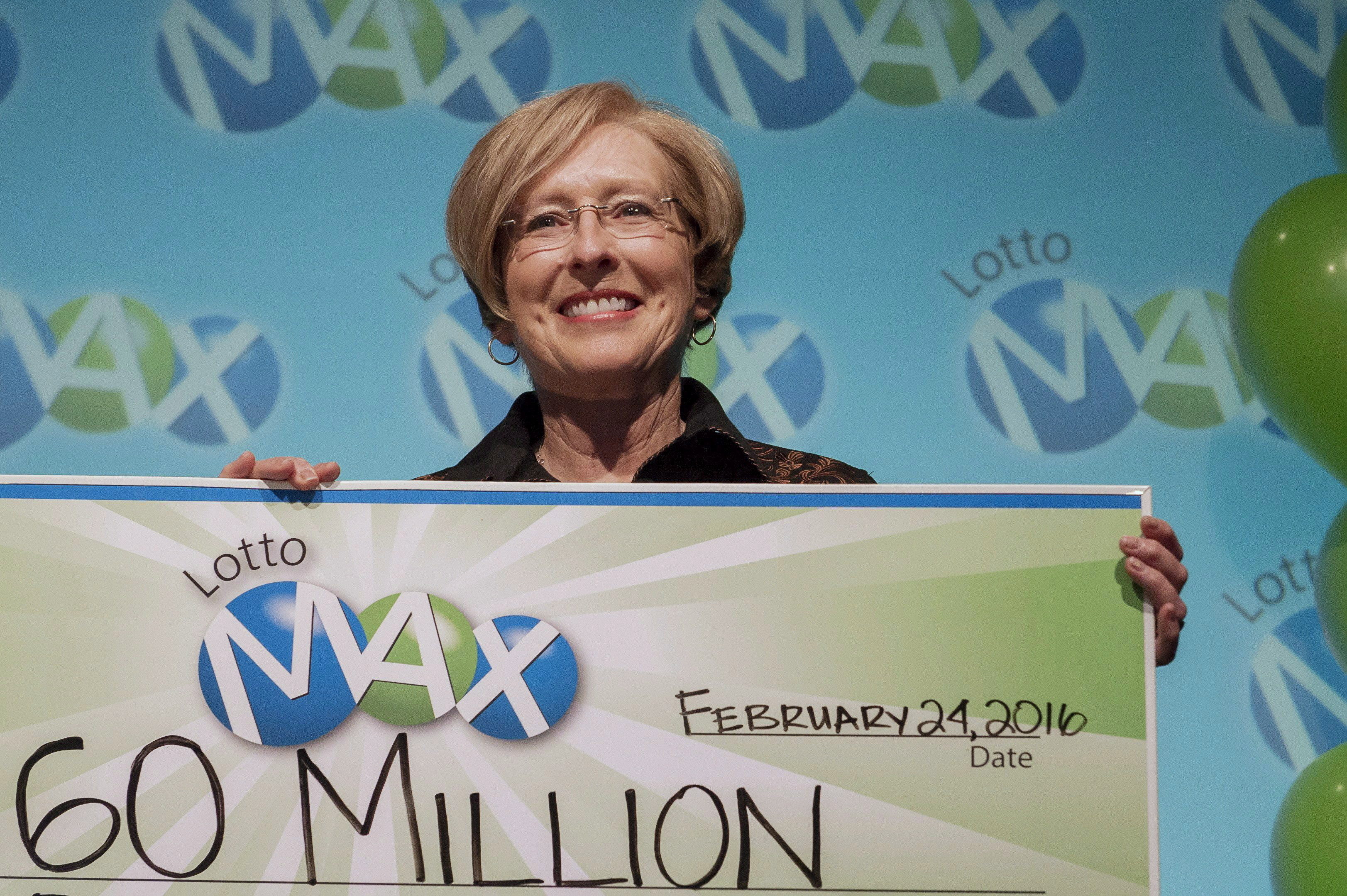 Joan Patterson of Desboro, Ont., receives her cheque of $60-million at a ceremony in Toronto on Wednesday, February 24, 2016. The largest lottery payout in one day was issued to two winners in Ontario. The Ontario Lottery and Gaming Corp. handed out two prizes totalling $120 million in Toronto. THE CANADIAN PRESS/Christopher Katsarov
In Ontario, where the province relies on the approximately $2 billion in annual revenue from the Ontario Lottery and Gaming Corp., OLG recently reported that just seven per cent of adults under 35 play the lottery at least once a week, compared to 45 per cent of all adult Ontarians.
Lottery tickets are not being sold in the same places young people are shopping, the report suggests. While OLG launched an online portal in early 2015, the "vast majority" of lottery tickets in Ontario are still purchased in person.
"The majority of Ontario adults under 35 years of age frequently visit supermarkets, big box stores and large retail locations where OLG products are not conveniently located or are currently not offered for sale," the report said.
OLG is considering expanding lottery sales to those places, including allowing ticket sales in all check-out lanes of a grocery store instead of one stand-alone customer service desk, said spokesman Rui Brum.
Lottery sales in Ontario were down $115 million in the fiscal year 2014-2015, but many lotteries across Canada also reported declines in that period, as there were fewer high-value jackpots and lower national lottery sales of Lotto Max and Lotto 6/49.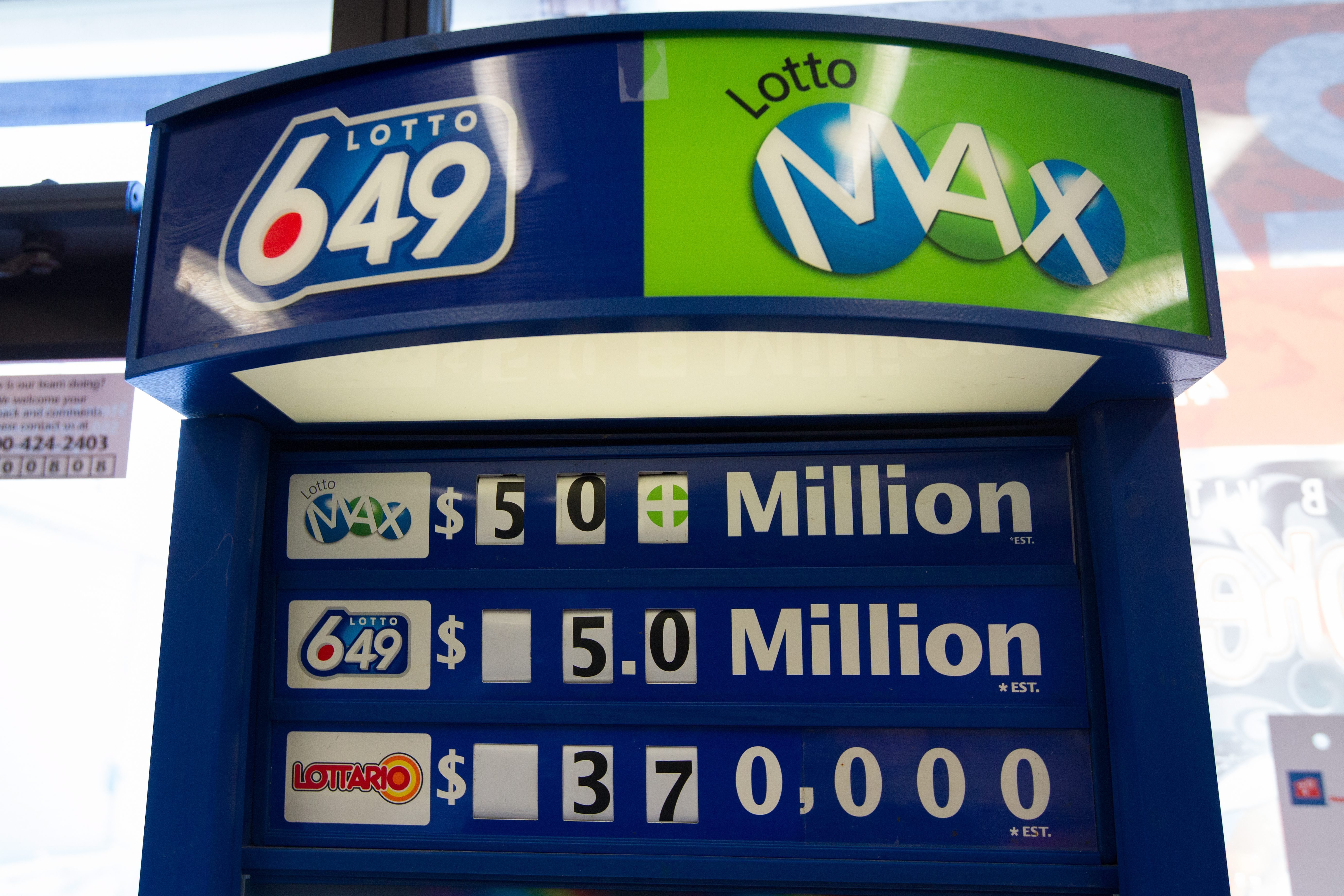 OLG lottery station at Mac's Milk in Kingston, Ont., on Wednesday Jan. 13, 2016. THE CANADIAN PRESS IMAGES/Lars Hagberg
Representatives from lottery corporations across the country said the typical lottery does not seem to appeal to millennials. Loto-Quebec, where 18-to-34-year-olds are 27 per cent of the population but just 17 per cent of lottery players, said games of pure chance don't attract that generation.
Andrea Marantz, a spokeswoman for the Western Canada Lottery Corporation, said the lottery is a "life stage" game, appealing more to middle-aged or older adults.
"Part of that would be they have more discretionary income for entertainment purposes, but one thing that we've really found here is the most common thing we hear from our winners ... is they don't have to worry about money at all," she said.
"Maybe when you are young and just starting your professional life ... those money worries aren't weighing quite as heavily."
About 47 per cent of adults in Western Canada said they had played a lottery in the past month, compared to 32 per cent for adults 30 and under, Marantz said.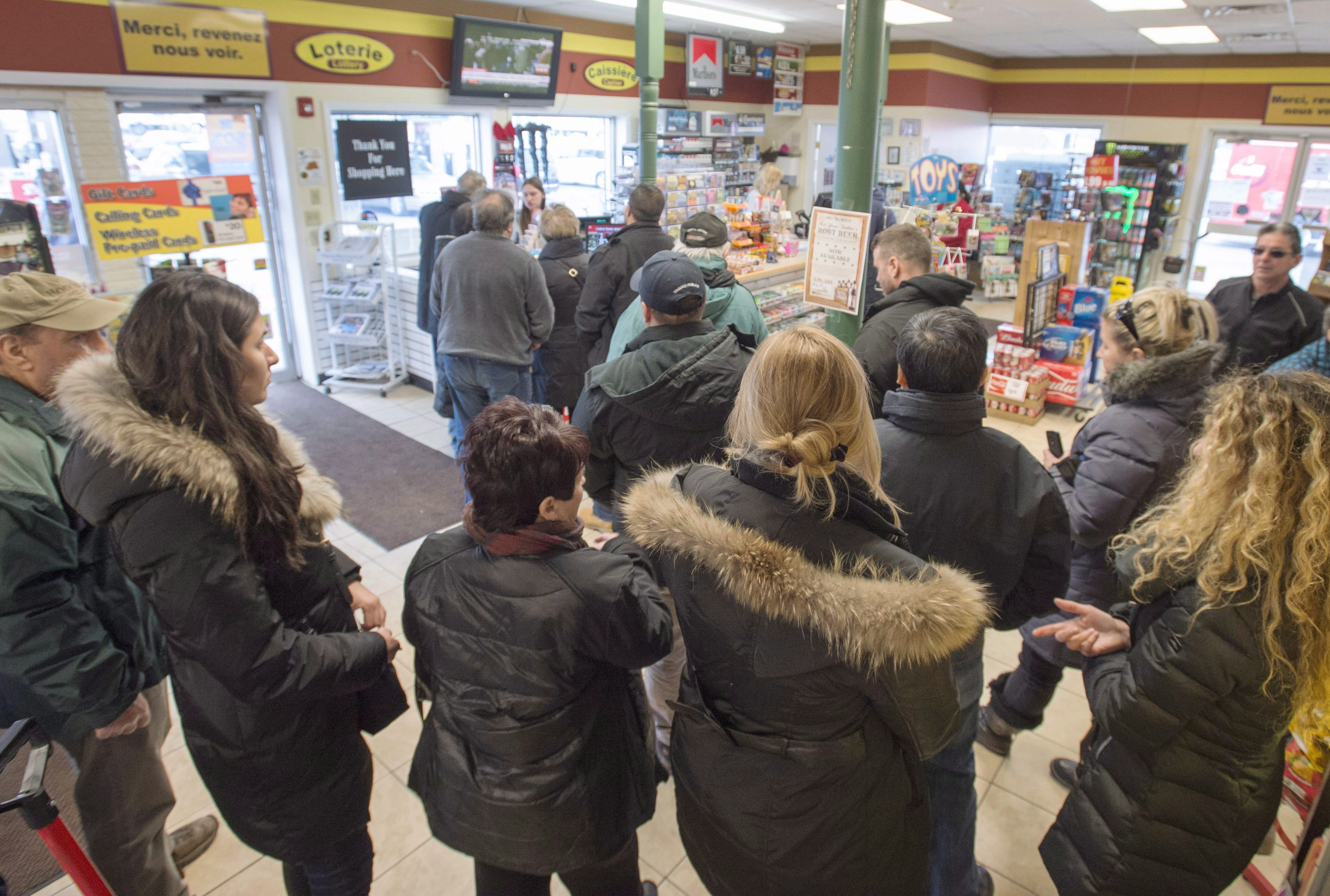 Canadians line up to buy Powerball tickets at a convenience store, Tuesday, January 12, 2016 in the border town of Champlain, N.Y. The jackpot has reached a record setting $1.5 billion. THE CANADIAN PRESS/Ryan Remiorz
The WCLC and other Canadian lottery corporations are working with the Interprovincial Lottery Corp. to try to develop a new national lottery aimed at people under 35. Work began in 2014, but is ongoing, Marantz said.
Attracting younger adults involves more than just putting existing games online, said Jean-Marc Landry, director of customer innovation for the Atlantic Lottery Corporation. One ALC idea that is decidedly low-tech is mailing scratch-and-win tickets like a coffee of the month club, he said.
"We tested the idea on our (market research) panel and by far in appeal it scored the highest among 19-34 year olds," Landry said. "We were so surprised."
Pro-Line sports betting also does well with that generation, as do games that are more about entertainment than seeking financial security, he said.
Story continues below
The Accidental Millionaires: 7 Stories Of People Who Stumbled Into Their Lottery Wins
Nick Takticos, a worker at a Toyota Plant in Cambridge, was a big believer in face-to-face conversation. So when he bought a $30-million winning ticket at the end of August, he didn't actually claim it until three weeks later! He spent the time approaching his family and loved ones and telling them the good news in person, claiming that he didn't want them to find out through a news report. Now that's a young man with a plan if we ever saw one.

When a group of Canadian Revenue Agency workers (26 in all!) organized by group play captain Philippe Bussière won their $32.6-million office lottery pool, it came as a group surprise to all of them. The individual payout per participant came to around $1.6-million apiece. The group basked in their newfound financial independence and started planning some amazing vacations.

Lynda Powell is no stranger to playing the lottery; she is a veteran of 25 years! But when her husband John asked her to pick up a ticket for him on her grocery run, it didn't seem like an outrageous request as the family of six regularly played the lottery together. His little request went a long way, as the ticket she purchased that day was a winner! The Peterborough family remain firm that they prefer the little things in life, and are planning to indulge in small trips and splurges along with providing some financial aid to the rest of their extended family!

Tina Ferrone and Liam McGee had never bought a lottery ticket before, but the event planner and construction worker both knew they'd always wanted to open up a yoga studio of their own. Ferrone's random purchase of two quick-pick tickets at a shopping centre dropped a kingly sum of $48 million on the Kanata couple, who have three children. It's safe to say that they made the right purchase at the mall that day, especially because the winning ticket was the first lottery ticket she ever bought! Next up: It's time to build that yoga studio!

When Delmer Hartwig won the $15-million Lotto Max jackpot, instead of immediately claiming the money, he took some time to go elk hunting. In his words, the elk hunt "only comes once a year," and so he put a giant pile of money on the backburner for a few days to chase his passion. After claiming the money, Hartwig went right back to nature, taking more than a few trips to a bush camp with his friends. Some people change their lifestyles when they come into money, and others keep doing what they love, and this is a clear case of the latter.

When she gathered her family together for a Mother's Day dinner, Sophie Rizavas had a bombshell waiting for them all; that she had just won a $50-million Lotto Max draw (plus $5 for matching the first two numbers of her Encore play). To add some further amazing coincidence to that fact, Rizavas and her husband immigrated to Canada on May 10th, 1970 — and they won the lottery on May 10th, 44 years later. From cleaning lady to multimillionaire — how's that for a True Canadian story?

Imagine winning a $50-million lottery ticket. Now, imagine losing it. For months. That's the scenario that Hakeem Nosiru and his wife, Abiola, faced when their newly-won ticket went missing one day. Hakeem had taken steps to prevent this, going so far as to duct tape the ticket on the inside of his wife's purse. Still, that didn't stop the ticket from vanishing, prompting a hectic search of the couple's home, to no avail. Months later, one of their friends from church returned the ticket to them (Hakeem had made sure to write their address on the back of the ticket), and they made quick work to submit it ASAP. Now that's a story of lost and found!
Jeffrey Derevensky, a McGill University professor who studies youth gambling problems, said instant and sports games are most popular with younger people.
"Whether or not they have sat down and said, 'The odds of winning are just unbelievably huge'... What we find with young people is they're more interested in actually the scratch tickets because they're looking for the immediate gratification," he said.
"Sports are extremely popular, especially amongst young males, who believe they know everything about sports," said the educational and counselling psychology professor.
NDP MP Brian Masse has a private member's bill before the House of Commons to legalize single sport betting. He said billions are going to organized crime and the provinces could use that money for health care, education and infrastructure.
But the Liberal government indicated it would not support it, acknowledging there would be economic advantages, but greater concerns about gambling addictions.