Liberals' National Housing Strategy Must Make Human Rights A Pillar UN Watchdog
OTTAWA — The federal government's push for a national housing strategy may fall short of its vaunted goals if it doesn't make human rights a central pillar of the plan, a UN housing watchdog says.
The Liberal government is in the midst of consulting on the national housing strategy that federal officials consider to be the most complicated file in front of Social Development Minister Jean-Yves Duclos.
The UN has repeatedly told Canada that it needs a housing strategy as part of its pointed warnings that the country's homeless population, which now stands at about 235,000, is a human rights issue that needs to be addressed.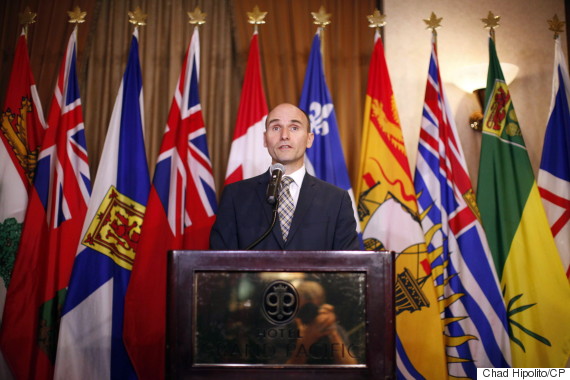 Social Development Minister Jean-Yves Duclos speaks to media at the Hotel Grand Pacific in Victoria, B.C., on Tuesday, June 28, 2016. (Photo: Chad Hipolito/CP)
Leilani Farha, the UN special rapporteur on adequate housing, said recognizing housing as a human right would give the government a built-in accountability measure to ensure the strategy works for all Canadians.
Crafting a human rights-based policy would include eliminating discrimination in housing programs, setting measurable goals and timelines to reduce poverty and giving people the means to hold governments to account if their rights are violated, said Farha, who is also executive director of Canada Without Poverty.
RELATED: We Could End Homelessness In Canada. But It'll Cost You $46
Politicians and bureaucrats balk at the idea of explicitly embedding human rights in any plan, concerned about a flood of complaints to an ombudsman or tribunal, which would have the power to order the government into addressing any human rights-based housing complaint.
"I'm sympathetic to that," Farha said in an interview at her Ottawa office.
"However, if we create a really good, fulsome strategy based in human rights that takes into consideration the actual needs of people who are homeless and inadequately housed, perhaps we shouldn't be so afraid that we're going to fail and have so many complaints."
Talk of human rights absent from consultations, so far
The national housing strategy, expected to be completed by next fall, will set the stage for a larger national poverty reduction plan — a plan the UN has repeatedly said Canada needs.
Farha said talk of human rights is absent from the government's online consultations on the housing strategy, even though the Liberal government talks frequently about following through on its international human rights obligations.
Good social policy does "do human rights," Farha said, "but that's not what's happening in the country."
The federal government doesn't have direct responsibility for housing in many parts of the country; that oversight is left to provinces and cities.
"We want the whole world to listen and to engage with us."
— Social Development Minister Jean-Yves Duclos
Duclos has said he expects the national housing strategy to be built on the work provinces and cities have done over the past decade.
While Farha didn't want to say what should be in the strategy, she said private-sector ideas shouldn't be discounted. She cited landlords who are pushing for a national rent-supplement program as one example of a market-based or market-driven solution that could address a range of housing issues.
Such ideas will be among the key issues debated at a UN housing summit this fall in the Ecuadorian capital of Quito that Duclos plans to attend. The summit, known as Habitat III, is held once every 20 years.
Farha said one of the key tensions at Quito is going to be between those who view housing as part of economic growth, and those who see housing as a human right, adding, "it's not that those two things cannot happen simultaneously."
UN housing summit set for fall
In an interview last month after announcing his attendance, Duclos said he plans to push other countries to adopt the idea of inclusive and sustainable economic development to help cities facing pressures from their homeless populations.
He said the Canadian delegation plans to be "humble" — a message he heard during a meeting with students and housing representatives at the University of Ottawa last month.
"We cannot claim that we've sorted out all our problems. However we can say we're working hard on them and that we want the whole world to listen and to engage with us," Duclos said after the meeting.
ALSO ON HUFFPOST:
Michael Manitowabie 42, panhandles on his corner in downtown Toronto as he has done (according to him) for 20 years.

A homeless man walks outside the a subway station in Montreal on June 6, 2013.

Homeless Joe, as he likes to be called, poses for a photo in front of his handmade shelter under a GO train track in Toronto on May 17, 2012.

A man sits bundled up in the cold on Yonge Street just north of Lakeshore Blvd. in Toronto.

Peter Prevost, center, wipes his tears as pastor Dorothy Lewis prays at Potter's Place Mission on West Hastings Street in Vancouver on Feb. 12, 2010.

Chris relaxes during breakfast time at the Toronto Friendship Centre.

72-year-old Horace Prince stops in for a hot turkey lunch at the Scott Mission in Toronto on Dec. 25, 2012. The Mission has been serving hot Christmas meals for the needy and homeless since 1941.

Derek George is losing his on and off home in the Salvation Army's Hope Shelter in Toronto. George is among 124 homeless men who will be displaced.

John Bowley stands outside of Osgoode Hall in Toronto where he often sleeps. Bowley is a homeless alcoholic and recovering heroin addict.

John Stephen Funke (right) carries his breakfast back to his seat at the Toronto Friendship Centre. After 40 years, the drop-in centre for the homeless is slated to lose city funding.

Clifford Seymor enjoys a hot turkey lunch at The Scott Mission in Toronto.

Homeless Joe, as he likes to be called, sits on his bed in a handmade shelter under a GO train track where he lives in Toronto on May 17, 2012.

A woman wheels her cart along West Hastings Street in Vancouver on Feb. 12, 2010.

Donny is a homeless man who has thousands of dollars in provincial offences tickets that in some cases add up to tens of thousands of dollars. Mike is receiving help from the Fair Change Community Services legal clinic in Toronto.

Homeless people battle the first extreme cold weather alert of the season in downtown Toronto.

A homeless person sleeps in front of a Toronto store.

A homeless man in Toronto protects himself from the rain with plastic.

Street people nap on a Toronto street.

A homeless person sleeps near a steam grate on the corners of Victoria and Queen Street as Toronto braces for the first cold weather alert of 2012.

An unidentified man helps Shawna, who only gave her first name, inject drugs in Vancouver on Feb. 12, 2010.