Alberta Oil Downturn Has Families Looking To Leave Province
CALGARY — Amid the dozens of Calgarians posting online moving sale ads in the aftermath of the oil price crash, Lora and Danny Major's story is typical, even if their relocation destination isn't.
Next month, the couple plans to move with their three preteen children to Cuenca, Ecuador. Until that moment arrives, they'll be selling almost everything they own in garage sales and leaving an uncertain future in the oilpatch.
Lora, 37, says the idea of moving overseas grew out of a "cyclical conversation" since Danny, 38, was laid off last October from his job as a process engineer for a major oilsands producer. He found employment with an engineering/design firm soon after, but hasn't been happy with a job he says is less challenging, more stressful and offers fewer benefits.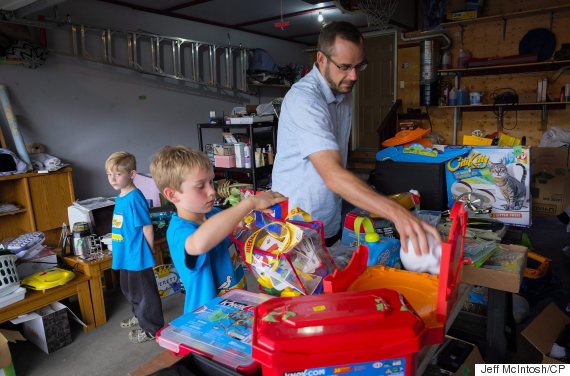 The Major family is filling their garage with items for sale before their move from Calgary to Ecuador. (Photo: Jeff McIntosh/CP)

"He said, 'Well, someone's got to pay for this house,'" recalls Lora, who trained as a biomedical engineer but has been home with the children since the family moved from Edmonton eight years ago.
"Then we looked at each other and said, 'Well, why? Why do we have to pay for this house? Why are we here? Why don't we take the opportunity we've always talked about and try something new?'"
Largest outmigration since 2009

Statistics Canada says Alberta lost a net 1,790 residents to other parts of Canada in the first three months of this year, the largest quarterly decrease since late 2009, the last time oil prices took a nosedive.
The outmigration should be good news for moving companies. But Doug Jasper, general manager of AMJ Campbell Calgary and a 30-year industry veteran, says that's not the case.
"It's a different kind of move this year," he says.
"Most people right now — you hear about all the people who have been laid off and everything — they are moving small quantities either by themselves or by freight because what we're seeing in the houses we go into, the furniture has all been sold.
"Instead of having the three-bedroom house that you look at and go, 'Wow, that will fill a trailer,' that's not the case this year. Before, you might have one, maybe two families' (belongings) on a trailer. Now you're having 10 or 11 families on a trailer."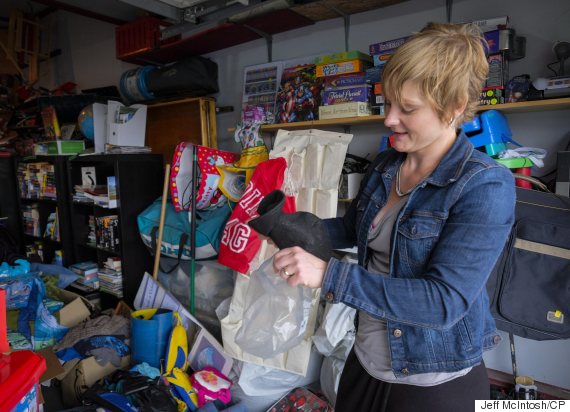 The Lora Major organizes items for sale before her family's move from Calgary to Ecuador. (Photo: Jeff McIntosh/CP)

Jasper says families leaving Calgary are trying to save money on their move because they don't have an employer to pay for it.
A furnished house move from Alberta to Ontario that might have weighed 5,400 kilograms — and cost $12,000 based on weight — now weighs and pays half as much. And customers who book a move are generally doing their own packing to cut costs, Jasper says.
For Jasper, that means residential moving revenue in the 2015-16 fiscal year ending June 30 was down 22 to 23 per cent from the previous year.
"For the most part it's mementoes, it's their real, personal things that they don't want to part with. It's the family pictures, it's the grandmother's china and so on that form part of that move."
Fred Haladay, chief commercial officer for Atlas Van Lines, Canada's largest association of moving companies, says internal industry statistics show the overall weight moved by the country's top five van lines for corporate clients in Alberta last year fell by about 18 per cent from 2014. It is down another six per cent so far this year.
Haladay says moves from Alberta paid for by individuals, which represent about half of the provincial moving business, declined by about 13 per cent last year but have rebounded about two per cent so far this year.
"Some of the severance packages are starting to run out. They have to make a decision," says Haladay.
"They don't want to spend a great deal on relocation costs so they are making that ultimate decision on what really needs to go. And for the most part it's mementoes, it's their real, personal things that they don't want to part with. It's the family pictures, it's the grandmother's china and so on that form part of that move.
"The appliances, the sofas, you know, things they can get rid of at a yard sale, they would."
Move-it-yourself trend

Gordon Anderson, southern Alberta president for U-Haul, says the move-it-yourself trend has been great for his truck and trailer renting business. He says more of his customers are leaving Alberta than returning.
"While that makes it challenging to keep the amount of equipment on hand to meet demand, we're doing all we can to take care of our customers during this busy moving season," he says.
Lora Major says the family's garage sales feature beds, a poker table, toys, clothing, Christmas decorations and housewares. Some bigger or more prized items will go to friends or family under long-term lending arrangements.
"We're planning on getting rid of almost everything," she says. "We're not taking anything with us or leaving anything in the house."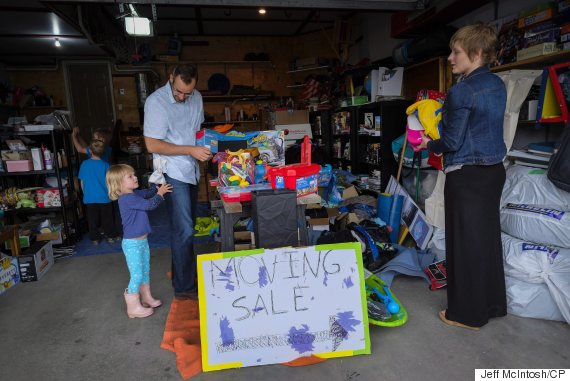 The Major family is moving from Calgary to Ecuador. (Photo: Jeff McIntosh/CP)

After deciding to leave the country, the Majors concluded Ecuador was a cheap, safe place to live and they travelled there in April to check it out.
The two-week visit sold them. Danny gave notice he would leave his job by mid-July.
"This is pretty much the first time in my career where circumstances allow me to take some time off. The job market's down a lot. How long will I have a job? I don't know," he says.
"It's kind of now or never because the economy will turn. It always does. When things pick up, I'm not going to be able to justify taking two years off."
The couple plan to live on revenue from their interests in a half dozen residential condo properties in Edmonton, plus rent from their Calgary house if it doesn't sell. Both grew up in Alberta and neither speaks Spanish well, but they're excited.
"We'll give it a try for two years and we may stay if the budget situation works out and if we're happy there," says Lora.
Follow @HealingSlowly on Twitter.
Also on HuffPost:
Timeline: Oilpatch Layoffs Of 2015
Here's a look at some of the major energy industry layoffs that have affected Alberta in 2015:

Company: Royal Dutch Shell Layoffs: Hundreds of layoffs at its massive Albian Sands project. The company announced it is laying off less than 10 per cent of its 3,000 workers.

Company: Suncor Energy Layoffs: The company announced it will layoff about 1,000 people from its workforce of 14,000. It also cut $1 billion from its capital budget

Company: Schlumberger Layoffs:Schlumberger announced they would cut 9,000 jobs in January, and another 11,000 in April, but did not report on how may of those jobs would affect Alberta employees.

Company: Newalta Layoffs: The company announced it would cut 180 people from its workforce to reduce costs and improve margins. The cuts amounted to 15 per cent of its staff.

Company: Weatherford International Layoffs: The oilfield services company said it will lay off 8,000 workers worldwide, or about 15 per cent of its workforce. According to Global News, about 1,000 of those positions affected Albertans.

Company: Cenovus Energy Layoffs: Cenovus Energy Inc. said it will cut its staff by about 15 per cent, the bulk of layoffs coming from its contract workforce. The company also suspended employee salary increases for this year.

Company: Precision Drilling Layoffs: Precision announced a net loss of $114 million, and was forced to adjust to a "swift and severe" decline in crude prices, said CEO Kevin Neveu. At the time, Neveu said about 50 fewer Precision rigs, and 1,000 fewer people, were running than at the same time a year ago.

Company: Finning International Layoffs: Finning International said it will cut 500 employees, or about 9 per cent of its Canadian workforce. Some of these cuts came to people working the Alberta oilsands or based in Edmonton.

Company: Husky Energy Inc. Layoffs: Husky Energy Inc. unexpectedly laid off 1,100 workers at its Sunrise oilsands project.

Company: Nexen Energy Layoffs: Nexen said they would slash 400 jobs "in response to the recent industry downturn." The majority of Nexen's cuts affected employees at its Calgary office.

Company: Talisman Energy Layoffs: Talisman Canada said it would reduce its workforce by 10 to 15 per cent as it grapples with low crude prices. Spokesman Brent Anderson says up to 200 employee and contractor jobs would be cut, mostly at the company's head office in Calgary.

Company: ConocoPhillips Layoffs: ConocoPhillips announced that they will cut seven per cent of their Canadian staff — or about 200 people in total. Spokeswoman Kristin Ashcroft said that some Calgary-based staff and workers in the oil field would be let go.

Company: Trican Well Services Layoffs: Trican Well Service Ltd. cut 2,000 employees from its North American workforce, including about 800 in Canada, and said it will stop paying dividends to its shareholders, citing the difficult current and future market conditions.

Cenovus Energy Inc. cut between 300 to 400 jobs in the second half of this year, on top of 800 layoffs announced in February.

Penn West announced it is cutting its workforce by 400 full-time employees and contractors — most of them working at company headquarters in Calgary.

ConocoPhillips Canada confirmed to CBC News it will reduce its workforce by about 15 per cent — 400 employees and 100 contractors. The majority of jobs lost will be in the Calgary office.

Cenovus, Suncor, Athabasca Oil and Calfrac all lay off hundreds of workers. "Unfortunately, these are the necessary steps required to weather an extended downturn," company spokesman Matt Taylor tells CBC.

Enmax, Transcanada and Enbridge all announced layoffs, totalling more than 560 employees, CTV reported.

ATCO Group laid off more than 400 people, according to The Calgary Herald, bringing the total group layoffs of the year to over 18,000 workers.