Catherine McKenna Tells AFN Traditional Indigenous Knowledge Key In Climate Fight
NIAGARA FALLS, Ont. — Traditional indigenous knowledge is vital when it comes to assessing climate impacts and resource projects, the federal environment minister insisted repeatedly Wednesday in a speech to the Assembly of First Nations.
Catherine McKenna's address to the AFN's annual meeting sounded some now-familiar Liberal government themes: healing the relationship with Canada's First Nations and consulting with indigenous peoples on a host of policy areas.
McKenna focused much of her speech on a just-completed family vacation that took her to Haida Gwaii, off the northern B.C. coast, and to Dene territory in the Northwest Territories.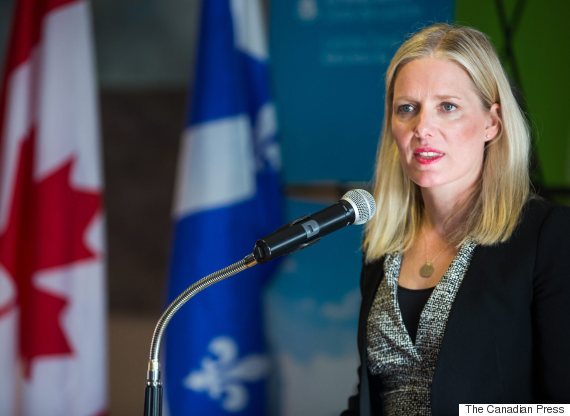 Environment Minister Catherine McKenna speaks in Montreal, Que. on March 29, 2016. (Photo: The Canadian Press)
"Everyone I've met has shared with me why the lands are so important to them and their families," she said.
McKenna began her 22-minute speech by noting she was the first environment minister to address the Assembly of First Nations in at least a decade, and quite possibly ever.
She asked the chiefs to get involved in ongoing public consultations over the revamping of Canada's environmental assessment system, and promised that a pan-Canadian climate plan being developed this summer with the provinces and territories is heavy on aboriginal consultation.
Major resource projects are already being assessed, she said, using "the key principles that indigenous peoples will be meaningfully consulted and, where appropriate, impacts on rights and interests will be accommodated."
"We know that traditional knowledge provides us with invaluable information. It makes our research more efficient and provides us with first-hand observations about the state of our land, water, flora and fauna."
McKenna also said that traditional knowledge will be specifically included in wildlife conservation decisions.
"We know that traditional knowledge provides us with invaluable information. It makes our research more efficient and provides us with first-hand observations about the state of our land, water, flora and fauna," she said.
"That is why we consult and work with Indigenous communities in deciding whether to list a species under the Species At Risk Act and in establishing the best recovery strategies and recovery plans."
Similar rationale used by last Tory environment minister
Former Conservative environment minister Leona Aglukkaq raised the ire of some in the conservation movement when she used a similar rationale to defend Canada's polar bear hunt, saying her Inuk brother in Nunavut assured her there were plenty of bears on the land.
"Aboriginal people have a unique understanding of the environment, having lived off the land for thousands of years, so ensuring our voice is heard only improves our management of the species," Aglukkaq said in a government release last June as she headed to West Virginia for talks with American officials on polar bear conservation.
The Liberals came to office last fall promising a new era of evidence-based decision making.
"Responsible governments rely on sound data to make their decisions," said the Liberal campaign platform.
ALSO ON HUFFPOST:
Climate Change: 10 Beautiful Places Under Threat
The impacts of climate warming in Alaska are already occurring, experts have warned. Over the past 50 years, temperatures across Alaska increased by an average of 3.4°F. Winter warming was even greater, rising by an average of 6.3°F jeopardising its famous glaciers and frozen tundra.

The most fragile of Italian cities has been sinking for centuries. Long famous for being the city that is partially under water, sea level rise associated with global warming would have an enormous impact on Venice and the surrounding region. The Italian government has begun constructing steel gates at the entrances to the Venetian lagoon, designed to block tidal surges from flooding the city. However, these barriers may not be enough to cope with global warming.

The West Antarctic Peninsula is one of the fastest warming areas on Earth, with only some areas of the Arctic Circle experiencing faster rising temperatures. Over the past 50 years, temperatures in parts of the continent have jumped between 5 and 6 degrees F— a rate five times faster than the global average. A 2008 report commissioned by WWF warned that if global temperatures rise 3.6 degrees Fahrenheit (2 degrees Celsius) above pre-industrial averages, sea ice in the Southern Ocean could shrink by 10 to 15 percent.

The rapid decline of the world's coral reefs appears to be accelerating, threatening to destroy huge swathes of marine life unless dramatic action is swiftly taken, leading ocean scientists have warned. About half of the world's coral reefs have already been destroyed over the past 30 years, as climate change warms the sea and rising carbon emissions make it more acidic.

The world's highest mountain range contains the planet's largest non-polar ice mass, with over 46,000 glaciers. The mammoth glaciers cross eight countries and are the source of drinking water, irrigation and hydroelectric power for roughly 1.5 billion people. And just like in Antarctica, the ice is melting.

An expected 2°C rise in the world's average temperatures in the next decades will impact island economies such as the Maldives with extreme weather patterns and rising sea levels.

Over the last century, global warming has caused all Alpine glaciers to recede. Scientists predict that most of the glaciers in the Alps could be gone by 2050. Global warming will also bring about changes in rain and snowfall patterns and an increase in the frequency of extreme meteorological events, such as floods and avalanches, experts have warned.

The Arctic is ground zero for climate change, warming at a rate of almost twice the global average. The sea ice that is a critical component of Arctic marine ecosystems is projected to disappear in the summer within a generation.

Called the "epicenter of the current global extinction," by Conservation International, this smattering of more than 4,000 South Pacific islands is at risk from both local human activity and global climate change.