Taliyah Marsman's Father Issues Heartfelt Plea For Her Return
CALGARY — The father of a missing Calgary girl is begging anyone who might have information to "do the right thing.''
Colin Marsman said in a statement Wednesday that five-year-old Taliyah Leigh Marsman is his "light'' and loves her with all his heart.
"I want to make a plea to anyone out there who knows anything about where my baby is,'' Marsman said in the statement released to the media through friend Gabriel Goree.
"Please, it's never too late to do the right thing! If you even think you might have seen something that could be a clue, let your local law enforcement know immediately.''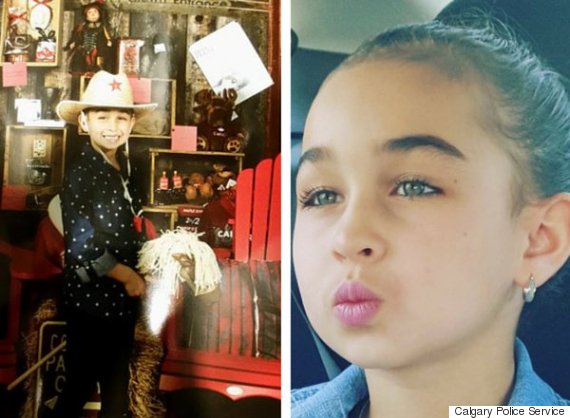 Five-year-old Taliyah Marsman was last seen Sunday morning. (Photos: Calgary Police Service)
Police issued an Amber Alert for the child early Tuesday after her mother, Sara Baillie, was found dead in a basement suite where the two lived.
Officers say family members last saw the girl on Sunday morning and became concerned when Baillie failed to show up for her job at an airport restaurant.
Police have said they're investigating the death as a homicide.
"I just want my baby girl back."
Marsman offered his condolences to Baillie's family. There have been reports that he was charged last year with unlawful confinement and intimidation by threats against Baillie. The charges were later withdrawn and a peace bond was issued.
"Those who know me best, know the person and kind of father I am and know more than anything I just want my baby girl back,'' Marsman said.
"Once again, I plead for anyone knowing anything about where Taliyah is to please come forward with anything that will help get her home and back to her family.''
Police have said Marsman is co-operating with their investigation.
Goree described Marsman as a "great dad,'' who also has a son, and works in construction.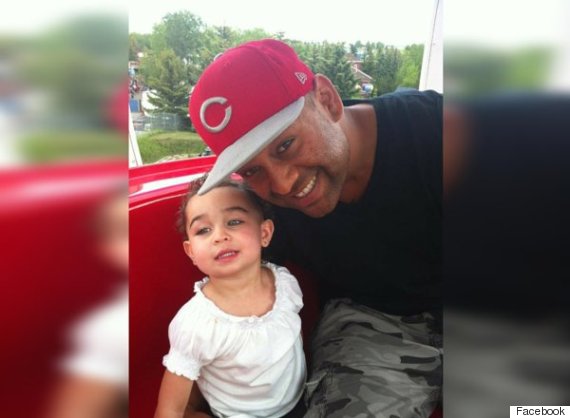 Colin Marsman is pleading for the safe return of his five-year-old daughter Taliyah. (Photo: Facebook)
Marsman's girlfriend, Jessica Mardinger, added on Facebook: "Colin is a great father. He is in so much pain right now. We need Taliyah back.''
Baillie's family appeared at a police news conference Tuesday, tearfully pleading in front of news cameras to whomever took Taliyah to drop her off at a police station, grocery store or gas station, no questions asked.
They said Baillie was pretty much raising Taliyah on her own and the pair were inseparable.
Police said they aren't ruling anything out in their search for the little girl, and have faith she will be found safe.
Taliyah is described as a mixed-race child with a slim build, brown curly hair and blue eyes.
Also on HuffPost:
Dugard was abducted in June 1991 on her way to school in South Lake Tahoe, California. Then 11, she was held for 18 years by Phillip and Nancy Garrido. She was raped repeatedly by Garrido and gave birth to two daughters. Dugard was freed in 2009 after she and her two children appeared in public with him and a police interrogation revealed her identity. Convicted of kidnapping and rape, Garrido was sentenced to 431 years in prison. His wife received a sentence of 36 years to life.

Fritzl disappeared from her town of Amstetten, Austria, in 1984 at age 18. In 2008, she re-emerged 24 years later from the dungeon-like basement chamber where her father, Josef, had kept her captive. He raped her thousands of times. She bore him seven children, one of which died in captivity after Josef Fritzl refused to allow medical treatment. Josef Fritzl was sentenced to life in a prison psychiatric ward in March 2009. Elisabeth Fritzl and her children were given new identities.

In October 2002, Hornbeck – then 11 – was kidnapped while riding his bike to a friend's house in Washington County, Missouri. In January 2007, authorities found Hornbeck and another kidnapped boy, Ben Ownby, in the suburban St. Louis apartment of Michael Devlin. Ownby, 13, had been abducted four days earlier. Devlin was sentenced to life in prison for kidnapping and abusing the boys.

Kampusch was kidnapped in 1998 off the street in Vienna at age 10. She managed to escape in 2006 but only after spending eight years as a captive, mostly in a tiny basement enclosure. She was abused by her abductor, Wolfgang Priklopil, who committed suicide soon after Kampusch freed herself.

At age 14, Smart was snatched from her bedroom in Salt Lake City in June 2002 by Brian David Mitchell, who did odd jobs for the family. Tormented over nine months by Mitchell and his wife, Wanda Barzee, Smart was freed after she was recognized in March 2003 while in public with both of them. He is serving a life sentence and Barzee is serving 16 years in prison.

Aged between 8 and 19 when snatched between mid-1995 and August 1996, the six victims were abducted, tortured and abused by Belgian Marc Dutroux. Only Dardenne, 12, and Delhez, 14, escaped alive after being found near the southern Belgian town of Charleroi a few days after Dutroux's arrest in August 1996. He is serving a life sentence. His wife, Michelle Martin, is now in a convent after serving 16 years of a 30-year prison term.

The 7-year-old boy was kidnapped in 1972 while walking home from school in Merced, California. After Stayner escaped captivity in 1980, Kenneth Eugene Parnell was convicted of kidnapping him and a second boy, 5-year-old Timmy White, and sentenced to seven years in prison. Stayner died in a motorcycle accident in 1989 at age 24.