Patrick Brazeau Wants Someone Held Responsible For Expense Accusations
OTTAWA — Spending in the upper chamber still needs to be cleaned up, Sen. Patrick Brazeau said Thursday as he promised to push for more changes when he makes his triumphant return to the Senate in the fall.
Brazeau said someone has to be held accountable for the fact that he has spent the last three years of his life under what he describes as false allegations of misspending and wrongdoing.
Brazeau summoned the media to his Ottawa office Thursday and spoke out publicly at a news conference for the first time since his long, difficult legal saga began more than three years ago.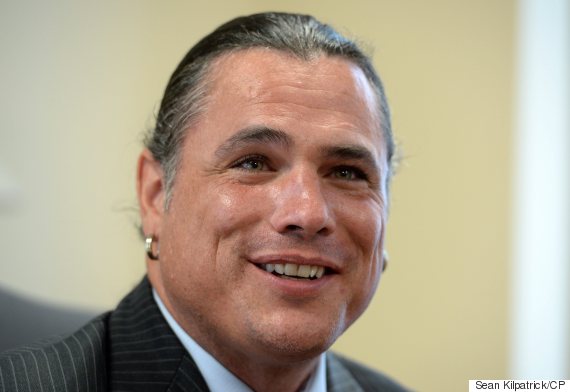 Sen. Patrick Brazeau speaks to media as he returns to his Senate office in Ottawa on Thursday, July 14, 2016. (Photo: Sean Kilpatrick/CP)
Brazeau has long insisted he did nothing wrong when he filed housing claims for a secondary home near Parliament Hill, noting he met the test the Senate now uses for verifying a primary residence.
Independent auditors from Deloitte couldn't conclude he broke any rules because the rules themselves were so vague, he added. But the Senate rejected that finding and ordered Brazeau to repay about $49,000 in housing claims.
Months later, in November 2013, Brazeau was suspended without pay in an emotional vote in the upper chamber. Some Conservative senators abstained, believing it unfair to treat Brazeau the same as fellow members Pamela Wallin and Mike Duffy.
Brazeau said he wants the whole thing to be "water under the bridge," but knows that may be impossible.
"What happened in the Senate with me in particular ... was unjust and somebody needs to be held accountable," he said.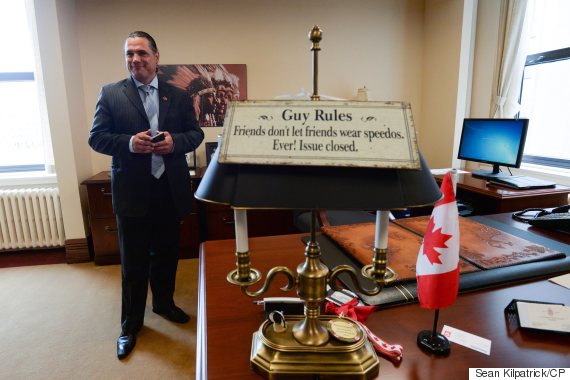 Brazeau stands in his Senate office as he returns to work in Ottawa on Thursday, July 14, 2016. (Photo: Sean Kilpatrick/CP)
"And I'm going to work darn hard to make sure that place gets cleaned up, because each time you hear senators saying, 'Oh, well, we changed these rules and we changed those rules' — well, they haven't done enough and I'm going to start working on that right away."
The rule changes, a key pressure point in the Senate, are at the heart of a dispute between one senator and the Senate committee that oversees spending. The committee has threatened to cut off Sen. John Wallace's expense privileges if he doesn't sign a declaration saying he is in compliance with Senate rules.
The declaration is nothing new for members of the upper chamber who have to sign similar forms for the Senate ethics officer and at the bottom of claims submitted to Senate finance.
Brazeau will sit as independent
Wallace, an independent senator from New Brunswick, doesn't want to reinforce the power of the Senate's internal economy committee and its three-member executive to judge the legitimacy of spending by their peers. He wants to see an independent oversight body that would review claims free from partisan interests.
Like Wallace, Brazeau will sit as an independent. Brazeau said he's willing to work with anybody in the upper chamber, vowing to shed the partisanship cloak he wore for years as a member of the Conservative caucus until he was booted out in February 2013.
That caucus lost another senator Thursday as Doug Black became the latest to declare he would sit as an independent. Black was appointed to the Senate after being selected in a provincial nomination election.
First full day back at work
Thursday was Brazeau's first full day as a member of the Senate in full standing after the Crown withdrew criminal charges of fraud and breach of trust against him, saying there was no reasonable prospect of a conviction.
It was just the latest evidence that the Senate expense scandal, once the talk of the town in political Ottawa and the bane of the former Conservative government, is in its death throes.
It all began in April with Duffy's sensational courtroom acquittal, which was quickly followed by the withdrawal of charges against former senator Mac Harb. RCMP investigators later decided against charging Wallin over her travel spending.
Brazeau spoke out about the physical and emotional hardships he faced over the last three years, including addiction, therapy, a cancer scare and multiple attempts to take his own life, including one in January.
Opens up about suicide attempts
Through it all, he said, he never contemplated quitting the Senate.
"It wasn't the first time that I tried to commit suicide, but that was more a consequence of the last three years — the suspension, the false accusations — but to quit, no, I'm just glad I'm still here."
He had little to say about Stephen Harper, who appointed Brazeau to the Senate in 2009, other than noting the former prime minister need no longer fear having to testify in court about the Senate scandal.
Brazeau said he was looking forward to Prime Minister Justin Trudeau, his former boxing foe, filling 19 vacant seats in the Senate this fall with independent senators to upend the Conservative majority in the upper chamber.
As for a rematch of their high-profile boxing match from 2012: "I'm always ready, but I don't believe it will happen."
ALSO ON HUFFPOST:
How Much Are Federal Politicians Making? (2016)
On April 1, 2016, members of Parliament received a 1.8 per cent pay increase, bringing the basic pay of each MP up to $170,400 from $167,400 the year prior. But while that base salary is the same for every member, certain MPs are afforded the chance to make much more. The full list of indemnities, salaries and allowances can be found here.

NDP MP Niki Ashton (Churchill-Keewatinook Aski) is an example of an MP who earns just the base salary afforded to all members. 2016 Salary: $170,400 There are currently 338 MPs.

The Right Honourable Justin Trudeau, however, makes double the salary of your average MP. 2016 Salary: $340,800 Car Allowance: $2,000

Liberal MP Geoff Regan (Halifax West) earns the base salary, plus $81,500 for serving as Speaker. 2016 Salary: $251,900 Car Allowance: $1,000

Interim Conservative Leader Rona Ambrose earns the base MP salary, plus $81,500 for leading the Official Opposition. 2016 Salary: $251,900 Car Allowance: $2,000

Defence Minister Harjit Sajjan (Vancouver South), like other cabinet ministers, earns $81,500 on top of the base MP salary. 2015 Salary: $251,900 Car Allowance: $2,000

NDP Leader Thomas Mulcair and the leaders of the Green Party and Bloc Quebecois earn the base MP salary, plus $57,800 for serving as their party's top dog. 2016 Salary: $228,200

Liberal MP Bardish Chagger (Waterloo), earns $81,500 on top of the base MP salary. 2016 Salary: $251,900 Car Allowance: $2,000

Conservative MP Candice Bergen (Portage-Lisgar) earns the base MP salary plus a $42,200 pay bump for serving as Opposition House leader. 2016 Salary: $212,600

NDP MP Peter Julian (Burnaby-New Westminster) earns the base MP salary plus a $16,800 pay bump for serving as his party's House leader. 2016 Salary: $187,200

Liberal MP Andrew Leslie (Orléans) earns the base MP salary, plus $30,500 for serving as the Trudeau government's whip. 2016 Salary: $200,900

Gordon Brown (Leeds–Grenville–Thousand Islands and Rideau Lakes) also earns an additional $30,500 for serving as the Opposition's whip. 2016 Salary: $200,900

Liberal MP Celina Caesar-Chavannes (Whitby) is one of 35 parliamentary secretaries who gets a $16,800 pay bump on top of her salary. 2016 Salary: $187,200

Senate Liberal Larry Campbell is an example of a senator who earns just the base salary afforded to all members. 2016 Salary: $145,400

New Senate Liberal Peter Harder has been named the Trudeau government's "representative" in the upper chamber. He earns $81,500 on top of his base salary. 2016 Salary: $226,900

Senate Liberal George Furey earns the base salary, plus $59,500 for serving as Speaker. 2016 Salary: $204,900 Car allowance: $1,000 Residence allowance: $3,000

Conservative Claude Carignan earns the base salary, plus $38,700 for serving in the role. 2016 Salary: $184,100

UP NEXT: House Speaker's Perks and Powers

Veteran Liberal MP Geoff Regan was elected the new Speaker of the House of Commons in December 2015. Though many Canadians might not know much about the job, House Speaker remains a very coveted role. Here are some of the unique perks and powers that come with the job.

As of April 2015, the House Speaker earns $80,100 on top of the base MP salary of $167,400. That's $247,500 a year — the same amount of money earned by cabinet ministers and the leader of the Official Opposition.

The Speaker also gets to live at a beautiful, official residence. Located at Kingsmere in the Gatineau Hills, the property consists of a farmhouse and five outbuildings surrounded by four acres of fields and forests. The residence is closed to the public but you can take a virtual tour on the National Capital Commission website.

The Speaker also gets a small apartment in Parliament's Centre Block, but it isn't as luxurious as you might think. There's a double-bed and armoire in the small bedroom.

The living room in the Speaker's apartment features a desk, TV, gas fireplace and fridge. There's also dressing room and a basic bathroom with a tub-shower combo, but no kitchen.

The Speaker's yearly car allowance of $1,000 is less than that of the prime minister, cabinet ministers, and the official opposition leader who all get $2,000. Prime Minister Justin Trudeau is shown giving a thumbs up from his car after taking a tour of the West Block.

The Speaker's job is far from symbolic. He or she presides over question period, can expel misbehaving MPs, and has the power to make rulings when members think their rights have been infringed. The Speaker is in charge of the administration of the Commons, including staff, security, and printing and postal services. The Speaker also plays a diplomatic role by hosting foreign dignitaries, and travelling abroad as head of delegations at international conferences and other legislatures. Former House Speaker Andrew Scheer and Senate Speaker Leo Housakos show King Willem-Alexander and Queen Maxima of the Netherlands the Senate chamber.

According to the department of Canadian Heritage, Canada's order of ceremonial precedence is as follows: Governor General, prime minister, the chief justice of the Supreme Court, the Speaker of the Senate, and then the Speaker of the House of Commons.

In what has become a recent tradition, the Speaker selects a "Speaker's Scotch" that can be purchased at the parliamentary restaurant and even gets its own label. Regan told HuffPost he's going with Glen Breton, single malt whisky.

UP NEXT: Rookie MPs To Watch

Joly, 36, made a name for herself by finishing second to ex-Liberal cabinet minister Denis Coderre in the Montreal mayoral race in 2013. A lawyer and communications expert who was heavily involved in her community, she ran for the Liberals and beat ex-Bloc MP-turned-New Democrat Maria Mourani. Joly was named minister of Canadian heritage.

Caesar-Chavannes first gave the Tories a fright in a 2014 byelection to fill the seat left behind by the late Jim Flaherty. Though she lost to Whitby's then-mayor Pat Perkins, the race ended up being a lot closer than many expected. In a rematch, Caesar-Chavannes, an entrepreneur and research consultant, won by almost 2,000 votes.

Deltell, a longtime member of Quebec's National Assembly, served as leader of the right-wing Action Démocratique du Québec until that party merged with Coalition Avenir Quebec a few years ago. He was considered a star recruit for the Conservatives, who have struggled in the province. Deltell easily defeated his Liberal challenger by nearly 20,000 votes. The NDP incumbent finished third.

Despite not having a seat, Beaulieu was elected leader of the Bloc Quebecois in June 2014. He gave up the role just before the start of the election to make room for former leader Gilles Duceppe. Though Duceppe lost his bid for a seat, Beaulieu was victorious and will soon have a chance to make his mark in Parliament.

Blair was chief of the Toronto Police Service from 2005 to 2015. He sparked controversy with his handling of the 2010 G20 protests in the city and publicly clashed with controversial ex-mayor Rob Ford. A police officer for 40 years, Blair says he was approached by the Tories and New Democrats before he decided to run for the Trudeau Liberals.

Rayes, the popular mayor of Victoriaville since 2009, was courted for months to run federally. His pursuit of a nomination was interpreted as a sign of Conservative momentum in the province. Rayes rolled to victory, besting his nearest competitor (a Liberal) by more than 4,000 votes.

Though New Democrats lost more than half their seats and saw many high-profile MPs defeated, Blaikie's razor-thin victory over a Tory incumbent was a bright spot. Blaikie, 31, is the son of NDP stalwart Bill Blaikie, who served as an MP from 1979 to 2008. His sister, Rebecca, is president of the NDP.

Leslie, a retired general who led Canadian troops in Afghanistan, was one of the Liberals' star recruits. He served as Trudeau's foreign policy and defence adviser and unseated a Conservative incumbent in the Ottawa riding.

Morneau, the former executive chair of Morneau Shepell, one of Canada's largest human resources firms, has landed the coveted finance portfolio.

Wilson-Raybould, a former Crown prosecutor and regional chief of the B.C. Assembly of First Nations will serve as justice minister and attorney general.

Watts, the very popular former mayor of Surrey, likely would have landed in cabinet if Harper's Conservatives won again. Instead, she will be a fresh face in the opposition benches. Mayor of B.C.'s second-largest city from 2005 to 2014, she was one of just two Conservatives endorsed by GreenPAC, a group dedicated to environmental causes.

Sajjan, a retired lieutenant colonel who also served in Afghanistan, was the first Sikh to command a Canadian Army regiment. He also served as a Vancouver police officer for 11 years. He has been named defence minister.

Ouellette, a Cree academic who served almost 20 years in the Canadian Armed Forces, surprised many with a strong campaign for mayor of Winnipeg in 2014. He unseated colourful NDP incumbent Pat Martin in a race that turned personal at times. Ouellette is one of a record 10 indigenous MPs elected to the House of Commons.

Liepert was an MLA in Alberta for 12 years and served as both minister of health and energy. He challenged controversial, longtime MP Rob Anders for the Tory nomination and even told Jason Kenney to "mind his own business" after the cabinet minister endorsed his rival. Liepert easily won his seat and, days later, bashed the way the Conservative Party ran the national campaign. Liepert, it seems, is no shrinking violet.

O'Regan, a former host of "Canada AM" and CTV journalist, unseated an NDP incumbent in the Newfoundland riding. While well-known for his broadcasting career, O'Regan also worked as an assistant to Jean Charest, back when he was a Progressive Conservative environment minister. He also worked as a speechwriter for former Liberal Newfoundland and Labrador premier Brian Tobin.

Mihychuk was an NDP MLA in Manitoba from 1995 to 2004, serving as minister of industry, trade, and mines, and later minister of intergovernmental affairs. She has been named minister of employment.

McKenna, a social justice lawyer, was a former legal advisor for the United Nations peacekeeping mission in East Timor and founded Canadian Lawyers Abroad (now known as Level), a charity focused on global justice issues. She will serve as minister of the environment and climate change.

Malcolmson captured the Vancouver Island riding for the NDP, winning by more than 6,000 votes. She is a former chairwoman of the Islands Trust Council, and was elected to that body four times. Her experience in local government could mean a key role in an NDP caucus now depleted of many veterans MPs.

McCrimmon ran for the leadership of the Liberal Party in 2013 despite never holding elected office. A former lieutenant colonel in the Royal Canadian Air Force, McCrimmon was the first female air navigator and first woman to command a Canadian Forces flying squadron.

Hehr, an Alberta MLA from 2008 to 2015, was one of just two Liberals elected in Calgary. Grits were shut out of that city for almost 50 years. The 45-year-old will serve as minister of veterans affairs and associate minister of national defence.

Philpott is a family physician, associate professor at the University of Toronto, and former chief of the department of family medicine at Markham Stouffville Hospital. She unseated controversial parliamentary secretary Paul Calandra by nearly 4,000 votes. She will serve as minister of health.

A respected Edmonton city councillor since 2007, Sohi immigrated to Canada from India 35 years ago and served time behind bars as a political prisoner in India. He has been named minister of infrastructure.

Qualtrough, a lawyer and former Paralympian, will serve as minister of sport. Legally blind, Qualtrough won three Paralympic and four World Championship medals for Canada in swimming and was president of the Canadian Paralympic Committee.

A community organizer, Monsef was born in Afghanistan. She fled the Taliban and came to Canada as a refugee with her widowed mother and sisters in 1996. Monsef, 30, will serve as minister for democratic institutions.

Hajdu, executive director of Thunder Bay's largest homeless shelter, will serve as status of women minister.

The 35-year-old, who worked for the Kitchener-Waterloo Multicultural Centre, will serve as minister of small business and tourism.

Duclos, a renowned economics professor at Laval University, will serve as minister of families, children and social development.

Carr, a former Manitoba MLA and deputy leader of the Manitoba Liberal Party, unseated a Tory incumbent by an astounding 17,000 votes. He will serve as minister of natural resources.

Mendicino, a former federal prosecutor, knows how to go up against big names and win. First, he beat Tory-turned-Liberal Eve Adams in a nomination battle and won the Toronto seat held by finance minister Joe Oliver by nearly 6,000 votes. He could be headed for big things in a Trudeau government.

Fuhr is a former CF-18 fighter pilot who served with the Canadian Air Force for 20 years. Though his riding had been reliably Conservative, he unseated the Tory incumbent by more than 4,000 votes. Fuhr wrote a blog for HuffPost last year detailing how he went from being a lifelong Conservative to a Liberal candidate. He could be considered for a cabinet or parliamentary secretary role.