Venomous Snakes Found In Mail At Canada Post Centre In B.C.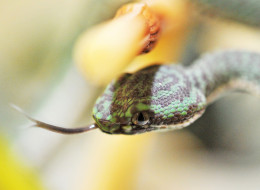 RICHMOND, B.C. - A slithering surprise was discovered in a package mailed from China at a Canada Post distribution centre in British Columbia last week.
The B.C. Conservation Officer Service said three venomous mountain pit vipers were inside a package destined for Manitoba.
Insp. Murray Smith said the service received a call from the Richmond mail branch reporting the discovery of live snakes.
Two of the snakes were already dead, while the third had escaped its container and was found loose in a larger box.
The surviving snake was successfully caught and is being handled by specialists.
Deputy Chief Chris Doyle said the vipers are dangerous and no antivenin exists for the species in Canada.
"Obviously somebody in Canada Post didn't think this was right."
Although the snakes are illegal under B.C.'s Wildlife Act, Smith said laws pertaining to exotic animals are different in other areas of the country.
Conservation officers have encountered many instances of people possessing exotic creatures, but Smith says this was the first time he heard of animals showing up in the mail.
"Obviously somebody in Canada Post didn't think this was right. It makes me think it was very much out of the routine," he said.
Officials are investigating whether anyone in B.C. is connected to importing the vipers.
Once the investigation is complete, Smith said officials will determine the fate of the surviving snake.

Also on HuffPost:
India's 10 Deadliest Snakes
This snake also called Daboia, is named after Patrick Russell, a Scottish herpetologist who possibly was the first to distinguish and describe Indian snakes. Commonly found in Punjab and Bengal, this aggressive snake has earned a reputation for being one of the deadliest snakes. While several venomous snakes will deliver dry bites, Russell's viper always attempts to deliver a maximum venom dosage.

Part of the 'Big Four' (the four venomous snakes in India responsible for delivering the most snake bites), the Indian or blue krait is a largely nocturnal snake by nature. It is often found in water sources, and delivers a bite that can be mistaken for something less fatal.

A (smallish) snake, the saw-scaled viper is found in the rocky regions of Maharastra, Rajasthan, Uttar Pradesh, and Punjab. It is largely nocturnal by nature, and extremely aggressive if aggravated. It has rough-looking scales with lightly coloured rounded patches on top, and undulating lines that extend from its head to its posterior.

Also known as Naja naja, this cobra should not be mistaken for the King cobra. It comes under the Indian Wildlife Protection Act. A heavy-bodied snake, it can be easily identified by its hood that features a significant marking at the top of its hood. Cobras are mostly shy by nature, but can deliver a fearsome bite -- their venom contains neurotoxins that can lead to respiratory paralysis and cardiac failure.

Equally revered and feared, the King Cobra is possibly the worlds longest venomous snake. This snake is unique from other cobras in a number of ways: it feeds on other snakes, has a narrower hood, and features different markings on its head. When aggravated, this snake can raise one-thirds of its body, however by large is of a placid nature. It is also the only snake in the world that builds a nest for its young.

Often found in dense jungles and coffee plantations (especially Kerala), this type of viper features smooth scales and a wide triangular head that is distinctly broader than the neck. It's name is given on account of its snout that is wide and slightly upturned. Largely nocturnal by nature, this snake's bites can systemic toxicity and fatalities.

This type of viper features a prehensile tail that can grasp or hold objects, and is commonly found in Southern and Western India. Mostly found during the monsoon season, these nocturnal snakes are capable of fast strikes.

This brilliantly-hued nocturnal snake features folded fangs (so the snake won't bite itself). Bites from this snake result in acute pain and swelling, and it is often hunted for its attractive skin colour and venomous nature.

A venomous sea snake found in Indo-Pacific waters, the yellow-lipped sea krait regularly take to land to drink fresh water. This snake's tail is often mistaken for its head by oncoming prey, which it uses to its advantage. A beautiful and shy animal, this slim snake is extremely venomous, and can be confused with eels.

Called Ajgar in Hindi, this type of python can grow up to almost 10 feet in length on an average. These snakes, in spite of their giant sizes are timid by nature, and quite at home in the water. Often hunted because of its size, and tough but beautiful skin, the python (like most other pythons) is non-venomous, and kills its prey by crushing it with its coils.