Ontario's Economy Is Kicking Canada's Ass Right Now
TORONTO — First quarter results for 2016 show the Ontario economy growing at an annualized rate of three per cent, the highest in Canada and all G7 countries.
Premier Kathleen Wynne said Ontario's real gross domestic product grew 0.8 per cent in January to March, following similar growth in the fourth quarter of 2015.
"I'm very pleased that Ontario's economy posted strong growth in the first quarter, stronger growth than we had expected in our budget, and that's a very important signal that Ontario is on the right track," Wynne said Monday.
Ontario's first-quarter gains were driven by higher exports and increased household spending, added Wynne.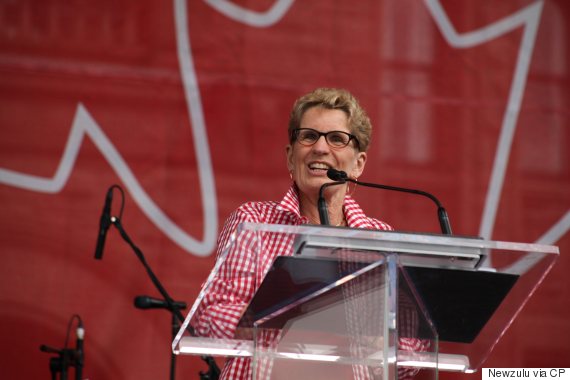 "I just think that we need to let that sink in, that Ontario is growing at a faster rate than Canada, the United States and all other G7 countries," she said.
"And it was widespread. It wasn't just focused in one sector."
Wynne also said the Liberal government is confident the growing economy will allow it to eliminate a $5.7-billion deficit in fiscal 2017-18, as promised.
"We've beaten our targets year over year, and we're on track to eliminate our deficit next year," she said.
However, the New Democrats said the Ontario economy wasn't quite as rosy a picture as the Liberals are painting, and warned the government plans to eliminate the deficit by slashing health-care services.
"And it was widespread. It wasn't just focused in one sector."
"Their promise is to balance the books by overcrowding our hospitals, firing thousands of health-care workers, and creating a $3-billion backlog in critical repairs to hospitals,'' said NDP finance critic Catherine Fife.
"The story behind their numbers shows that ... the number of people working in temporary jobs, without benefits or even sick days, has increased more than twelve times faster than people with stable, permanent jobs."
Ontario's economy will remain one of the fastest growing in Canada over the next two years, and that will mean more jobs right across the province, said Wynne.
"Our unemployment rate in Ontario has been below the national average for more than a year, and in June it fell to 6.4 per cent, and that's the lowest since September 2008," she said.
"And these job gains are not confined to the Greater Toronto-Hamilton Area."
Finance Minister Charles Sousa said Ontario doesn't want to compete with low-wage jurisdictions that lured away many of the manufacturing jobs that used to form the basis of the province's economy.
"I just want to provide some context: we're in a good position in this globally uncertain environment."
"Ontario has become a top destination for foreign direct investments many years running," he said. "It's not by accident ... it's because we are replacing traditional manufacturing with other forms of manufacturing, agri-food processing, etc."
Wynne said she was very encouraged by the momentum of Ontario's growth, especially with so many uncertainties in the global economy.
"I don't want to leave the impression that I think that Ontario's operating in a vacuum and somehow we've figured out something nobody else has figured out," she said. "I just want to provide some context: we're in a good position in this globally uncertain environment."
Also on HuffPost:
6 Things To Know About Kathleen Wynne
Wynne came out as a lesbian when she was 37 years old. She married partner Jane Rounthwaite in 2005 after meeting her at Queen's University 30 years prior. They met when Rounthwaite interviewed her for the job of floor proctor.

Before being elected as an MPP for Don Valley West, she was a trustee for Ward 8 on the Toronto District School Board. She also worked as a conflict mediation professional.

When she first ran in Don Valley West in 2003, she was told that a gay woman could not win. She did anyway.

She defeated then-PC leader and now Toronto mayoral candidate John Tory in the riding of Don Valley West in 2007, making him the first party leader to lose a seat in 17 years.

Wynne is Canada's first openly gay premier and Ontario's first female premier.

Wynne is an avid runner. An Liberal ad from 2013 shows her pounding the pavement hard.