Women Entrepreneurs In Canadian Tech For A Seat At The Table
VANCOUVER — Technology entrepreneur Tammy Meyers does a mental count every time she attends a business conference promoting the augmented reality company she co-founded. Almost always, she's one of the only women in the room.
Meyers is chief operating officer of QuestUpon, a British Columbia tech firm that's been garnering accolades for virtual tourism experiences similar to the new Pokemon Go craze. She's been watching the province's tech industry advance rapidly, but hasn't seen women prosper at the same rate.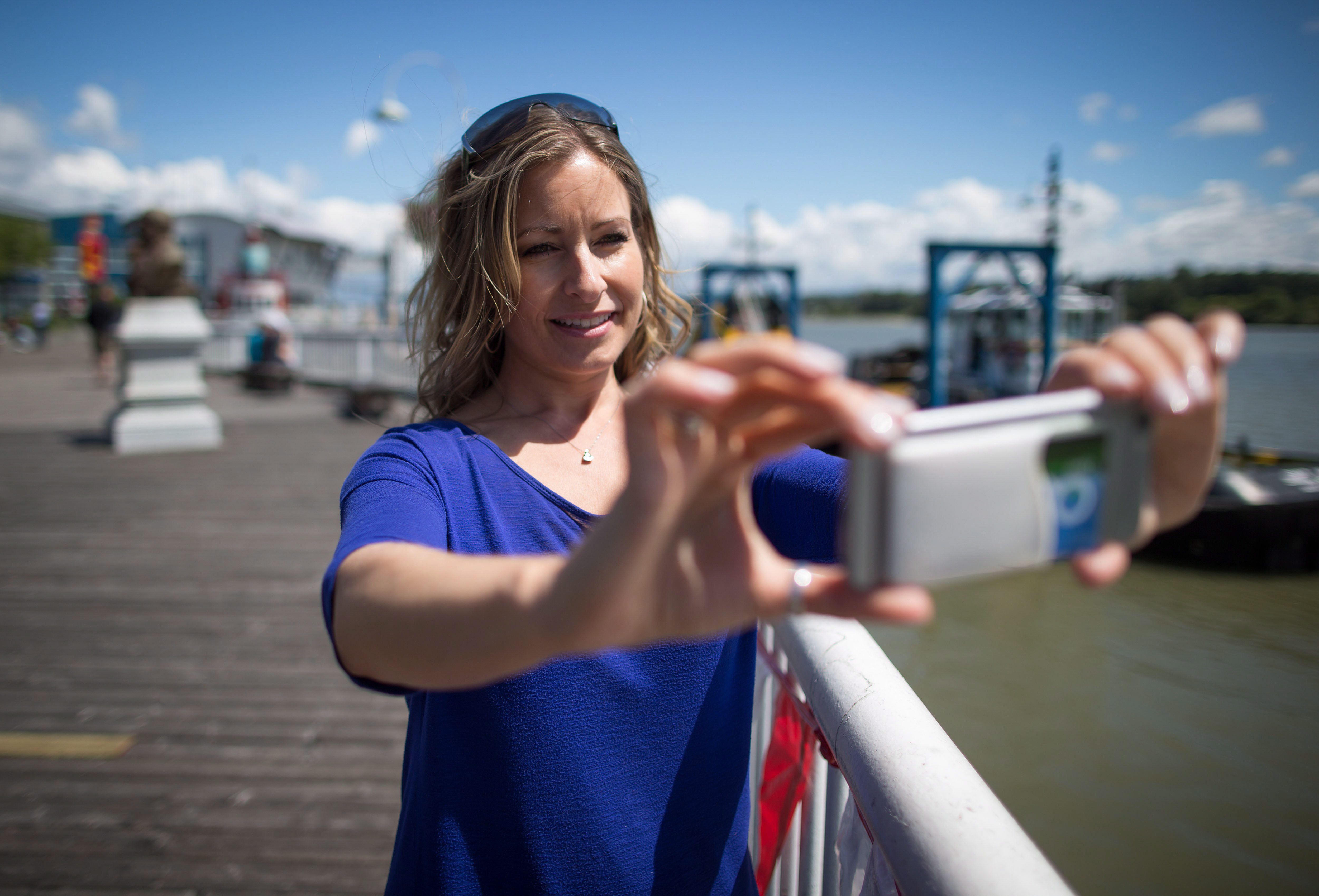 Tammy Meyers, co-founder and chief operating officer of QuestUpon Technologies Inc., uses the company's app on her iPhone, at the Quay in New Westminster, B.C., on July 14, 2016. (Photo: Darryl Dyck/Canadian Press)
"There's probably more of a hill to climb for women to prove themselves, when it's a male-dominated space," she said.
Meyers blames the imbalance on factors from subtle sexism to lack of women in prominent roles, a view shared by several other female entrepreneurs. They also share a vision for spurring progress equal to the tech boom that's transforming the provincial economy and say their involvement is key to being globally competitive.
An upcoming gathering of 500 female business leaders and another 500 young women will tackle their lagging entry into the exploding tech-driven business world. Organizers of the Vancouver forum "We for She: Championing the Next Generation," have calculated it will take 100 years for women in Canada to achieve parity in the industry at the current rate of advance.
"It's exhausting, it's like always having to dance backwards in heels."
— Lois Nahirney, CEO, dnaPower
​
Women make up 54 per cent of B.C.'s post-secondary graduates in science and technology, but hold less than 10 per cent of senior leadership, according to the B.C. Innovation Council.
The forum, taking place in October, will highlight research about the snail's pace of change, said forum co-chair Lois Nahirney. Participants will examine unconscious bias and systemic barriers holding women back from leadership positions.
"It's exhausting, it's like always having to dance backwards in heels," said Nahirney, CEO of dnaPower Inc. and chairwoman of the Premier's Women's Economic Council.
Creating a welcoming environment that doesn't discriminate against hiring women and includes policies supporting life and family balance are vital to improving the dynamic, she said.
Angela Robert, a software engineer who co-founded Conquer Mobile, believes more women will enter the industry if companies allow part-time work, telecommuting and flexible maternity leave.
She said the tech ecosystem hasn't evolved to meet women's needs, nor does it reflect their image.
"Think of the key people who everyone looks up to, Bill Gates and Steve Jobs. How is that appealing to a woman to be like those guys?"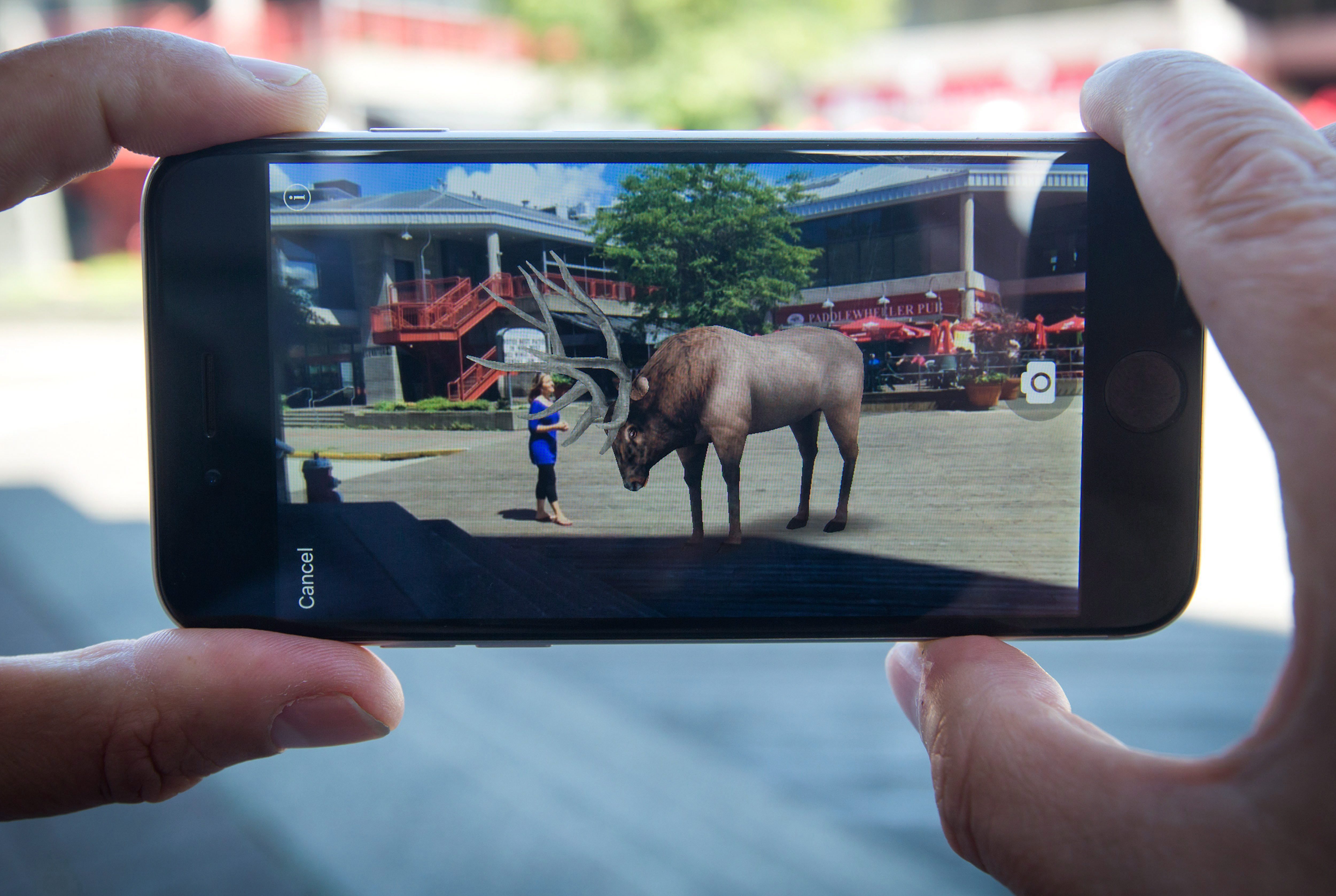 Tammy Meyers, Co-Founder and Chief Operating Officer of QuestUpon Technologies Inc., is seen with a digital elk on the company's app as she stands for a photograph at the Quay in New Westminster, B.C., on Thursday July 14, 2016. (Photo: Canadian Press/Darryl Dyck)
Paris Gaudet is one of only two women in B.C. running a technology organization and she has encountered men "either threatened or challenged" by dealing with her.
"It's a slight word, or subtle body language, or it's something like, 'Paris, are you taking notes?'" said Gaudet, executive director of Nanaimo-based Innovation Island.
But she's heartened that a new generation of women may gain ground thanks to workshops such as Ladies Learning Code and the addition of coding to B.C.'s school curriculum. Gaudet is urging women to band together to establish a tech incubator "for women, about women," to help grow businesses in the sector. 
"If we want to kick this thing in the butt, and we want to spark and inspire and revolutionize the way women are leading the tech space, we need to colour outside of the lines," she said.
Several women working at Vancouver tech accelerators, organizations that mentor startup companies, began supporting each other coincidentally and dubbed themselves the "startup sorority."
One core member, Vivian Chan, said she's frustrated that gender is even an issue.
"It's like, 'No, no, no, take a look at what they're doing, not that they're female,'" said Chan, manager of national accelerator operations at WaveFront.
Story continues below
Canadian Women Who Were 'Firsts'
Adrienne Clarkson The First: Person of colour to be appointed Governor General, according to the Canadian Encyclopedia. Clarkson took office from 1999 to 2005. Notable achievement: In 2007, she became Colonel-in-Chief of the Princess Patricia's Canadian Light Infantry, making her the first Canadian to receive this title. Get to know her more: Today, the 77-year-old works with the Institute For Canadian Citizenship and has written several books including a memoir and a piece about Canadian immigrants.

Lilly Singh a.k.a. SuperWoman The First: Canadian woman and first South Asian Canadian to be named one of Forbes magazine's highest earning YouTubers in 2015. Superwoman earned a total of $2.5 million. Notable achievement: In February, the 27-year-old Scarborough, Ont.-native released her first film "A Trip To Unicorn Island" about her 30-city world tour. Get to know her more: Singh is still making hilarious YouTube comedy videos ranging from growing up with South Asian parents to thoughts you have on Instagram.

Elsie Knott The First: Woman in Canada to serve as chief of a First Nation in 1952, according to the Aboriginal Multi-Media Society (AMMSA). Knott passed away in 1995 at the age of 73. Notable achievement: She started an Ojibway language program at Ontario's Curve Lake First Nation school, which is still taught by her daughter today, AMMSA notes. Get to know her more: You can read more about Knott and other female chiefs in Firekeepers of the Twenty-First Century: First Nations Women Chiefs.

Mary Ann Shadd The First: Black woman in North America to publish a newspaper (The Provincial Freeman) and the first female publisher in Canada, Black History Canada says. Shadd was also the first black woman to get a degree from Howard University and the first black woman to vote in an election. She passed away in 1893, aged 69. Notable achievement: As an educator, abolitionist and one of the first female journalists in the country, she also wrote extensively on black men and women leaving the U.S. to come to Canada through the Underground Railroad, the Canadian Encyclopedia writes. Get to know her more: The Toronto Sun has a great write-up about her other achievements and biography.

Alice Munro The First: Canadian woman to win the Nobel Prize in Literature in 2013. Notable achievement: She has also won a Man Booker International Prize, as well as two Scotiabank Giller Prizes. Get to know her more: With so many other book awards under her belt, check out some of the 84-year-old's popular titles here.

Angela James The First: Openly gay athlete and second black athlete to be inducted into the Hockey Hall of Fame in 2010. Notable achievement: Known as the "Wayne Gretzky of women's hockey," James, 51, joined team Canada at the inaugural Women's Championship and earned a gold medal after making 11 goals in five games, the Hockey Hall of Fame writes. Get to know her more: A hockey arena in Toronto's North York region has been named in her honour.

Rose Fortune The First: She's considered to be the first unofficial female police officer in Canada, the Canadian Encyclopedia writes. According to the Annapolis Heritage Society of Nova Scotia, Fortune's direct descendent, Daurene Lewis, became the mayor of Annapolis Royal, N.S. in 1984, making her the first black Canadian woman to attain that position. Fortune died in 1864, aged 89. Notable achievement: While she was never an official police officer, she was well-known in her community and also set curfews for the town's youth. Get to know her more: A part of the province's history, you can learn more about Fortune at the Fort Anne National Historic Site of Canada in Annapolis Royal, N.S.

Jean Augustine The First: Black woman to be elected to the House of Commons in 1993, Women of Influence notes. Notable achievement: Retiring at 77 (she's now 78) and dedicating a majority of her life to politics, she became Ontario's first Fairness Commissioner in 2007. Get to know her more: You can check out this interview with Augustine and the Canadian Museum of Human Rights here.

Dr. Roberta Bondar The First: Canada's first female astronaut and first neurologist in space. Notable achievement: As a scientist, Bondar worked for NASA leading an international space medicine research team for decades. Get to know her more: As a photography and an author, check out some of the 70-year-old's other work here.

Jennie Trout The First: Canadian woman licensed to practice medicine, according to Historica Canada. She passed away in 1921, aged 80. Notable achievement: Trout, as well as Emily Stowe (the first female doctor to practice in Canada), both broke barriers to allow more women to work in a male-dominated medical world. Get to know her more: You can watch her Heritage Minute here — it's quite powerful.

Anne Cools The First: Black person to be appointed to the Senate of Canada and the first black female senator in North America. Notable achievement: With several achievements and awards in her name, the 72-year-old was also named one of the 100 greatest Canadians of all time by the CBC. Get to know her more: Currently, Cools is an independent senator, but was a candidate for the Liberal party for 20 years. Read more about her work here.
Jessica Pautsch recently lead a successful trade mission promoting her company MeshX, which has developed matchmaking software for surplus food. The firm aims to end global food shortages with a tech-based redistribution system that prevents commercial waste.
Investors are increasingly receptive to her leadership style, she said. Many business cases also support the notion that inclusive, diverse firms with nurturing environments are more successful, she added.
"Higher productivity, the higher the happiness and the higher the bottom line, ultimately."
Women must keep taking risks to enter the industry, but B.C.'s growing tech hub is ripe for progress, said Crop Sense Chief Technology Officer Maryam Antikchi.
"If there is any place in the world where women can accelerate, it would be here."