'Pokemon Go' Has Businesses Scrambling To Catch All The Players They Can
TORONTO — The Pokemon Go sign directing people to the front door of Rock Candy Boutique in Halifax has only been up for a week, but Jeff Powers says he is already seeing it pay off.
"Downtown is alive in a way that I haven't seen in a long, long time,'' said Powers, a manager at the store, which sells various rock music T-shirts, hoodies, hats and other paraphernalia.
"There is just a flood from everybody, from young kids to older adults, and you can tell they're playing this game.''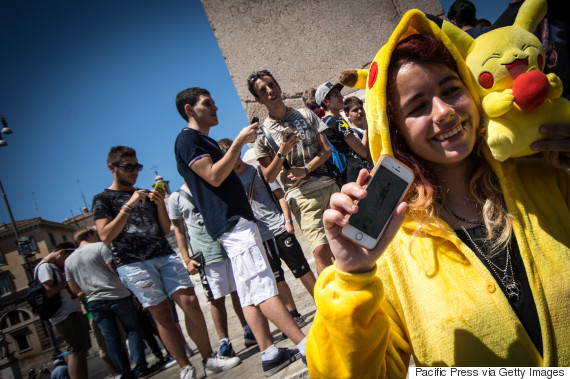 Gamers gather as they play with the Pokemon Go application in central Rome. (Photo: Pacific Press/Getty Images)
That would be Pokemon Go, which officially launched in Canada on Sunday. The wildly popular video game sends players on a quest to find superimposed animated characters on a map-like interface using the camera on their smartphones. It is currently the most downloaded app in the Apple app store.
Powers said Tuesday the sign has brought people into the store who wouldn't normally shop there but hear it's a good place to play the augmented reality video game.
"This has just blown up bigger than anybody has expected,'' he said, adding that the various Pokemon merchandise the store carries have also been flying off the shelves.
"It leads people to travel down streets they normally wouldn't. It's bringing a lot of foot traffic down to the side streets and a lot of people are coming in and buying things because they were just in the area.''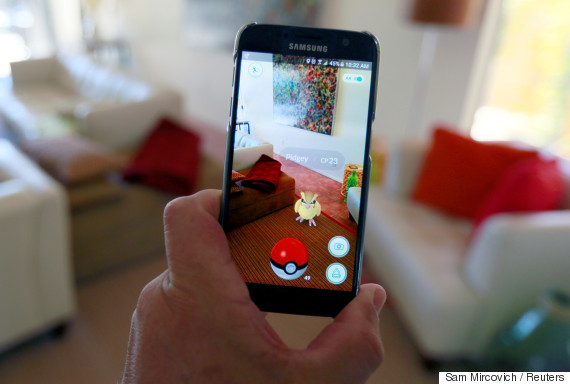 The augmented reality mobile game "Pokemon Go" by Nintendo is shown on a smartphone screen in this photo illustration taken in Palm Springs, Calif. on July 11, 2016. (Photo: Sam Mircovich/Reuters)
Some Canadian businesses have been jumping on the craze by actively encouraging potential customers to use their shops as PokeStops or Pokemon gyms — locations to play the game.
But marketing professor Ken Wong cautioned that although it may seem like a no-brainer for businesses to capitalize on Pokemon Go's popularity, it can also backfire.
"It's a statement of what your brand is, who it stands for and who it seeks to appeal to,'' said Wong, who is with the Stephen J.R. Smith School of Business at Queen's University.
"While it may generate traffic for you, whether or not that traffic generates profitability in the short, and more importantly, long term is a different story. If you're in a business that needs a promotion to stay in business, you're already on a slippery slope.''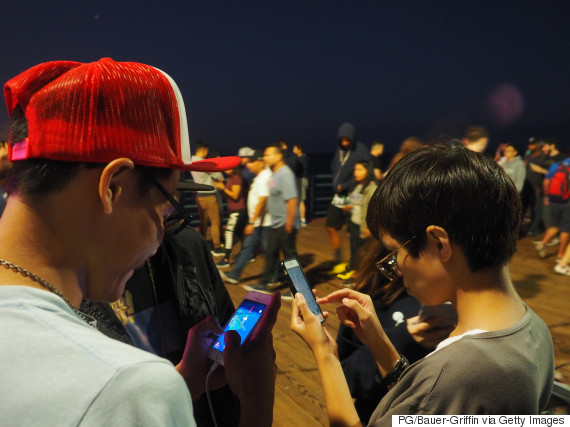 Pokemon Go players are seen in search of Pokemon and other in game items at the Santa Monica Pier on July 17, 2016 in Los Angeles, California. (Photo: PG/Bauer-Griffin/GC Images)
Wong said the publicity stunt would mostly profit businesses that appeal to the biggest demographic of Pokemon Go players or have a link to the game — for example, stores that sell cellphone accessories or comic books.
There may be a potential to grow business in the short term, but he doesn't see that enduring.
"Eventually the novelty will wear off. There will always be diehards but it's no different than the Trivial Pursuit craze,'' he said.
"If you are the right kind of business, get in as soon as you can when the fad has the greatest duration of effect, because if you wait too long, the fad will be over.''
"It's quite the phenomenon."
In Toronto, Peter Coulter set up a chalkboard sign Monday outside his optical store featuring a promotion offering passersby a free glasses cleaning if they can capture a Pokemon creature inside.
Although he says he hasn't seen any direct sales from the sign, he stands behind it.
"It's quite the phenomenon,'' said the manager of Optical Thirty 8. "The sign was just something catchy to encourage people to come in and use their phones so we can show them some of our services and at the same time, maybe they'll buy some new glasses.''
Also on HuffPost:
Si tratta di un gioco che sovrappone la realtà virtuale a quella che sperimentiamo con i cinque sensi: i protagonisti, i Pokemon, compaiono sullo schermo dentro alla riproduzione virtuale del luogo in cui ci troviamo in quel momento, come se fossero a pochi passi da noi.

Com'è possibile che i Pokemon appaiano vicino a noi? L'applicazione sfrutta il sistema GPS per individuare la posizione dell'utente, fornendo in tempo reale una mappa molto dettagliata dei luoghi circostanti. Questa caratteristica del gioco ha fatto molto discutere, poiché in tanti vi hanno visto una violazione della privacy, oltre che un modo per individuare con precisione le persone sparse per il pianeta, la cui sicurezza sarebbe quindi a rischio.

Fate attenzione, i Pokemon possono nascondersi in ogni dove: chiese, monumenti, fiumi, piazze storiche. Nessun posto è vietato loro, tanto che recentemente è scoppiata una polemica per una loro apparizione anche a campo di concentramento di Auschwitz. Decisamente inappropriato.

Per motivi di sicurezza, in molti luoghi pubblici è stato vietato giocare a Pokemon Go.Tra di essi, la metropolitana di New York (dove si legge: "Ok, dovete prenderli tutti, ma ricordatevi di non oltrepassare la linea gialla") e l'autostrada dell'Arizona.

Ma come si può sapere dove è possibile acciuffare i Pokemon e conquistare punti senza essere perennemente col cellulare in mano? Arriva una vibrazione in soccorso, rigorosamente a GPS attivato.

Grazie all'espansione capillare dell'applicazione nei cellulari dei ragazzi e alla moda di andare in giro giocando a Pokemon Go, negli Usa si è coniato un neologismo per descrivere questo fenomeno: "pokemoning", ovvero vagare per le strade delle città a caccia di Pikachu e compagni.

Arrivano i primi, sorprendenti dati sul fenomeno Pokemon Go. Nel primo giorno di lancio, il gioco ha superato i download dell'app di incontri Tinder, ma anche quelli di un colosso come Twitter. Inoltre i ragazzi ci passano più tempo che su WhatsApp, Instagram, Snapchat e Messenger (attualmente la media giornaliera di fruizione è di oltre 43 minuti). Inoltre, il nuovo gioco Nintendo ha più ricerche su internet rispetto ai siti porno, come confermano i dati di Google Trends.

Gli autisti hanno visto nella mania dei Pokemon un'opportunità di guadagno. I siti di annunci come Craiglist sono presi d'assalto dalle inserzioni di chi cerca i Pokemon "hunter" per accompagnarli in giro ad acciuffare i mostriciattoli, ovviamente a pagamento.

Negli Usa la 19enne Shayla Wiggens era presa nello scovare un mostriciattolo e, continuando a guardare lo schermo del suo smartphone, ha scavalcato un cavalcavia e si è trovata di fronte a un fiume, dove ha trovato un cadavere.

L'inventore di Pokemon Go, John Hancke, fondò nel 2001 a San Francisco una start up dal nome "Keyhole", che suscitò subito molto interesse. Google la acquistò e la trasformò in Google Earth, grazie al quale guardiamo la Terra dal nostro Pc. Hanke, da tempo, aveva già in mente tutto.