Michelle Obama, James Corden And Missy Elliott Jam Out Hardcore On Carpool Karaoke
Now this is how you do carpool karaoke right.
On Tuesday, the host of the "The Late Late Show with James Corden" released a one-minute clip teasing one of the best carpool karaoke segments (in our eyes anyway) of all time.
Teaming up with First Lady Michelle Obama herself, Corden and FLOTUS jam out to the likes of Stevie Wonder and of course, Queen Beyoncé. But there are a few things we learn about the 52-year-old Harvard Law grad right away: she has a great sense of humour, she knows all the words to "Single Ladies" (and the moves) and her Secret Service code name is "Renaissance." (The President's code name is "Renegade.")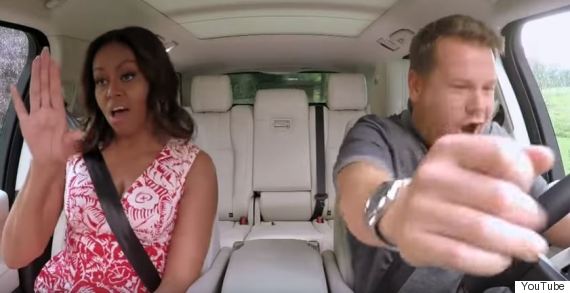 "For me they just came up with [the code name] and were like, 'Do you like it?' and I was like, 'Whatever,'" she says in the clip above. She also gives Corden a tasty code name as well.
The two also sing "This Is For My Girls," a track that was inspired by Obama's Let Girls Learn initiative. One of the artists on the track included rapper Missy Elliott... who just happens to hop in the car at the right verse.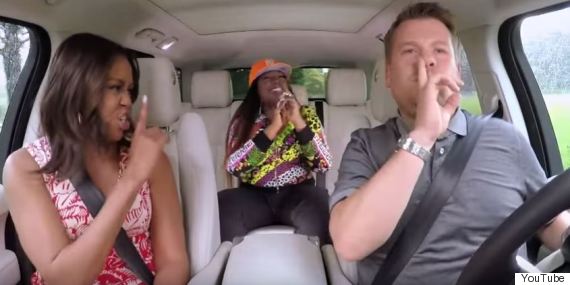 The trio jam out to Elliott's other popular hit "Get Ur Freak On," which turns out to be one of our favourite karaoke sessions of all time.
Watch the full 14 minute glorious clip above.
ALSO ON HUFFPOST:
Michelle Obama's 19 Most Awesome Hugs
FLOTUS got to hug Beyonce at Barack's 2013 inauguration. Enough said.

Of course, we can't forget the "hug shared around the world" after President Obama won the 2012 presidential election.

Here Michelle bends down to embrace not one but three children during a visit to Mexico City in 2010. No small feat for a woman nearly 6-feet tall.

She hugged every single U.S. Olympic basketball player after they beat France in the 2012 Olympics. Now there's a good incentive to win.

As she pays her respects at a cemetery this past Memorial Day, Michelle shows she always knows what to do when words just aren't enough.

This little girl might be the luckiest kid in the world after receiving a bear hug from Michelle in 2009 at a White House event honoring African American History Month. If there was a hug-off competition, FLOTUS would totally be a world champion.

During a pre-game event at the 2012 CIAA Basketball Tournament in North Carolina, the tables turn and Michelle is engulfed by a group of Lady Golden Bulls basketball players.

She even traveled all the way to Johannesburg, South Africa in 2011 to hug a few lucky children.

She always gives those eyes-closed, everything-else-melts-away hugs. We are very jealous of dance legend Judith Jamison as she steals one of those world-stopping hugs from the first lady.

What's the best way to celebrate the holidays? Hugs on hugs on hugs from FLOTUS.

She doesn't discriminate against furriness.

She always seems to fit multiple children in her incredibly hug-ready arms. Here Michelle embraces two students after planting the White House Kitchen Garden in April of 2013.

Hawa Abdallah Mohammed has the right idea here as she snuggles into Michelle's welcoming arms and seems to never want to leave, as Hillary Clinton looks on with glee. We're with you Ms. Mohammed.

The hug fest continues in North Carolina at the 2012 Democratic National Convention where Michelle pulls military mother Elaine Brye in for a long embrace.

Michelle Obama must have the Mary Poppins bag of arms -- an endless wingspan that manages to hug everyone at once.

Michelle and her daughter, Sasha, take a day off to sight-see while in Germany this past June. Nothing like a hug from mom-in-chief before a girl's day out.

Take a cue from the famously fit First Lady: Kid hugs are a great way to work squats into your exercise routine.

Anyone else super jealous that they didn't get a hug from the first lady on their college graduation day? We are.

Michelle and professional tennis player Serena Williams share a hug during the 2011 U.S. Open. Here are two ladies we would love to hang out with.