Rosie MacLennan Named Team Canada Flag-Bearer For Rio Olympics
OTTAWA — Rosie MacLennan, the star gymnast who won Canada's lone gold medal in London four years ago, will carry the Maple Leaf into the opening ceremony at next month's Rio Olympics.
The 27-year-old trampoline athlete from King City, Ont., was named Canada's flag-bearer today on Parliament Hill in a ceremony attended by Prime Minister Justin Trudeau.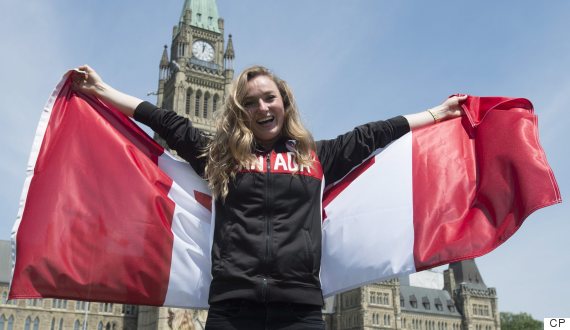 Rosie MacLennan holds a Canadian flag after being named as the Olympic flag-bearer in Ottawa. (Photo: Adrian Wyld/The Canadian Press)
"To lead my country into the opening ceremony makes me feel so proud to be Canadian," she said in a statement. "Joining the ranks of all the incredible athletes who have come before me is definitely a highlight of my career so far and one that I will remember for the rest of my life."
Replay the live ceremony:



Triathlete Simon Whitfield carried the flag into the stadium four years ago in London.
It's been a challenging lead-up for the 27-year-old MacLennan.
Her training was derailed last fall due to a concussion.
She went on to book her ticket to Rio with a fourth-place finish at November's world championship.
MacLennan says she's feeling healthy again and is ready to defend her title in Brazil.
The Canadian packs a lot of power in her taut five-foot-two frame and uses it to get those precious extra split-seconds in the air. Her twists, flips and somersaults appear effortless and have a smooth fluidity.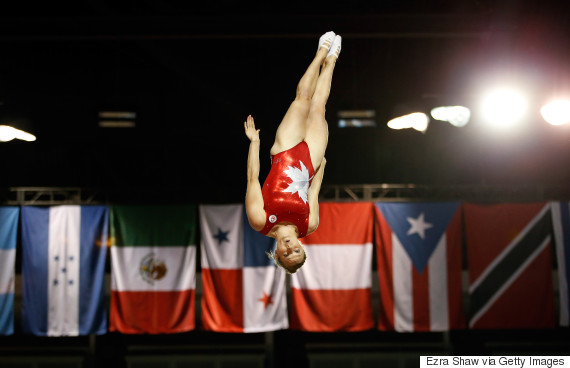 Rosie MacLennan competes in the women's individual trampoline gymnastics final at the Toronto 2015 Pan Am Games where she won gold. (Photo by Ezra Shaw/Getty Images)
She made her first world championship appearance in 2005 and won bronze two years later. She earned Pan Am silver at the 2007 Games in Rio and finished seventh in her Olympic debut at the 2008 Beijing Games.
She showed her London win was no fluke by taking her first world title in 2013 and adding silver the following year. Last summer, she captured gold in front of a hometown crowd at the Toronto Pan Am Games.
The Rio Olympics open Aug. 5. Canada will be sending a team of more than 300 athletes with the goal of surpassing the 18 medals it won four years ago.
Also on HuffPost:
Charitable Canadian Olympians
Nikola Girke is a two-time Canadian Olympian who has competed in two different events at the Olympic Games. She finished 13th for sailing in 2004 and 17th for windsurfing in 2008. Her range doesn't stop there; she is raising money for multiple charities, with Can Fund, KidSport and the Vancouver Friends for Life Society topping her activism list.

This Toronto-born rower finished fourth at the 2008 Summer Olympic Games in Beijing, but hasn't let any of the success go to her head. She stands by charities that her deceased stepmom felt strongly about to "keep her giving spirit alive." Heading into the London Olympics, this athlete supports 60 Minutes Kids Club, Canadian Tire Jumpstart and CAN Fund.

Richard Hortness is no newby to competitive swimming. In 2008, he qualified for the Olympics in the 50m freestyle and the men's 4x100 freestyle relay as the alternate. He placed 27th at the Olympics while posting a personal best time in his race. He is now training to compete in the 4x100m Freestyle Relay at the 2012 Olympics. Still, he finds the time to support KidSport, Habitat for Humanity and Swimming Canada.

This rower was born and raised in British Columbia, and shows her commitment to winning through giving. She's started her own Giving Group where she has hand-picked charities she hopes to raise monetary donations for.

Darcy Marquardt is a strong believer in giving back -- so much so that she lists volunteer work on her profile for Rowing Canada. She will give the money she raises in her Giving Group to University of Victoria Athletics, Parkinson Society Canada, Canadian Cancer Society of B.C. and Yukon, CanFund and Rowing Canada.

According to Andréanne Morin, "Victory can not be achieved in isolation." This Olympic rower believes strongly in teamwork and support, and hopes to raise money for Canadian Parks and Wilderness Society, Quebec Society for the Prevention of Cruelty to Animals, Clean Air Champions, Quebec Breast Cancer Foundation and CAN Fund.

Alexandre Despatie is a three-time World Champion and Olympic medalist, but, judging by his Raising An Olympian video, we'd say he's still a pretty normal, giving guy (unbelievable body aside). As an ambassador for Ronald McDonald House Charities Canada, he participates in promoting sports programs and various charitable causes.

Six-time Olympic medalist Clara Hughes is the only athlete in history to win multiple medals at Summer and Winter Games. Her energy and passion transfer from the games to her fight against stigma surrounding mental illness. As a tireless advocate for mental health (she was the face of the Bell Let's Talk campaign), she continues to inspire Canadians to better understand mental health and depression.

Beckie Scott is the first Canadian and first North American woman to win an Olympic medal in cross-country skiing, and her list of accomplishments doesn't stop there. She has been honoured with the Governor General's Meritorious service award, is a special representative of UNICEF Canada and acts as co-chair of the Canadian advisory council for Right to Play. She has made several trips to Africa on behalf of these organizations.

Jennifer Heil has won Olympic gold and silver medals in the sport of freestyle mogul skiing. At the age of 26, she donated $25,000 to the Because I Am A Girl initiative and accepted the challenge to raise $1 million to help women rise up out of poverty. She is the founder of B2ten, a group that is reshaping how Canadian Olympic athletes can attain their full potential, and runs a girls only mogul ski camp. And did we mention she is a four-time FIS World Cup champion and five-time World Champion of mogul skiing?

When Alexandre Bilodeau won a gold medal in the men's moguls at the 2010 Winter Olympics in Vancouver, who could forget his brother Frédéric, diagnosed with cerebral palsy, who waved his hands and shouted support from the crowds. Bilodeau has since spoken of the love he shares with his brother, noting Frédéric as a major reason for why he became involved in skiing (it was a sport for the whole family used to do together). Bilodeau spreads his love elsewhere as well -- he initiates donations to Canadian Association of Pediatric Health Centres for cerebral palsy.

Scott Niedermayer was captain of Team Canada for the 2010 Winter Olympics in Vancouver. He led Canada to a gold medal in a 3-2 victory over the United States. This retired New Jersey Devil is a strong supporter of the green movement, and is currently serving as a freshwater ambassador for the conservation organization, WWF Canada.

Tudos may be an Olympic veteran, but this former gymnast who represented Canada at the 1984 Olympics in Los Angeles still has the same devotion and energy, which has now been redirected into her work to promote clean air and health. Her wise words? "As an athlete I feel that the more we can be outside breathing clean air, doing activities we love, the healthier we all will be!"

This Canadian cyclist held the world record in his event for 11 years, becoming the first man to break the 10-second barrier for 200 metres in a time 9.865 seconds. He won more than 30 national titles and represented Canada at four Olympic Games. He has brought home three Olympic medals in the process (two bronze, one silver). Curt Harnett also has made gold-medal worthy contributions to charities such as Right To Play and Special Olympics Canada.

Rowing gold medalist Adam Kreek knows how blessed he is to be Canadian. He expresses his good fortune relative to others and has claimed, "When we travel to disadvantaged areas like Sierra Leone or Peru, kids don't have the opportunity to play sports, to have mentors that can influence them and drastically change the direction of their lives." As an ambassador for Right to Play, Kreek hopes to ensure that every child can do their best in whatever sport they love.