Calgary Boy Missing After Falling Into Yoho River In B.C.
FIELD, B.C. — Parks Canada is leading an extensive search for an 11-year-old Calgary boy who has been missing since falling into a river in southeastern British Columbia.
Two boys fell into the Yoho River on Friday evening while visiting Yoho National Park with their family, said Tania Peters, spokeswoman for Parks Canada.
The family group was on the river bank near the Takkakaw Falls day use area at the time of the incident, Peters said.
It is unclear whether family members or passersby responded when the boys fell into the river, Peters said, but they were quick enough to rescue one of the two children.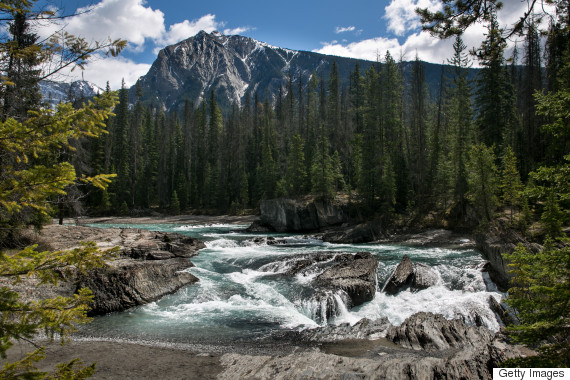 The Kicking Horse River in Yoho National Park flows under Natural Bridge Falls on April 25, 2016 near Field, B.C. (Photo: Getty Images)
"They tried desperately to get the second boy out but were unsuccessful and he was swept downstream.''
Parks Canada launched an aerial and ground search of the area with support of two helicopters, Golden Search and Rescue, RCMP and other local emergency services.
The search was called off at nightfall around 10:30 p.m. Friday and resumed before 7 a.m. on Saturday.
Officials did not have an update about how the family is coping or their involvement in the search, but Peters said, "I imagine that it's incredibly difficult.''
The park remains open to the public as officials continue the search.
Also On HuffPost:
15 Great Canadian National Parks
Where: British Columbia The earliest threads of Haida culture can be traced back 12 millennia to this spectacular rainforest. Its moss-draped cedars, soaring Sitkas and ancient totem poles are jointly protected by Parks Canada and Haida Nation. Look up and you may see eagles soaring above its skies.

Where: Alberta Canada's very first national park spans 6,641 sq. kilometres and boasts mountains, valleys, forests, rivers, meadows and glaciers, making it one of the country's top tourism magnets.

Where: Northwest Territories In Inuvialuktun, Aulavik means "place where people travel." Here, a spiraling 12,000 sq. kilometres of protected Arctic lowlands is home to the highest density of muskoxen in the world.

Where: Nova Scotia Here visitors will find the famed Cabot Trail hugging rugged and rust-coloured cliffs. Whales are a common sight off in the Atlantic, the same water where local merchants pull fresh lobster, crab, and oysters out for lunchtime fare.

Where: Quebec Right at the tip of the province's Gaspé Peninsula, Forillon Park overlooks the Gulf of St. Lawrence and the Bay of Gaspé where thousands of birds and colonies of seal can be found on its steep cliffs.

Where: New Brunswick On its coast, the park is home to the world's highest tides — allowing visitors to walk the sea floor when they recede. Inland, waterfalls and yurts await discovery for those who venture inland.

Where: Newfoundland and Labrador Declared an UNESCO World Heritage Site, this western part of Canada's easternmost province promises dramatic fjords that highlight a "rare example of the process of continental drift." Pristine lakes and treks up to its alpine highlands offer incredible panoramic views of its ancient landscape.

Where: Alberta Called the "gentle giant of the Rockies," 97 per cent of the 11,000 sq. kilometre park is protected wilderness. Well-kept trails invite visitors keen for outdoor adventure.

Where: Northwest Territories Made a UNESCO World Heritage Site in 1978, this is one of North America's most spectacular rivers is marked with spectacular waterfalls and a unique limestone cave system.

Where: Ontario Carrying the title of Ontario's only wilderness national park, this rugged landscape offers visitors 1,878 sq. kilometres of rugged stretches of the Canadian Shield, boreal forest, and Lake Superior vistas.

Where: British Columbia West Coast beach lovers, unite. This coastal shoreline on the western edge of Vancouver Island brings together both sandy and rocky beaches and a mountainous horizon for those who yearn to be closer to the Pacific.

Where: Prince Edward Island Who wouldn't like biking alongside red cliffs and wind-sculpted dunes on a seashore path? In summer, the Island's gentle rolling hills, grown with tall blades of grass, catch the wind and breathe life into its pastoral landscape — bringing satisfaction to those seeking calm.

Where: Newfoundland and Labrador Here lies Canada's most easterly national park. It boasts both dense forest and a gorgeous coastline carved with 12 extensive hiking trails to thrill nature lovers.

Where: Alberta Located in the province's northeastern region, crossing into the Northwest Territories, is the country's largest national park. Spanning 44,807 sq. kilometres, the UNESCO Heritage Site is larger than all of Switzerland. The area protects the country's remaining bison herds and highlights the beauty of Canada's Northern Boreal Plains.

Where: British Columbia Nestled in the western slopes of the Rocky Mountains, this area of land is named after a Cree expression for awe and wonder. And it lives up to the name. Visitors can witness its steep slopes and flat valleys carved from Ice Age glaciers. Make sure to draw deep breaths to take in the cool alpine air.