Adam Beach Daughter: These Two Look Adorably Alike
There are a ton of adorable father-daughter duos in Hollywood, but actor Adam Beach and his little girl Phoenix are by far the cutest Canadian twosome.
And to make things even sweeter, they look alike. Just take a look at these photos of Beach and his eight-year-old.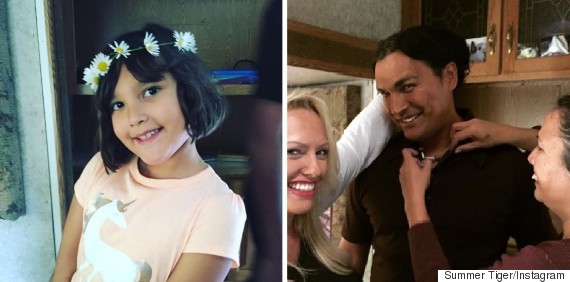 Previously, the "Suicide Squad" star shared a photo of his late mother on Instagram. We can see that Beach's family genes run strong as both he and his daughter resemble her.
Beach was born in Manitoba and grew up on the Lake Manitoba First Nation reserve. He had his daughter with partner Summer Tiger in 2008. Earlier this year, the actor posted a photo of what appears to be his wedding.
In the snap, their daughter Phoenix is dressed as a flower girl and is excitedly smiling at the camera.
Beach also has two sons – Noah, 20, and Luke, 18 – from his first marriage to Meredith Porter. While the 43-year-old rarely posts photos of his boys, he is no stranger to sharing pictures of his daughter.
We especially love their matching Halloween costumes last year.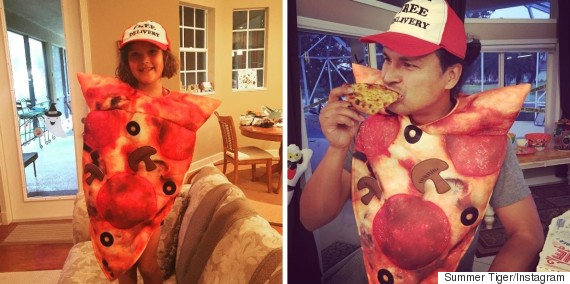 And Phoenix photobombing her parents on a merry-go-round is pretty cute.
Clearly, Beach and Phoenix are setting some serious #FatherDaughterGoals.
ALSO ON HUFFPOST:
Celebrity Parents You Forgot Are Canadian
Hayden Christensen was born in Vancouver and got his start on Canadian TV shows, such as "Goosebumps." The 35-year-old is now a father to one-year-old Briar Rose, who he had with longtime partner Rachel Bilson.

The former "How I Met Your Mother" star hails from Canada just like her character Robin Scherbatsky. Cobie Smulders is from Vancouver. The 34-year-old actress has a seven-year-old daughter named Shaelyn with her husband Taran Killam. In 2015, Smulders and her hubby welcomed a second child, but did not reveal the name or the sex of the baby.

Did you forget Will Arnett is Canadian? Us, too. The Toronto-born actor is known as Gob Bluth on "Arrested Development" and as Devon Banks on "30 Rock." Arnett was famously married to comedian Amy Poehler, but the two divorced in 2014 after 11 years of marriage. The former couple has two sons together: Archie, 7, and Abel, 5.

Cree Summer, of "A Different World" fame, is the daughter of Canadian actor and musician Don Francks. Although she was born in Los Angeles, California, she actually grew up on the Red Pheasant Reserve in Saskatchewan. Summer is now a mom to two daughters: Brave Littlewing, 5, and Hero Peregrine, 3.

People often forget that Academy-Award winner Anna Paquin is Canadian. The 33-year-old was born in Winnipeg, Man., but moved to her mother's native country, Wellington, New Zealand, when she was four years old. Paquin married her "True Blood" costar Stephen Moyer in 2010 and the couple now has two kids: four-year-old twins Charlie and Poppy.

Eric McCormack was born in Toronto and studied at Ryerson University's School of Theatre. He moved to Los Angeles in the '90s and went on to win the lead in "Will & Grace." McCormack and his wife Janet Holden have a son named Finnigan, who they named after the puppet from CBC's "Mr. Dressup."

That's right – Trinity from "The Matrix" is Canadian, too! Carrie-Anne Moss was born in Burnaby, B.C., but moved to Europe to pursue a modelling career. While in Spain, she was then offered an acting job and the rest is history! Moss and her husband, Canadian actor Steven Roy, have three kids: Owen, Jaden and Frances.

Malin Akerman is a Swedish-Canadian actress. Her family moved to Toronto from Stockholm, Sweden, when she was two years old. Akerman is now known for starring in films such as "Watchmen" and TV shows such as "Billions." The actress has a three-year-old son named Sebastian with ex-husband Roberto Zincone.

Dwayne Johnson is Canadian thanks to his famous father. The Rock is the son of "Soulman" Rocky Johnson, a revered WWE Hall of Famer from Amherst, N.S. Johnson is now a father of two. He had his first daughter, 14-year-old Simone, with ex-wife Dany Garcia, and his second daughter, six-month-old Jasmine with longtime partner Lauren Hashian.

Evangeline Lilly is from Fort Saskatchewan, Alta. She is known for her role as Kate on the TV show "Lost," as Tauriel in "The Hobbit" trilogy, and as Hope van Dyne in "Ant-Man." The 36-year-old has a five-year-old son named Kahekili with longtime partner Norman Kali. The couple also welcomed their second child in 2015, but did not reveal the name or the sex of the baby.

Jason Priestley is such a well-known actor and director that we often forget he's Canadian. The Vancouver-born star is known as Brandon Walsh from "Beverly Hills, 90210" and as the lead in "Call Me Fitz." And here's another fun fact: In his early acting days, Priestley actually auditioned for the role of Gilbert Blythe in CBC's "Anne of Green Gables," but was beat by Jonathan Crombie. Priestley has two kids – Ava, 8, and Dashiell, 6 – with his wife, make-up artist Naomi Lowde-Priestley.

Many recognize Caroline Rhea as Hilda Spellman on "Sabrina, the Teenage Witch," but don't realize she's Canadian. The actress and comedian is actually from Westmount, Qué. Rhea and her husband, fellow comedian Costaki Economopoulos, have a seven-year-old daughter named Ava.

Christopher Plummer is more Canadian than you think! The famous star was born in Toronto and is actually the great-grandson of John Abbott, Canada's third Prime Minister. The 86-year-old has been acting for decades and made a big name for himself in Hollywood. He's now known for a number of films including "The Sound of Music" and "The Imaginarium of Doctor Parnassus." Plummer only has one child, Amanda, with his wife, actress Tammy Grimes. Amanda, 59, followed in her parents' footsteps and became an actress as well.

Nia Vardalos is known for being Greek, but she's Canadian, too. The actress was actually born in Winnipeg, Man. Vardalos has one daughter, Ilaria, with her husband Ian Gomez.

That's right, James Cameron – the director of "Titanic," "Avatar" and many more – is Canadian. But before he made it to Hollywood, he was born and raised in Kapuskasing, Ont. Cameron has four kids: Josephine, 23, twins Quinn and Claire, 15, and Elizabeth, 9.