Maintain Weight Loss: One Woman's Daily Battle To Not Slip Into Old Habits
In this new weight maintenance series, we interview some of our Lost It participants who have previously shared their successful weight loss stories. In this series, we revisit some of their fitness and eating habits, and find out how they really keep up with maintaining their new bodies and mindset.
Who: Kimberly Olsen (read her original Lost It feature here.)
Occupation: Seafood monger
City: St. Catharines, Ont.
Age: 29
The Numbers: Current weight: 165 pounds and a total weight loss of 95 to 111 pounds over the years.
After Losing The Weight: I fluctuate with 10 pounds right now, going up and down on the scale. Is it the end of the world? No. Is it challenging and annoying? Yes.
The hardest thing is being happy with yourself, accepting yourself, getting over the flaws and realizing it's a lifestyle change that doesn't happen over night. The one thing nobody told me about weight loss was that it's totally a mind game. I know I look different, I can see it, but it's hard to feel it. I don't think anyone really understands this unless they've been through it.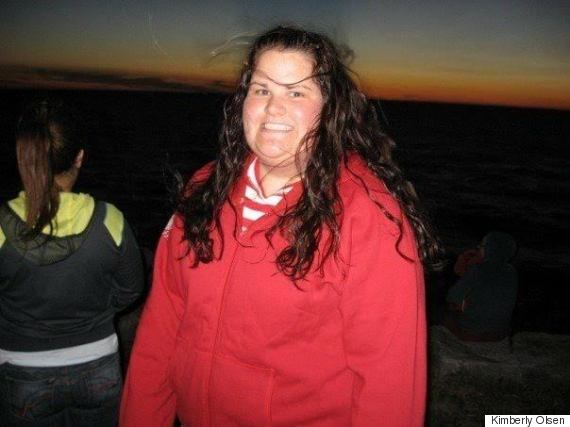 After losing the weight, I've had great reactions. I have amazing support from my family and friends. I have some friends and customers that don't even recognize me. I always get the, 'How did you do it? How long did it take?' and they are shocked to know I didn't go on a "diet" or have surgery.
Your New Mindset: I do and I don't feel like a new person. I feel like the old me but I know I am different. I notice my confidence level is different in certain situations. I am more aware of foods around me. I know what to bring and what to eat when I'm in situations where no healthy options are there.
I wish I did it earlier in life. It took my years to get here.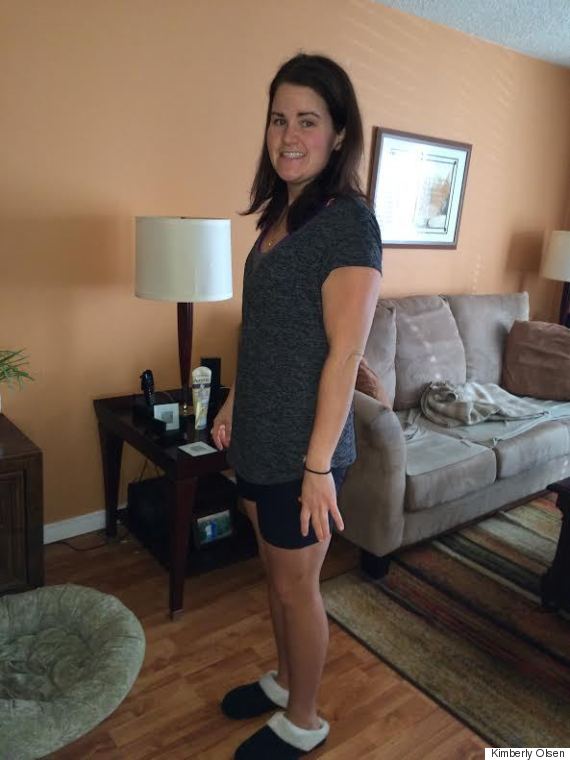 The Food Element: There are no foods that I don't eat, but I try to avoid processed foods and junk. Do I still enjoy a cookie, ice cream and chips? Yes, but all in moderation. I've also learned healthier options for each one of these foods, which makes it fun and exciting. Who knew you could make delicious cookies out of almonds?
I also portion control how much protein, fruit and starch I eat. Little hint: drink more water — you usually aren't hungry and just might be thirsty.
"Sometimes inches mean more than a scale number. I can see some muscle on certain body parts where I've never seen it before."
On a typical day for breakfast I have an Ezekiel wrap with almond butter and a banana. Lunch consists of a fresh salad with hemp hearts and chia seeds, an apple, 1/2 cup of Greek yogurt with cinnamon and a glass of water. For dinner it's usually a portion of chicken with a side of vegetables. I also have a protein shake at the gym.
Do I have cheat days? Of course, you have to, or else you'll indulge in everything at one time and that isn't good. I treat myself if I crave it.
The Exercise Factor: I see my trainer twice a week and play sports two to four times a week these days.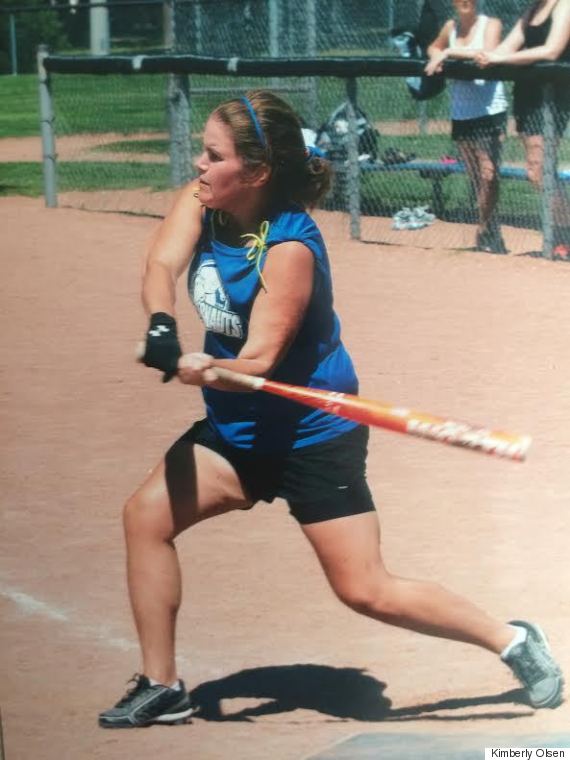 It's hard to say how much of my weight has changed because of muscle gain because I don't like going on the scale all the time. Sometimes inches mean more than a scale number. I can see some muscle on certain body parts where I've never seen it before.
I still want to get stronger, have a better endurance for cardio and one day, get a flat stomach.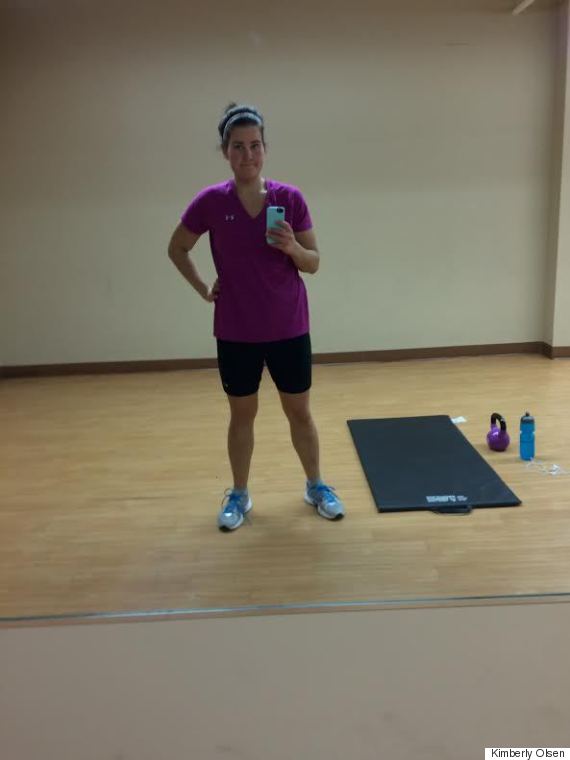 The Current Day-to-Day: I would still like to lose weight, but I'm more focused on tightening skin up and building muscle.
I do have bad days where I eat junk and do I regret it? Yes. But it isn't going to stop me. I'm human and I want to live life. I don't think my brain would let me go back to my old habits.
I often wonder if I will ever be where I want to be, but I know I have to work at it. I am not one of those girls that can lose weight at the drop of the hat. I have to work for it and have to work hard. Do I get frustrated? Of course. Do I want to give up? Heck yes, but I don't.
Maintenance is hard, probably even harder than losing the weight. You think it's all about working out and eating right, but it's such a mind game that no one tells you about going into it.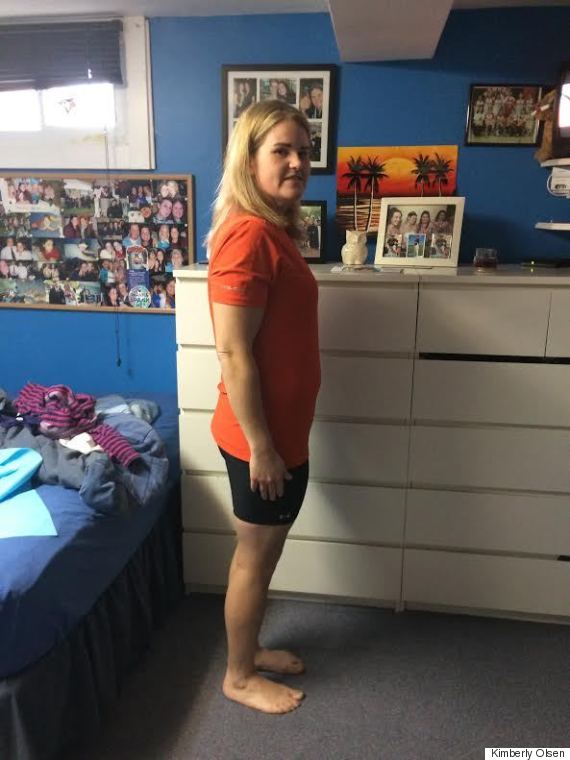 Do you have a weight loss maintenance story to share? Send us an email at CanadaLiving@huffingtonpost.com to be featured on our Lost It series.
Note: This interview has been edited and condensed for clarity.
ALSO ON HUFFPOST:
How To Maintain Weight Loss
When you're sleep-deprived, your frontal lobe (which controls impulsive behaviour) doesn't function as well, so your guard is down. So things that you might have been able to resist, you can't really resist.

"I don't think about [weight] in terms of turning people into bikini models, because really for most people that's not going to be what happens. It's much more about getting people to medically significant weight loss that they can sustain. If you're obese and you reduce your weight by 10 per cent, it reduces your risk of Type 2 diabetes by 60 per cent. A relatively modest amount of weight loss can have a huge impact on your health, how you feel and yes, how you look."

"I usually have the same breakfast, and it's regular oatmeal with fruit and a non-fat Greek yogurt. It's a lot of food, it keeps me full, I think it tastes good, I'm happy having it, and I'm not making a decision. I just have the same thing every single day. What I now believe is that it's really the only way to keep it off, to get these types of little routines and habits established so that you don't have to make decisions anymore." - David Kirchhoff, CEO Weight Watchers International

"There's only so much we can do about the food environment. But the one thing we can do is change our personal environment. We can reengineer our kitchens, and make it basically safer places to exist by taking trigger foods, taking them out of sight, giving better visibility to healthier foods, making sure the kitchen's stocked with stuff that, if you're going to need to nosh at 9 p.m., don't deprive yourself of it, eat something healthy. Eat an apple, as opposed to having a bag of 100-calorie cookies."

In meetings in London a few weeks ago, Kirchhoff saw a big bowl of Weight Watchers treats, and despite not being hungry, eventually gave in and ate one. What does he wish he'd done? "I could have just said, 'you know what guys? Do you mind if I actually just put that over on the side table over there so I don't have to see it?'"

"We have a tendency to think of habits and routines as kind of obsessive compulsive, or boring -- but they're not. Because there's other things in life where we can still be as spontaneous as we need to be, but do we really need to have a really super exciting breakfast every day where it's just a great big surprise what we're going to have for breakfast? No."

"If you're keeping a food diary and there's a currency associated with the food, it's allowing you to distinguish between smart choices and not-so-smart choices, as well as forcing you to think about portion size."

It took Kirchhoff nine years to get to his goal weight because, by his own admission, he wasn't committed. "I was in kind of a dieting mentality where I'd be super hardcore for a couple of months, but I was never really thinking about fundamentally saying, 'This eating fruits and vegetables? It's not for these next two months, it's really for the next 20 years.' Which is one of the reasons why I give the advice, whatever you're doing while you're losing weight should be something that you can see yourself doing for the rest of your life.'"

"For someone who is already trying to make healthier choices, equipping them with information helps them facilitate it ... Because I'm constantly trying to make good decisions, when I see a lemon pound cake is 500 calories, I think, this is bullshit, I'm not spending 500 calories on that. It's like money. The question is like, 'wouldn't it be better if there wasn't pricing on products in the grocery store?' I want to be aware of where I'm spending money, and I want to be aware of where I'm spending calories. I want foods that are a good bargain, and I think frankly, people who are generally making the effort will feel the same way, so it's always going to be helpful to be able to rely on."

"Music is a big thing for me when I'm working out, so that's something to look forward to," Kirchhoff says. He cites AC/DC, Guns 'N Roses and Aerosmith as bands that push him when he's not feeling quite as energetic, and REO Speedwagon and the Bee Gees for his 'Big Ball of Cheese' mix.

"I really try to be mindful of what I talk about around [my teenage daughters], because I want them to be balanced and normal. But they are much more normal, not-compulsive eaters than I am ... I think it's good that they see me being healthy, I think it wouldn't be good if I sat around and talked about my weight all the time."