Canadian Economy Emerged Cleanly From The Great Recession. This Chart Is Proof.
Canada's previous government loved to tout its economy's relative strength coming out of the Great Recession of 2008.
Data from the Organization for Economic Co-operation and Development (OECD) shows there's some truth to its boasts.
Canada emerged in the top half of countries when it came to real wage growth from 2007 through 2015, said a news release from the U.K.'s Trades Union Congress (TUC).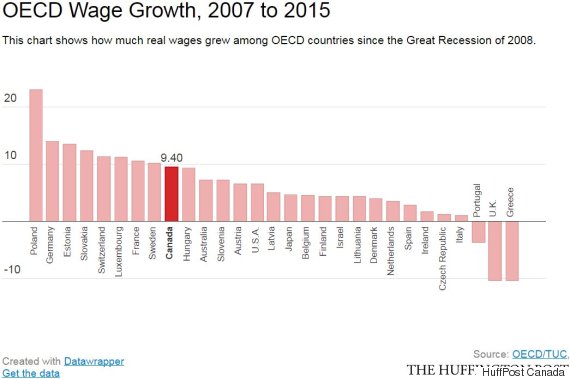 Canadian wages have grown by 9.4 per cent, eight spots shy of top-placed Poland, whose wages grew by 23 per cent in the same period.
The TUC compiled the numbers in an effort to show that U.K.'s wages fell just as much as Greece's did — by 10.4 per cent.
Canada didn't exactly enjoy good news when it came to employment, however.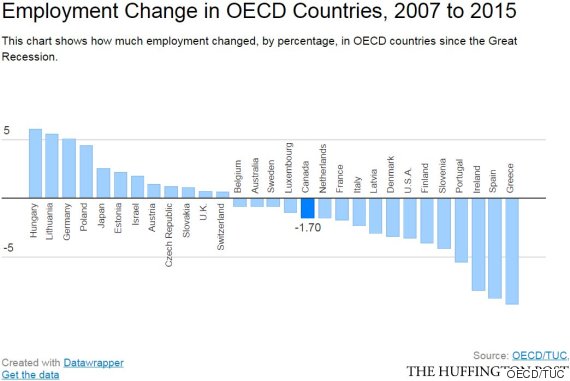 The Great White North ranked in the bottom half of countries when it came to employment, dropping 1.7 per cent from 2007 to 2015.
It wasn't, however, anywhere near the worst. That was Greece, which saw its employment fall nine per cent, followed by Spain with 8.5 per cent and Ireland with 7.0 per cent.
Those are, of course, only two indications of how Canada's economy has performed since the Great Recession. Others have hacked away at Canada's pride in its economic results since the financial crisis.
A graph released by BMO in 2013 showed that Canada's economy only did slightly better than the U.S.'s.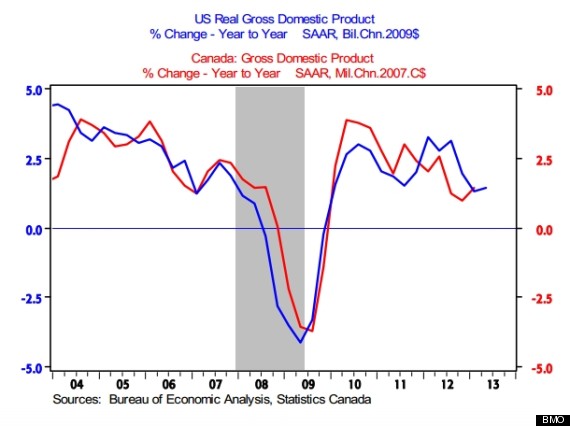 Data released by the U.S. Commerce Department at the time showed that the U.S. economy didn't plunge as deeply amid the recession as people thought.
From peak to trough, America's GDP fell by 4.3 per cent between 2008 and 2009, compared to 4.2 per cent in Canada.
The U.S. economy actually did better than Canada's in subsequent years, climbing above it in 2011 and 2012.
BMO economist Douglas Porter told The Wall Street Journal at the time he had a tough time believing those numbers.
So tough, in fact, that they helped him conclude that GDP is not a strong measure of a country's economy.
Also on HuffPost:
People Who Shot To Fame In The Recession
The top LibDem won as a reputation as an economic sage for seeming to predict the 2008 recession many years earlier. Back in November 2003, Cable asked Gordon Brown, then Chancellor, "Is not the brutal truth that ... the growth of the British economy is sustained by consumer spending pinned against record levels of personal debt, which is secured, if at all, against house prices that the Bank of England describes as well above equilibrium level?" Brown replied, "As the Bank of England said yesterday, consumer spending is returning to trend. The Governor said, 'there is no indication that the scale of debt problems have ... risen markedly in the last five years." Brown is now ex-Prime Minister, while Vince Cable has risen up to be the LibDem's business secretary and arch-nemesis of the Tories.

Fred 'the Shred' Goodwin took over the reins of the Royal Bank of Scotland in 2001. Sadly, Goodwin's disastrous £55 billion takeover of the Dutch Bank ABN AMRO in October 2007 left RBS dangerously exposed when the financial crisis hit, bringing about RBS' near-collapse and devastation in the banking sector.

Bernard "Bernie" Madoff was a top American financier and darling of the financial world, until he was arrested over charges - to which he later admitted - of fraud. Madoff admitted to operating a Ponzi scheme defrauding investors of billions of dollars in what is considered to be the largest financial fraud in American history. He was later sentenced to 150 years in jail in 2009.

This plucky independent trader captured the spirit of the recession in 2011 when he gave an interview to the BBC in which he declared that "the market is toast" and that he "dreams" of another recession. For good measure, he also said that the Goldman Sachs bank "rules the world".

To comment on the financial maelstrom, the BBC's Robert Peston stood out like no other. The business editor's impeccable sources and scoops meant he broke many of the crucial twists and turns of the financial crisis before anyone else, like the collapse of the Northern Rock bank. He has now been picked to replace Stephanie Flanders as the BBC's economics editor, after she left to join JP Morgan.