Loblaw Gears Up For Price War As Profits Plunge
The head of Canada's largest grocer says it's prepared to duke it out in a price war with its rivals in order to stay competitive in a low-inflation environment.
"Price wars are generally not something that we look forward to but we will certainly be ready if the marketplace heats up,'' said Galen G. Weston, president at Loblaw Companies Ltd., during a call with analysts Wednesday.
Weston said the company, which owns various banners including Loblaws, No Frills, Real Canadian Superstore and Shoppers Drug Mart, is actively fighting back against rising food prices by going straight to their suppliers.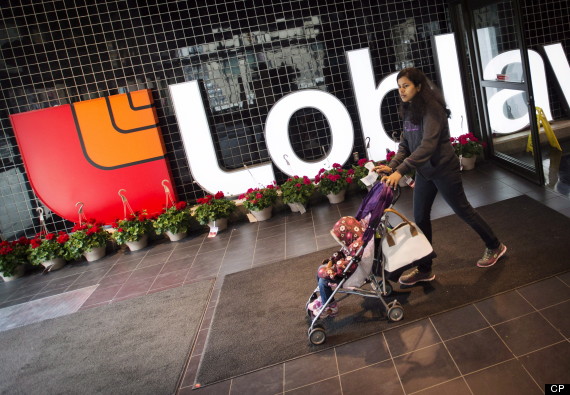 Shopper at a Loblaws store. (Photo: CP)
"After two years of over $1 billion in cost increases from our largest suppliers and related higher retail prices across the country, we have asked this group to support us in our initiative to lower prices for our customers,'' he said.
Earlier this month, Loblaw sent a letter to its suppliers notifying them it will be applying an automatic 1.45 per cent price deduction on all shipments it receives beginning Sept. 4.
The letter also stated that the grocer will reject any future cost increases from suppliers unless they are related to higher input costs such as fuel charges or foreign exchange.
Additionally, the letter noted that Loblaw will assume that suppliers agree to the price decrease if the shipments continue past this deadline.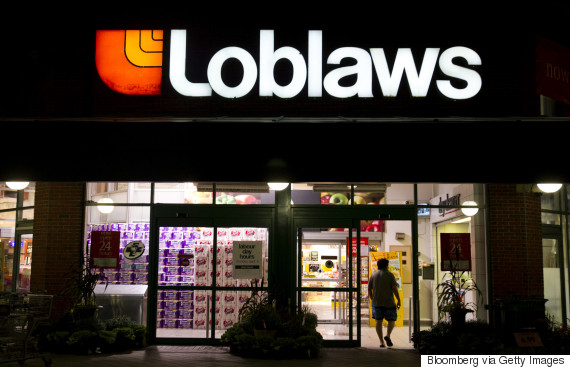 A Loblaws store in Toronto, in 2011. (Photo: Brent Lewin/Bloomberg via Getty Images)
A company spokesman would not comment on whether the grocery owner has received any type of response.
During the call, Weston said Loblaw will ``invest'' the savings back into the customer, but would not elaborate if this means customers will necessarily see lower food prices at its supermarkets.
"We think we're competitively a very potent organization. We believe that we have formats that are uniquely well-positioned in each of the core markets and that when we make investments, we'll make them in places that will deliver a sustainable advantage versus our competitors,'' he said.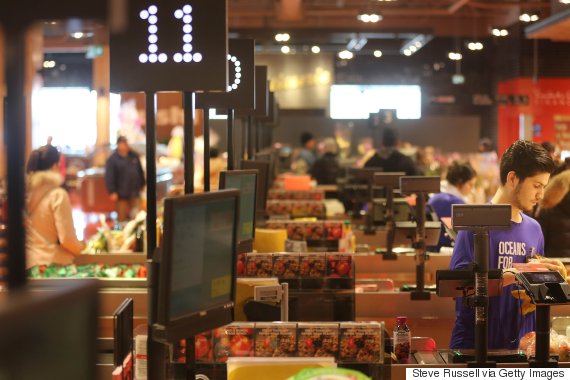 The checkout area of a Loblaws store at Leslie and Lake Shore in Toronto. (Photo: Steve Russell/Toronto Star via Getty Images)
Last week, Statistics Canada reported that inflation for food softened to 1.3 per cent in June, after being above three per cent for 18 straight months prior to May. This was highlighted earlier this year when customers were shocked to see the price of cauliflower spike towards $10 per head.
Loblaw said for it to continue to deliver earnings growth, it needs to increase sales volume as competition heats up among traditional grocers like Metro and Sobey's, and big-box retailers like Costco and Walmart.
On Wednesday, the company reported that its net profit dropped by nearly 15 per cent in the second quarter from a year earlier, even though it had higher revenue.
Loblaw's net income was $158 million or 39 cents per share for the period ended June 18. That's down from $185 million or 44 cents per share a year ago. It attributed the reduced profit to higher interest expenses and financing charges.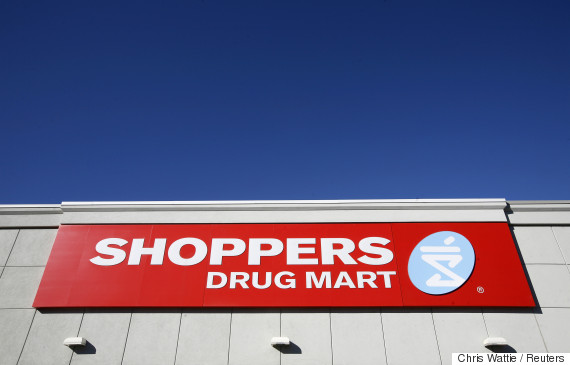 A Loblaw-owned Shoppers Drug Mart in Ottawa on Nov. 10, 2010. (Photo: Chris Wattie/Reuters)
However, its overall revenue was up $196 million or two per cent, rising to $10.7 billion from $10.5 billion a year earlier.
Notably, revenue grew faster at Shoppers Drug Mart owing to success from increased food offerings in its drugstores. The chain also continued to benefit from its health, beauty and cosmetics divisions, and from the Canadian departure of U.S. retailer Target last year.
Loblaw also said it's still looking for a buyer for its network of 212 gasoline-filling stations, which were put up for sale in May, but would only sell if the price was right.
Also on HuffPost:
4 Signs You Shouldn't Buy Those Groceries
Whenever we walk into a pastry shop and breathe in the scent of loaves fresh from the oven, we have trouble thinking clearly. But if the mission is "buy sandwich bread," it's worth remembering this: A loaf of already-sliced whole wheat is not the goal. "Every minute that fresh bread is exposed to air, it becomes more stale and less delicious," writes Dan Pashman in his book Eat More Better. So while a professional-grade machine may do a bang-up job turning out uniform slices, unless you're planning to eat them all within an hour, you're better off buying a loaf intact. It will increase the life span by reducing what Pashman calls "SATVOR" (surface-area-to-volume ratio). Once you're home, wrap the bread tightly in plastic, place it in a resealable plastic bag and store it in the freezer. When you want to eat it, remove the loaf, unwrap it and microwave it on a regular setting just long enough to defrost the outermost portions. Use a serrated bread knife and saw through (partially frozen bread = more even slices).

A gorgeous yet mealy apple is one of life's greatest small disappointments -- and puzzles: How can something so perfect-looking taste so awful? While it's impossible to guarantee a crisp, juicy fruit (you can forget looks; misshapen apples can taste just fine), there's one indicator you can usually rely on: The sound you hear when you tap the side of the apple with a finger. Good apples should sound hollow; bad ones will often sound dense. But if you do wind up with a mealy apple, one way to rescue it is to turn it into applesauce.

When you shop for beef at the supermarket, you're probably choosing between "prime" (lots of marbling, aka fat), "choice" (somewhat less marbling) and "select" (leaner, so not as juicy). All of these grades are perfectly acceptable, provided you cook them in a suitable way. However, if you see a package of beef simply labeled "USDA graded," steer clear. This description tells you nothing about the meat's quality (and actually applies to 94 percent of beef sold in the U.S.).

We're all for seeking out bargains, but slashed prices on certain items can raise a red flag. One biggie is seafood; the FDA has received numerous reports lately of fish fraud, where a store will substitute a less expensive fish for a more expensive kind (e.g., tilapia for red snapper, farmed salmon for wild or Vietnamese catfish for grouper). It can be tricky to spot fake seafood, especially if you don't buy it often. The best tactic is to know ahead of time about how much the fish you want should cost (walk past the seafood counter every time you're in the store, even if you're not buying, to eyeball the prices). Also, have some idea of different fishes' high seasons (e.g., wild salmon from Alaska can't be fresh in the winter); here's a handy chart.