"This is no time for risky plans that could harm our future,'' the solitary Conservative leader cautioned the news media assembled outside in the summer heat.
Eleven weeks later, Canadian voters jumped off a cliff, electing a surprise Liberal majority led by the ebullient and youthful Justin Trudeau who marched his new cabinet up that same Rideau Hall driveway through a crush of cheering crowds.
The contrast was as sharp as the clear autumn air.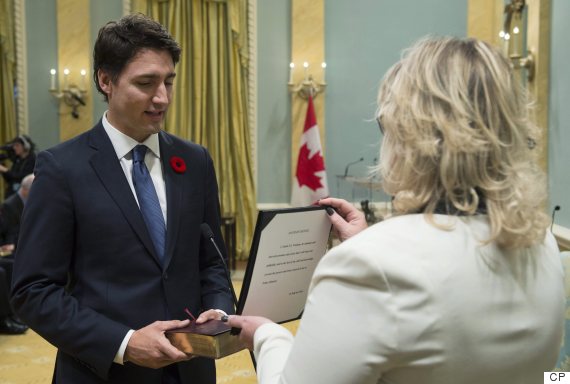 Justin Trudeau takes the oath of office as he is sworn in as prime minister at Rideau Hall in Ottawa on November 4, 2015. (Photo: Sean Kilpatrick/Canadian Press)
A year later, pollsters say the effervescent weightlessness has yet to dissipate.
"It's a year and honeymoons don't last a year,'' Frank Graves of Ekos Research told The Canadian Press.
"I don't recall a period in Canadian history where a government has flown that high for that long — particularly with the backdrop of what are the worst economic outlook numbers I've seen in 20 years.''
"It's a year and honeymoons don't last a year.''
A campaign that began in the dog days of summer with headlines about spending caps, televised debate negotiations, third-party advertising and attack ads ended on deeper questions of religious and ethnic accommodation, a conscious return to deficit spending and an overtly activist state.
Since then, "government is good'' has been the predominant theme.
From committing billions to indigenous issues, rushing in Syrian refugees, schmoozing with the premiers, vowing to price carbon emissions, legislating doctor-assisted death, restoring the mandatory long-form census, re-funding civil society, tackling fundamental electoral reform and consulting, consulting, consulting, the Liberals are wading in where the previous government often withdrew.
Whether the 2015 election marked a fundamental values shift is the question all Canada's political practitioners now are grappling with, especially in this summer marked by terrorism, Britain's shocking referendum exit from the European Union, U.S. racial strife, the rise of trade protectionism and the immigrant-bashing Donald Trump.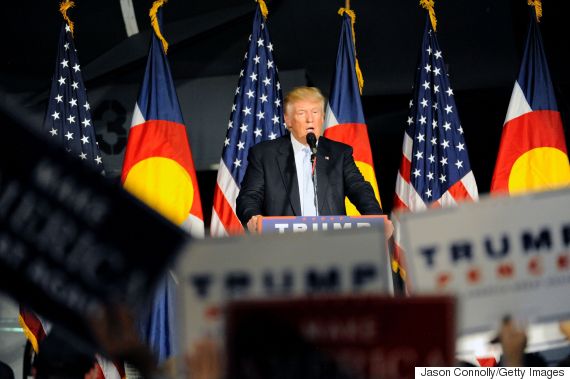 Republican presidential candidate Donald Trump addresses supporters at the Wings Over the Rockies Air & Space Museum in Denver on Friday. (Photo: Jason Connolly/AFP via Getty Images)
Graves believes there's been a Canadian sea change.
For more than 20 years, Ekos has tracked whether the public prefers a "smaller government with lower taxes'' or "larger government with more services.'' In 2003, the results skewed almost 3-1 in favour of small government. Today the two responses are almost equal.
"The outlook is dramatically different in terms of the role of the state and public institutions,'' said Graves.
James Moore, a former senior minister in the Conservative government, makes the case that the inflection point came well before last year's election, and can be traced to the 2008 global financial crisis.
"The outlook is dramatically different...''
Moore points back to then-U.S. president Bill Clinton's 1995 state-of-the-union address, when the Democrat declared the era of big government was over, as the political period "that pushed the tide out.''
He argues the tide started coming back in when governments around the world responded to the financial crisis in 2009 with massive stimulus spending and bailouts — while loudly trumpeting the need for such action.
"You had a centre-right government bragging about that,'' Moore said of the Harper Conservatives and their ubiquitous "economic action plan'' ads.
Long after the Conservatives subsequently slashed spending, the "action plan'' messaging lived on.
A reaction to Harper?
Megan Leslie, a former NDP stalwart who lost her Halifax seat last October, also credits Harper for the current political mood, although rather less charitably than Moore.
"There was such a reaction to (Harper's) style of governing that I feel like he's almost created this mythical Liberal force for good,'' said Leslie.
She pointed to the almost giddy public response to this year's restored mandatory long-form census — a measure of Canadians' ravenous appetite for having their say, which the Liberals are deftly pursuing with myriad public consultations.
"It could have been NDP (that won the election), it could have been Liberal, but whoever won was going to be able to ride that for a really long time,'' said Leslie.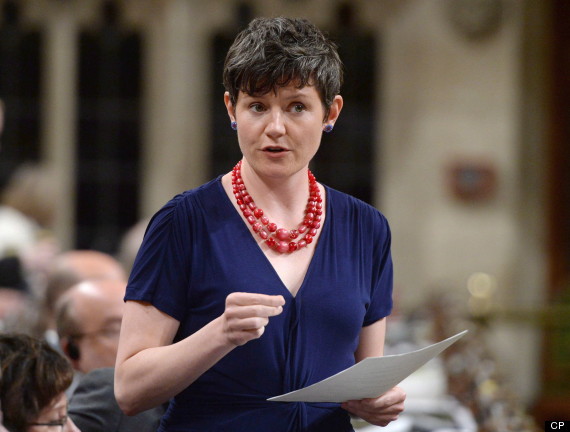 Former MP Megan Leslie speaks in the House of Commons on May 29, 2014. (Photo: Sean Kilpatrick/Canadian Press)
The paradox is that Ekos surveys reveal deep public pessimism over the economic future, and a conviction that the world is becoming a more dangerous place. Yet, somehow, Canadian respondents also count themselves happy.
Canada shows 'the other side of the equation'
These near-universal anxieties are producing two very different world views, said Graves. One is the rise of authoritarianism and a desire for order in the face of perceived loss of control — exemplified by both the Brexit vote and support for a Trump presidency.
"In Canada, the (election) victory was an expression of the other side of the equation,'' said Graves.
Pollster Nik Nanos of Nanos Research also sees the dramatic change, but he describes it as a return to the Canadian mean rather than resetting values.
When Trudeau welcomed Syrian refugees at the Toronto airport last December, the international media treated it as extraordinary but Canadians saw it "as a touchstone, not something they would consider unusual.''
"I would say it's a return to more traditional Canadian values.''
Nanos called the "much more combative'' Harper style an anomaly, citing the former government's view of the federation, its reluctance to engage with the provinces, its view of the courts and its political strategy of segmenting the electorate and wooing only a minority of voters.

"There is a shift, but I would say it's a return to more traditional Canadian values,'' said Nanos.

"We shouldn't confuse short-term reactions to the (economic and political) environment with fundamental values.''

— Follow @BCheadle on Twitter

Also on HuffPost

Justin Trudeau Swearing-In Day

Suggest a correction

OTTAWA — A year ago Tuesday then-prime minister Stephen Harper visited the Governor General in the middle of a mid-summer long weekend to begin the longest election campaign in modern Canadian history.