Canadian Red Cross Targeted In 'Misinformed' Graffiti Spree
HALIFAX — The Canadian Red Cross says a "misinformed vandal" went on a graffiti spree on its Nova Scotia headquarters and vehicles, protesting transgender blood-donation policies even though the charity hasn't collected blood for two decades.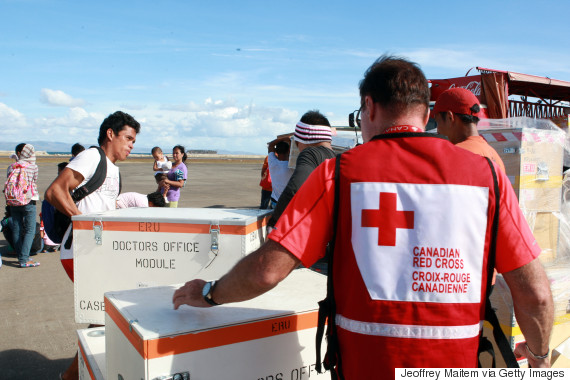 Canadian Red Cross staff supervise the loading of their supplies into a truck for typhoon survivors. (Photo: Jeoffrey Maitem/Getty Images)
The Red Cross said Monday signs around its building in Dartmouth, two trailers, two trucks, a van and a sedan were all defaced with permanent markers sometime late Friday or early Saturday.
The all-caps graffiti said the society "discriminates against trans women" and stated "all trans women are women. No surgery needed."
But the Red Cross said it hasn't collected blood since the 1990s, when Canadian Blood Services took over the job.
"We weren't even aware of what the issue was, quite frankly, I had to look it up online. It was really misdirected against us."
"We were a little puzzled because of the wording of the message," Dan Bedell, the Red Cross's regional communications director, said Monday.
"We weren't even aware of what the issue was, quite frankly, I had to look it up online. It was really misdirected against us."
Donation policies changing this month
Canadian Blood Services is changing its donor policies as of this month, saying on its website that it will accept donations from trans men one year after they have had genital surgery.
The Red Cross says staffers spent some of their long weekend cleaning up the mess, but some repainting may be necessary, including of the building's main exterior sign.
"If people have views to express, there are lawful ways to do it," said Bedell, who said the graffiti appears to be the work of one person.
The costs have not yet been determined, but Bedell said they're hoping it's in "the hundreds, rather than thousands of dollars."
Related on HuffPost:
When Dean Willis' father-in-law needed blood after getting heart-bypass surgery in 1975, he unhesitatingly stepped in to help, News4ajax.com reports. Since then, the coveted O-positive blood donor has given 100 gallons of blood and saved 2,000 lives. "I guess it's a cliché, but you know, it makes me feel good," Willis told the news outlet.

Paul Olsen, 79, donated his 400th pint of blood in August, according to Mainlinemedianews.com. The Pennsylvania native donates platelets, which is key to helping cancer patients, and gives twice a month. "I really feel good [about giving] because it helps other people," Olsen told the news outlet. He hopes to ultimately hit his 500-pint goal.

Honored with the "Golden Heart Award" from the Heartland Blood Centers for having donated blood 200 times, Warren Krup continues to give, despite a disability. "I get to sit and take a break, and it saves a life," the 52-year-old Illinois native told the Courier News. "Why wouldn't you want to do that?"

About 40 percent of dogs are universal donors, making Sparkle, a California-based rescue Greyhound, a critical lifesaver for pooches in need. "For every unit of blood that she gives, she will help at least two other dogs," Mary Beth Bartel, Sparkle's owner, told ABC. Sparkle donates once a month and her name is included on a 24-hour emergency call list.

When Ralph "Rocco" Russo hit his 300th donation at the Dana-Farber Cancer Institute, nurses honored him with a cake, the Boston Channel reports. But, the true reward for Russo is knowing that he's helped save hundreds of lives, including Nicole Sorensen, who battled -- and overcame -- cancer when she was 14. "People will give once. People will give twice," Sorensen told the news outlet. "But to give 300 times every other week religiously is incredibly moving."

Barbara Brinkmann has been donating blood since she was 16-years old, KENS5 reports . "I do it on a regular basis and I enjoy doing it," Brinkmann told the news source. "It's a wonderful way to give back to the community." For her generosity, the San Antonio, Texas resident was rewarded with a brand new 2012 Toyota Tundra pickup truck. Naturally, it's bright red.