Ryan Gosling Baby: Sweet Reason His Daughters Have The Same Name
Eva Mendes has revealed why she and Ryan Gosling gave their daughters, Esmeralda Amada and Amada Lee, the same names. Turns out, it has to do with the actress' Latin culture.
When their first daughter was born in 2014, Mendes revealed that Amada was her grandmother's name and meant "beloved" in Spanish. In giving her second daughter the same name, Amada became even more meaningful.
"We had a few names picked out for our new baby, and when she was born, we didn't feel like those names were her," the 42-year-old explained in the September 2016 issue of Latina magazine. "We came up with a few more, even that morning, and tried them out. We were like, 'What about Viviana?' But we just kept going back to Amada."
"In true Latin fashion, we reuse names all the time," the actress continued. "I used to know five sisters that were all Maria del Carmen, Maria Elena, Maria Liliana… I actually told Ryan, 'This is common in Latin culture, so it wouldn't be crazy.' So we went with Amada because it was something we kept going back to."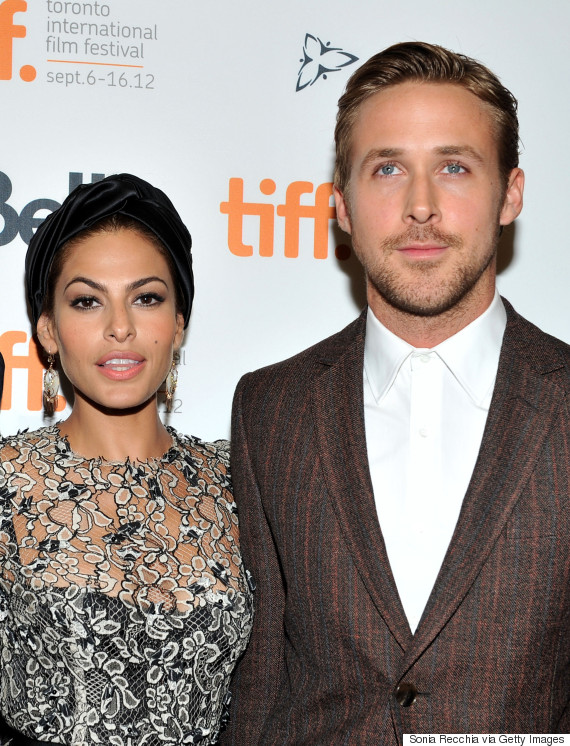 Amada Lee was born in April, just 12 days after Mendes' brother Carlos died of cancer at the age of 53. As a result, the actress was even more convinced that Amada was the right choice for her second baby girl.
"It was an emotional time with the passing of my brother," Mendes said. "We thought how beautiful to go with what made us emotional and with what felt like her. When we looked at her, we thought, 'Aww, Amadita.'"
This is the first time Mendes has opened up about her newborn daughter, as she and longtime partner Gosling are notoriously private. However, back in May, Gosling did reveal that life as a new dad-of-two was "heaven."
"It's like walking through a field of flowers every day," he said. "I live with angels."
ALSO ON HUFFPOST:
Best Celebrity Baby Names Of 2015
Keira Knightley and her husband James Righton welcomed their first child, Edie, in June. We love this name because it's short and sweet.

Jennifer Love Hewitt named her second child Atticus. The name choice was likely inspired by the beloved character in Harper Lee's novel "To Kill A Mockingbird." While Lee's sequel was criticised for portraying Atticus as racist, we still love the uniqueness and rarity of the moniker.

Macklemore became a dad this year! The rapper and his wife Tricia Davis named their daughter Sloane. We love that they chose an Irish name that is edgy and different.

Naya Rivera gave birth to a baby boy in September. The former "Glee" star and her husband Ryan Dorsey named their son Josey. We love this pick because it's a trendy, unisex moniker.

Arlo Day Brody was born in September and is the daughter of Leighton Meester and Adam Brody. This name is so unique and sound beautiful with a word name as a middle name. We guarantee this celebrity baby name will be a trendsetter.

Carrie Underwood and Mike Fisher became first-time parents in February. We love this biblical name because it's not overused (sorry Noah!) and has a lot of charm.

Justin Timberlake and Jessica Biel welcomed baby Silas in April this year. We love that the couple chose a unique family name. Silas was the middle name of Timberlake's maternal grandfather Bill Bomar, who passed away in 2012.

In October, Carey Mulligan and husband Marcus Mumford welcomed their baby girl and gave her the classic name Evelyn.

Isla Fisher and Sacha Baron Cohen welcomed their third child this year and named him Montgomery. We love that they chose to bring this old school name back into fashion.

Cate Blanchett welcomed a daughter into her family of boys this year. The 46-year-old actress and her husband Andrew Upton adopted a girl named Edith. This sweet name is a sophisticated choice that is rarely used, which is why we love it.

In February, actor and comedian Chris O'Dowd and his wife Dawn welcomed their baby boy Art. We love how sweet this simple name is and that it follows the trend of nicknames as first names (Art is derived from Arthur).

"Baby-Sitter's Club" star Rachael Leigh Cook and husband Daniel Gillies gave their son this adorable name. According to Nameberry, "old man names" are coming back into fashion, which is just another reason to love the name Theodore.

Hilary Duff's older sister Haylie became a first-time mom in 2015. Haylie and fiance Matt Rosenberg welcomed a baby girl named Ryan. We love that they used a traditionally male name for their daughter.