Canadian Millennials Fret More About Savings Than Any Other Age Group: Study
Millennials fret big time about saving. But what exactly are they saving for?
A study released by BMO Wealth Management gives us a clue.
The study, titled "The Personal Balance Sheet," asked 1,018 Canadians aged 18 and older about their investing, borrowing, saving and spending habits.
Researchers found that millennials were more concerned about saving than any other age group: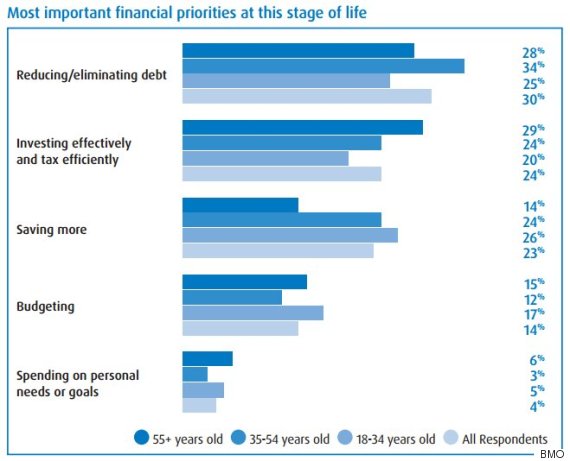 The survey showed that 26 per cent of respondents between the ages of 18 and 34 considered "saving more" their most important financial priority, followed by reducing and eliminating debt (25 per cent), investing effectively (20 per cent), budgeting (17 per cent) and spending on personal needs or goals (five per cent).
BMO said that millennials are definitely putting their money into savings, but that they're doing it to meet "shorter term goals."
The bank's source for this insight was a Financial Times article, which cited an unnamed survey showing that millennials were saving for expenses such as holidays, rather than for future planning.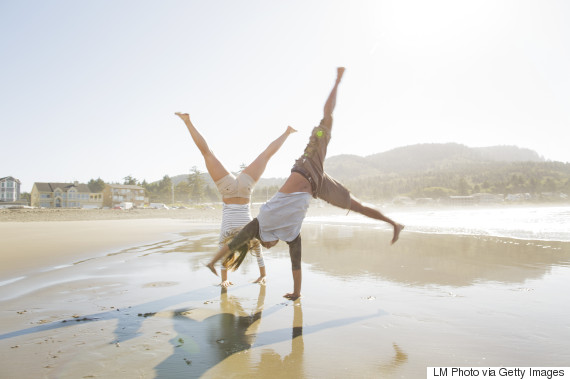 A young couple does cartwheels on a beach in this stock photo. (Photo: LM Photo/Getty Images)
BMO urged millennials to start planning for financial goals such as paying down student debt and saving for a down payment.
"By establishing a budget that focuses on saving and reducing borrowed amounts, as opposed to spending on current wants, it may be possible to achieve these goals more quickly," the study said.
Saving for a vacation is important, "as there has to be rewards for all of the hard work put in," BMO added.
"But this should be combined with saving, investing, and plans to reduce existing student debt to make the most of your financial balance sheet and opportunities."
Meeting one's financial goals is nevertheless a prime concern for millennials.
The study showed that not being able to save toward a goal was a concern with millenials more than any other age group surveyed:

Their next highest concern was the "negative impact of a global economic event" — understandable given that many millennials were just reaching adulthood when the financial crisis hit in 2008.
Such a sentiment is consistent with a recent U.S. study showing that fewer millennials own a credit card than anyone in an older age group.
One respondent to that study said he didn't own a card because of what he saw amid the financial crisis — and that he "[didn't] want to make the same mistakes our parents made in the past."
That may not be true of Canadian millennials.
RateHub's 2015 "Digital Money Trends Report" showed that only 1.9 per cent of survey respondents aged 18 to 29 reported that they didn't have a credit card.
Over a quarter said they had three credit cards or more. So maybe credit card debt is another area BMO should be urging millennials to focus on.
Also on HuffPost:
Overwhelming Potential: Life Advice, Tips, And Tricks That Every Millennial Needs To Hear
Find and foster different mentors for your varying skillsets. We're more connected than we've ever been before to various acquaintances, friends, and professionals through our various social networks, which can be a huge source of support in a sometimes formidable technological world. Seeking out the help of someone a little bit more seasoned is one of the best things a millennial can do (just make sure to stay in touch with them). Having some outside perspective can help you sort out what you'd like to do in your life.

Everyone who has something to learn also has something to offer. While millennials are often branded as being a tech-savvy generation, that is often a simplistic view. Millennials do offer that, but, in many cases, they offer a far more realistic answer to certain situations. That's why offering to mentor someone in the basics of your strong suit can be so useful for you and your mentorship student. By simply opening up your mind and thought process to another person, you'd be surprised how much both parties end up learning from it.

Despite widely reported issues surrounding our average student and personal debt, millennials aren't actually doomed to a life of financial ruin. In fact, nearly half of all people in their 20s have started saving their money in a dedicated account. It turns out that the biggest hurdle facing millennials and their money isn't a lack of ability when it comes to saving money, but a lack of trustworthy/good advice when it comes to money matters. To put it simply: we need to stop viewing our parents as the sole authorities on financial advice in our lives. Various studies show that millennials tend to struggle with finding a good source to provide financial guidance, and ultimately end up standing in place. We're not saying to cut out the opinions and advice of your folks; they probably have some great tips and tricks (and, you know, respect your elders and all that) for you. But that advice should be paired with firsthand financial knowledge, and that's on you to seek out and learn. You'll be thankful that you took the initiative to understand (and control) your financial future, and so will your family back home.

Do you like Netflix? Of course you do. Do you like sleeping? You don't even need to answer that. Are these in short supply sometimes? Now that's the most problematic bit. One of the things that people often overlook in their lives is scheduling a block of "Me Time." It seems like we stretch ourselves pretty thin in a lot of ways (work, relationships, home care, etc.) and when we crash, we crash hard. This makes dealing with the overwhelming nature of life and its endless possibilities extra tough. If your brain is in overdrive, how can you make a coherent choice about anything? It's not impossible, but it's still hard. That's why a diverse array of business leaders and industry thinkers have been examining how we live our lives, and they've all come to the same conclusion: the work-life balance needs to be rebooted, and we can start by severely limiting how much work and digital noise we bring home with us. This is why it's so important to budget out proper rest and relaxation time time for napping, relaxing, and binge-watching the shows in your Netflix queue. For every step you take towards realizing yourself and your dreams, make sure to take a moment to recharge and congratulate yourself for the forward momentum you've generated. You're not being a Lazy Millennial; you're ensuring that you're not headed towards a midlife crisis down the road. Maybe the older generations could stand to take some advice from you for a change. The road map to Being A Millennial is being written every day, and there's no right or wrong way to navigate this relatively unique point in history. But as long as you're pushing forward and keeping your dreams in sight (no matter what form those dreams may take), you're on the right path. Good luck!