Facebook Clickbait Crackdown Aims To Change How Headlines Are Written
Facebook is cracking down on clickbait headlines.
You know, the kind of headline that starts with "You Won't Believe..." or ends with "... Will Melt Your Heart." The ones that don't tell you what the story is about in an attempt to make you click through.


Okay, we admit. HuffPost Canada has, on occasion, used clickbait headlines.
Facebook announced the move in a Thursday note by research scientist Alex Peysakhovich and user experience researcher Kristin Hendrix.
The social network had previously tweaked the News Feed to reduce the number of posts that force people to click into stories without quite telling them what they're about.
This is what that was meant to stop: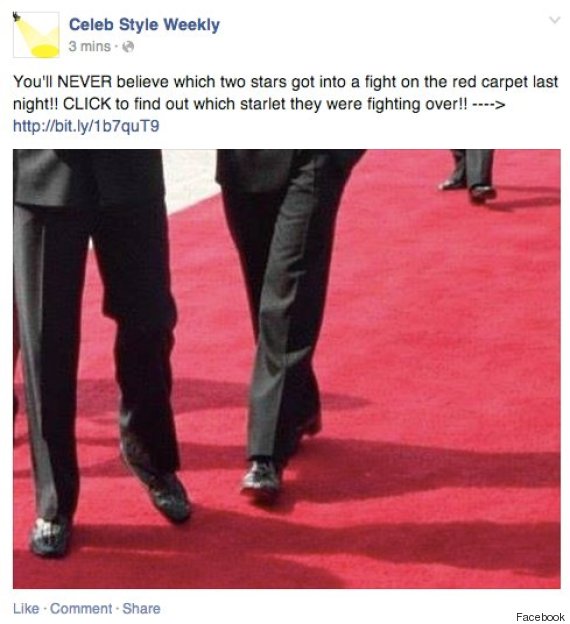 "While this update helped, we're still seeing Pages rely on clickbait headlines, and people are still telling us they would prefer to see clearly written headlines that help them decide how they want to spend their time and not waste time on what they click," the note said.
So now Facebook has developed a system that identifies words commonly used in such headlines.
It will judge content to be clickbait in two ways:
1) If the headline doesn't disclose any information showing what the content is about.
2) If the headline exaggerates the story so much that it heightens readers' expectations, and misleads them.
Here are two examples of the latter:
"Apples Are Actually Bad For You?!"

"You'll Never Believe Who Tripped And Fell on the Red Carpet..."
The system will work like an email spam filter, identifying phrases commonly used in clickbait and comparing them against words used in other kinds of headlines.
Any pages that are found to use clickbait headlines will start appearing lower on News Feeds. They won't see a negative impact if they stop using those kinds of headlines.
"We anticipate that most Pages won't see any significant changes to their distribution in News Feed as a result of this change," Facebook said.
"However, websites and Pages who rely on clickbait-style headlines should expect their distribution to decrease."
Also on HuffPost:
The Most Dangerous Internet Crazes
Punch 4 Punch appears to have developed on the internet in the wake of Blow for Blow - also known as Trading Blows – an endurance game where participants hit each other in the stomach with increasing force until one gives up.

Tombstoning has been around forever - it's hot and sunny, why not jump off a cliff or bridge? Because it can leave you paralysed for life, that's why.

It was the original violent fad. The craze, which started back in 2005, saw groups of teenagers armed with camera phones slap or mug unsuspecting children or passersby while capturing the attacks on 3g technology.

Australian Acton Beale, 20, plunged to his death after he tried to 'plank' on some railings in 2011. He eventually won a Darwin Award. The fad also made news in September 2009, when seven doctors and nurses working at the Great Western Hospital in Swindon, England were suspended for playing the lying down game while on duty.

"Subway surfing is simply one of the dumbest things you can do," MTA spokesman Kevin Ortiz said this year. "Don't do it." His comments came after two 45 year old men died in New York after climbing onto the roof of moving subways.

Five people are believed to have died as a result of playing the alcohol-based dare game, which is thought to have started in Perth, Australia in 2013. The fatalities include a Cardiff man thought to have downed a pint of vodka, and a London hostel worker who reportedly mixed an entire bottle of white wine with a quarter bottle of whisky, a small bottle of vodka and a can of lager. A Nottingham man died days after necking two pints of neat gin, while the stunt has also been linked to the death of two men in Ireland.

Thought the Harlem Shake was just people dancing around in stupid costumes? This fiery explosion could easily have killed the participants of the now defunct internet craze...

Participants pour salt on their bodies, usually on the arm. Either the person or someone else applies ice to the salt which causes a "burning" sensation, and participants vie to withstand the pain for the longest time... reports have since emerged of children and teenagers being left disfigured for life.

The objective of the challenge is to film yourself swallowing a spoonful of ground cinnamon in under 60 seconds without drinking anything... sound easy? Think again. The challenge is extremely difficult and carries substantial health risks because the cinnamon coats and dries the mouth and throat, resulting in coughing, gagging, vomiting and inhaling of cinnamon, leading to throat irritation, breathing difficulties, and risk of pneumonia or even a collapsed lung.

Playing chicken with a fast-moving train... what could possibly go wrong?