Alison Redford's Tobacco Lawsuit Decision To Be Investigated By B.C. Conflict Commissioner
EDMONTON — British Columbia's conflict-of-interest commissioner has ruled there should be a renewed investigation into former Alberta premier Alison Redford's selection of a law firm to sue tobacco companies on behalf of the province.
Paul Fraser says Alberta's former ethics commissioner did not have all the information when he cleared Redford of conflict-of-interest allegations in 2013.
The case involves Redford's selection of the ITRL consortium to sue tobacco companies when she was justice minister.
Firm employed Redford's ex-husband
One of the firms in the consortium employed Robert Hawkes, Redford's former husband and political adviser.
The first investigation found that Redford made a fair decision based on advice given to her, but the CBC later revealed changes were made to briefing documents before they were given to Redford.
Alberta's current ethics commissioner asked B.C.'s Fraser to determine whether the investigation should be reopened, because she is friends with two people involved in the case.
Fraser will handle the new probe.
"I have determined that re-investigation is warranted based on new information that was revealed,'' he wrote in a letter to Alberta Justice Minister Kathleen Ganley dated Wednesday.
Fraser noted that the bar for such a move was low and "the presumption of innocence remains intact.''
"My decision to re-investigate should not be interpreted as a finding about the propriety of the conduct of the Honourable Alison Redford.''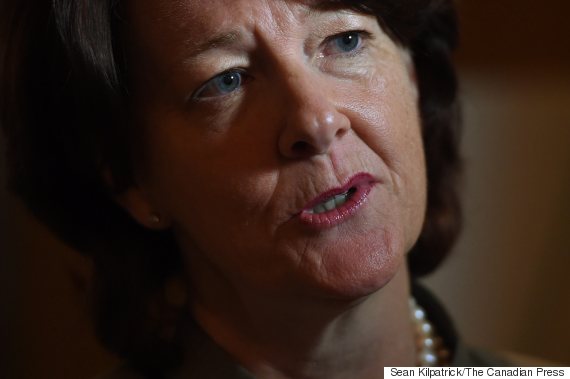 Alison Redford resigned as premier in 2014. (Photo: CP)
Redford resigned as Alberta's Progressive Conservative premier in March 2014 following a scandal over lavish spending on herself and those in her inner circle.
It was announced last year that she had taken a job with the Conference Board of Canada, though Bruce Leslie of the board said in an email on Thursday that she "is no longer associated'' with the board.
Redford could not immediately be reached for comment.
The $10-billion lawsuit against the tobacco companies is aimed at recovering smoking related health-care costs.
"I have determined that re-investigation is warranted based on new information that was revealed."
Alberta's then-ethics commissioner, Neil Wilkinson, investigated Redford's decision in 2013 while she was still premier.
He found that she picked ITRL for the contract from three equally strong applicants. But the CBC report cast doubt on whether he had access to all relevant documentation to make that call.
Ganley, who was named justice minister after the Tories were swept from power by the NDP, asked former Supreme Court justice Frank Iacobucci to review the matter.
Earlier recommendation was removed from final document
Iacobucci's report detailed that an earlier recommendation dismissing ITRL's bid as inadequate was removed from the final briefing document Redford used in her decision and that Wilkinson did not have access to the earlier draft.
ITRL remains in charge of the lawsuit.
Even though Redford no longer sits as a member of the legislature, Ganley has said the matter still needs to be examined so people can have confidence in the integrity of government decisions.
Also on HuffPost:
Alison Redford's Spectacular Downfall
A look at some of the troubles that surrounded former Alberta premier Alison Redford in her final months as a politician:

Dec. 10, 2013: Redford and an aide attend the memorial for former South African president Nelson Mandela in Johannesburg. She travels with Prime Minister Stephen Harper's delegation, but it is later revealed she spent $45,000 to get to Ottawa on a government plane and to get home early on a commercial flight for her new cabinet's swearing-in. Nova Scotia's premier made the trip for under $1,000.

Feb. 6, 2014: Confusion and finger-pointing over the Mandela trip continue as her office suggests bureaucrats kept her staff in the dark about cheaper flight options. Redford eventually apologizes, but refuses to pay back the money.

Feb. 19: Government records say Redford's executive assistant is billing Alberta taxpayers more than $200 a night to stay at one of Edmonton's ritziest hotels. Travel receipts posted online indicate Brad Stables has billed the province more than $9,000 to stay 42 nights at the Fairmont Hotel Macdonald since he assumed the job in the spring of 2013.

Feb. 28: Redford faces renewed accusations of extravagant travel over a government flight home from a Palm Springs vacation to attend former premier Ralph Klein's funeral. The cost of flying the government plane down empty and returning with Redford, her daughter and two bodyguards was $9,200.

March 4: Redford reveals that in the last 1 1/2 years she has flown her daughter Sarah and the girl's friends around on a government aircraft. She says she recognizes those trips were offside and has repaid the equivalent airfare, about $3,100. She also puts a stop to all out-of-province trips on government aircraft until she hears from the auditor general.

March 5: Redford says she knew she broke the rules by flying her daughter around on government planes at taxpayers expense, but says those policies need to be reviewed to better accommodate her family.

March 7: Redford's office says it will use $300,000 of a $1.2-million boost in its annual budget to hire more letter writers. Spokeswoman Neala Barton says the premier needs to respond better to the high volume of correspondence from Albertans.

March 11: Redford faces accusations she used a government plane for a party fundraiser in Grande Prairie.

March 12: Redford tries to stem a brewing caucus revolt by agreeing to pay back the $45,000 spent to fly to South Africa.

March 13: Calgary backbencher Len Webber says he's quitting caucus to sit as an Independent. He says Redford is disrespectful and has issues with uncontrolled anger. Redford's comment: "No reaction."

March 15: Redford meets with the PC party executive behind closed doors. She is taken to task and given an unspecified "work plan" to follow.

March 17: An associate minister in Redford's cabinet resigns her post and leaves the Tory caucus. Donna Kennedy-Glans, the member for Calgary Varsity, cites the inability to create change from within the party and a culture of entitlement as reasons for her departure, but does not criticize Redford by name.

March 19: Redford calls a news conference in the legislature rotunda to announce she is resigning as premier, but will stay on as a government backbencher.

March 23: Redford's resignation takes effect.

March 28: Documents released by the province reveal plans for a taxpayer-funded penthouse "premier's suite" on top of a government building being renovated near the legislature. The suite was to have bedrooms for Redford and her daughter, a shared bathroom, a powder room, a walk-in closet, a butler's pantry and dining, study and lounge areas. The plan for what became known as the "sky palace" were scrapped, but not before $173,000 was spent on design work. Documents also reveal Redford's inner circle are entitled to more than $1.3 million in severance.

April 14: The CBC reports on flight records that show the former premier took her daughter on 50 flights on government aircraft. Redford used government aircraft to fly with Sarah to Jasper, Alta., for two weekends, including one in June 2013 as southern Albertans were facing devastating floods. The records simply list "meetings with government officials."

April 26: Pictures circulate on Twitter of Redford dining and riding a bike in Palm Springs. She's criticized because she has yet to return to the legislature as the spring sitting continues.

May 5: Redford returns to the legislature for the first time as a backbencher. In a scrum with reporters, she declines to discuss issues that arose after she left.

June 26: Documents released by the province show that Redford had a travelling trip planner that billed $330,000 in expenses. For 20 months starting in the spring of 2012, staffer Michelle Tetreault travelled to China, India, Washington and Zurich to set up meetings.

July 29: The Opposition Wildrose calls for an RCMP investigation into Redford's use of government aircraft after the CBC reports that a leaked version of an auditor general's review said Redford's staff blocked others from flying on government planes so she could fly alone. The CBC says the review outlines how "false passengers" were booked in advance and then removed before printing the flight manifest. Redford denies any personal wrongdoing via Twitter.

Aug. 6: Redford resigns as a member of the legislature for Calgary Elbow, effective immediately. She says she accepts responsibility for all the decisions she made.

Aug. 6: Premier Dave Hancock says he wants the RCMP to review travel expenses and the use of government aircraft. He says he will ask his justice minister to refer the matter to the Mounties for any investigation they consider appropriate. Hancock says he is "extremely disappointed'' in Redford's actions.

Aug. 7: Auditor general Merwan Saher releases a report into Redford's expenses and use of government aircraft. He says Redford and her office used public resources inappropriately, and consistently failed to demonstrate that travel expenses were necessary and a reasonable use of taxpayer money. He points to an "aura of power" around the premier and her office and the perception that the influence of the office should not be questioned.

Aug. 8: Premier Dave Hancock sends Saher's report to the RCMP for investigation and says the government will implement the six recommendations made by auditor general.

Feb. 20, 2015: RCMP say their investigation has concluded and no charges will be laid.