Gisele Bündchen Does Final Runway Walk During Rio 2016 Opening Ceremony
Gisele Bündchen just took her final walk on stage. And it was a really big stage.
The legendary Brazilian supermodel was featured in a Bossa Nova segment during Friday night's Olympic opening ceremonies at Maracanã Stadium in Rio de Janeiro. Even though she has officially retired from the fashion runways, the 36-year-old couldn't help but strut her stuff one last time on the "biggest catwalk of them all."
Wearing a bright gold sequin dress designed by Brazilian designer Alexandre Herchcovitch, Gisele walked to the sounds of "The Girl From Ipanema," as performed by Daniel Jobim, on a 500-foot runway, in stilettos (naturally) across the stadium.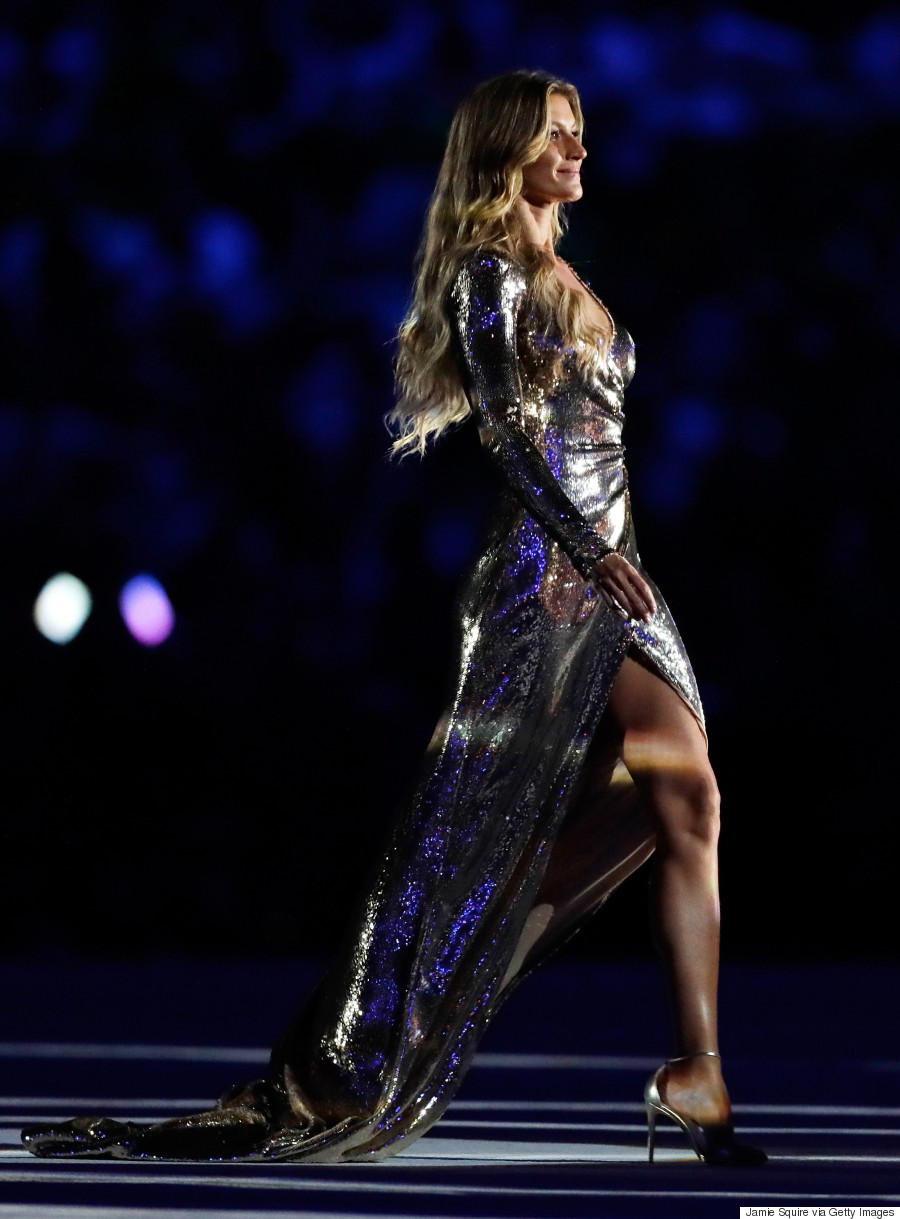 Brazilian supermodel Gisele Bündchen walks in Maracanã Stadium during the Rio Olympics Opening Ceremony. (Photo: Getty)
The mother of two looked stunning in the dress, which featured a plunging V-neck, thigh-high slit and pleats at the waist. In an interview with PEOPLE, Bündchen confirmed that the runway in Maracanã Stadium was monumental.
"This is for sure the longest runway I have ever walked in my life and by far with the most amount of people watching, so it is a little nerve-wracking I must say," Gisele said. "This is a very special moment for my country and I am humbled that they invited me to be a part of such a special celebration."
AMEM GISELE #CerimoniaDeAbertura pic.twitter.com/57hD9hMCBw

— joão vítor (@trylorswift) August 5, 2016
And contrary to the dress rehearsal, Gisele was not assaulted by a mugger during her performance. It was first reported the 36-year-old would be robbed by a black child from the slums in the controversial skit, but the segment was dropped.
And thank goodness for that.
Gisele Bündchen, woman of the people. #OpeningCeremony pic.twitter.com/BgLWgnJd7r

— Vulture (@vulture) August 6, 2016
Let's just agree that if catwalking was an Olympic sport, Gisele would definitely have taken home gold.
To see more memorable moments from the 2016 Rio Olympic opening ceremonies, check out the slideshow below:
Rio Olympics 2016 Opening Ceremony
The opening ceremony kicked off the 2016 Rio Olympics on August 5, 2016.

Supermodel Gisele Bundchen walks during a Bossa Nova segment of the opening ceremony.

Gisele Bundchen struts for the last time as Daniel Jobim, grandson of Tom Jobim, performs "The Girl from Ipanema."

Greece opens the parade of nations.

Anna Meares of Australia leads her team.

Team Germany enters the Maracana Stadium.

South Africa's flag bearer Wayde Van Niekerk joins the opening ceremony's parade of nations.

Flag bearer Jia Lui leads Austria's Olympic team.

Team Canada and flag bearer Rosie MacLennan enter Maracana Stadium.

Members of Team Canada pose as they march in the opening ceremony.

Every country in the parade of nations was introduced by a cyclist holding a placard.

Ramon Gittens of Barbados leads his team.

The U.S. team enters the stadium, led by flag bearer Michael Phelps.

France enters the parade of nations.
Follow Huffington Post Canada Style on Pinterest, Facebook and Twitter!